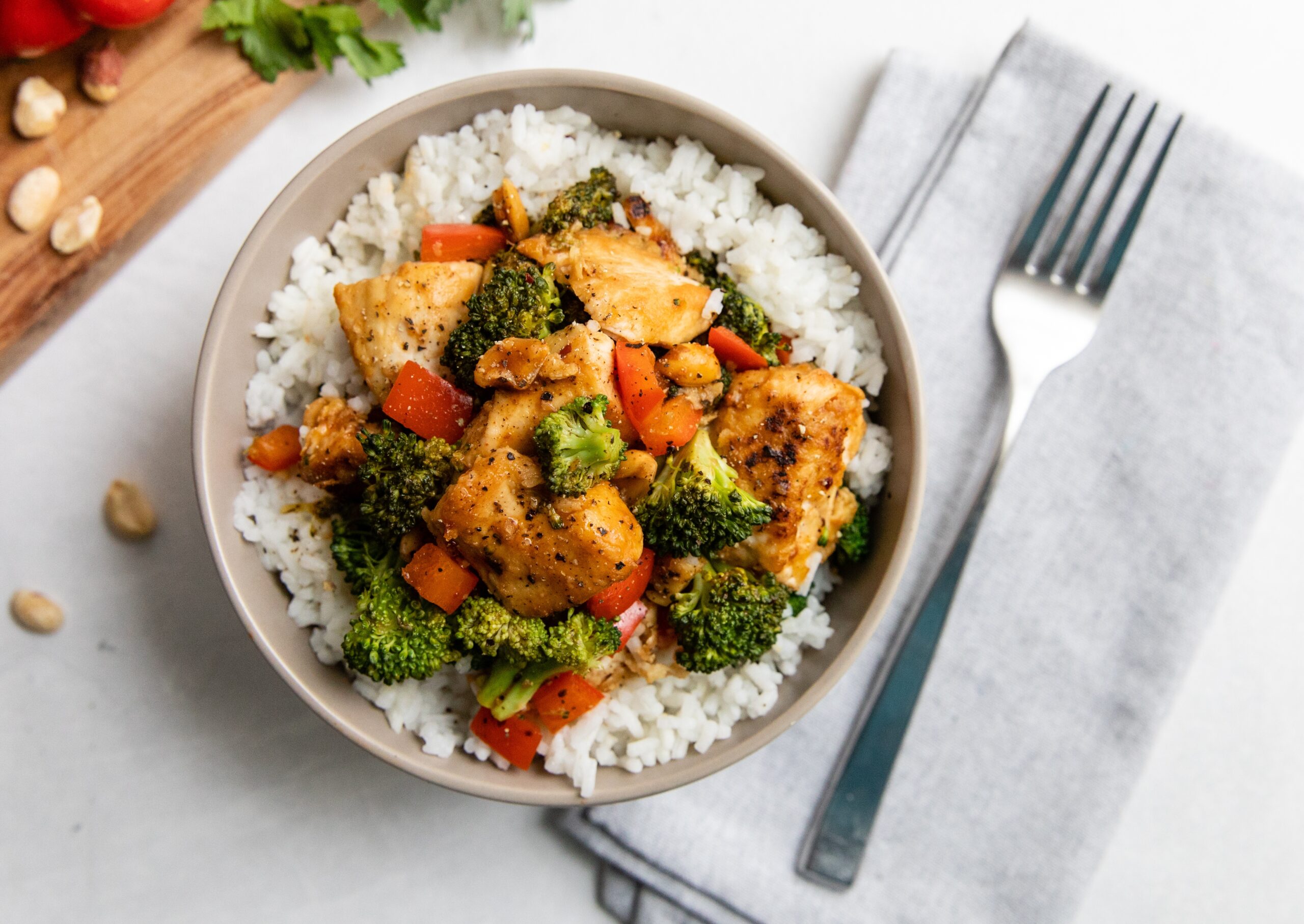 Servings
Makes 4-6 servings
Ingredients
1 egg, beaten
1 pound boneless, skinless chicken breasts, cut into 1½-inch cubes
3 tablespoons cornstarch, in all
3 tablespoons + 1 teaspoon low sodium soy sauce, in all
3 tablespoons white wine or chicken stock
2 tablespoons water
½ cup Chef Paul Prudhomme's Magic Louisiana Red Pepper Marinade
1 pound broccoli (florets and stems), cut into small pieces
1 medium red bell pepper, medium diced
1 tablespoon vegetable oil
⅓ cup unsalted roasted peanuts

cooked rice
---
How To Prepare
In a mixing bowl, combine the egg, 2 tablespoons cornstarch and 1 teaspoon soy sauce. Add diced chicken and stir to coat. Set aside for about 5 minutes to allow the batter to thicken.

Make the sauce in another mixing bowl by whisking the remaining cornstarch and soy sauce, white wine, Louisiana Red Pepper Marinade and water together. Mix well and set aside.

Heat a medium skillet over medium-high heat. Pour the vegetable oil into the hot skillet, then add the battered chicken. Be sure not to overcrowd the pan – work in batches if necessary. Sauté until all of the chicken is golden brown and cooked through, flipping with tongs as needed to prevent burning. Add broccoli, red bell peppers and peanuts and sauté for 30 seconds. Stir in the reserved Kung Pao sauce and mix until chicken, vegetables and peanuts are well coated. Sauté for another minute, or until the sauce turns clear and shiny, then remove from heat. Serve hot over rice.