This pairing of Barbecue Magic and Sun Dried Tomato was delicious – but try substituting other Magic Seasoning Blends flavors with our marinades and you'll have endless tasty combinations!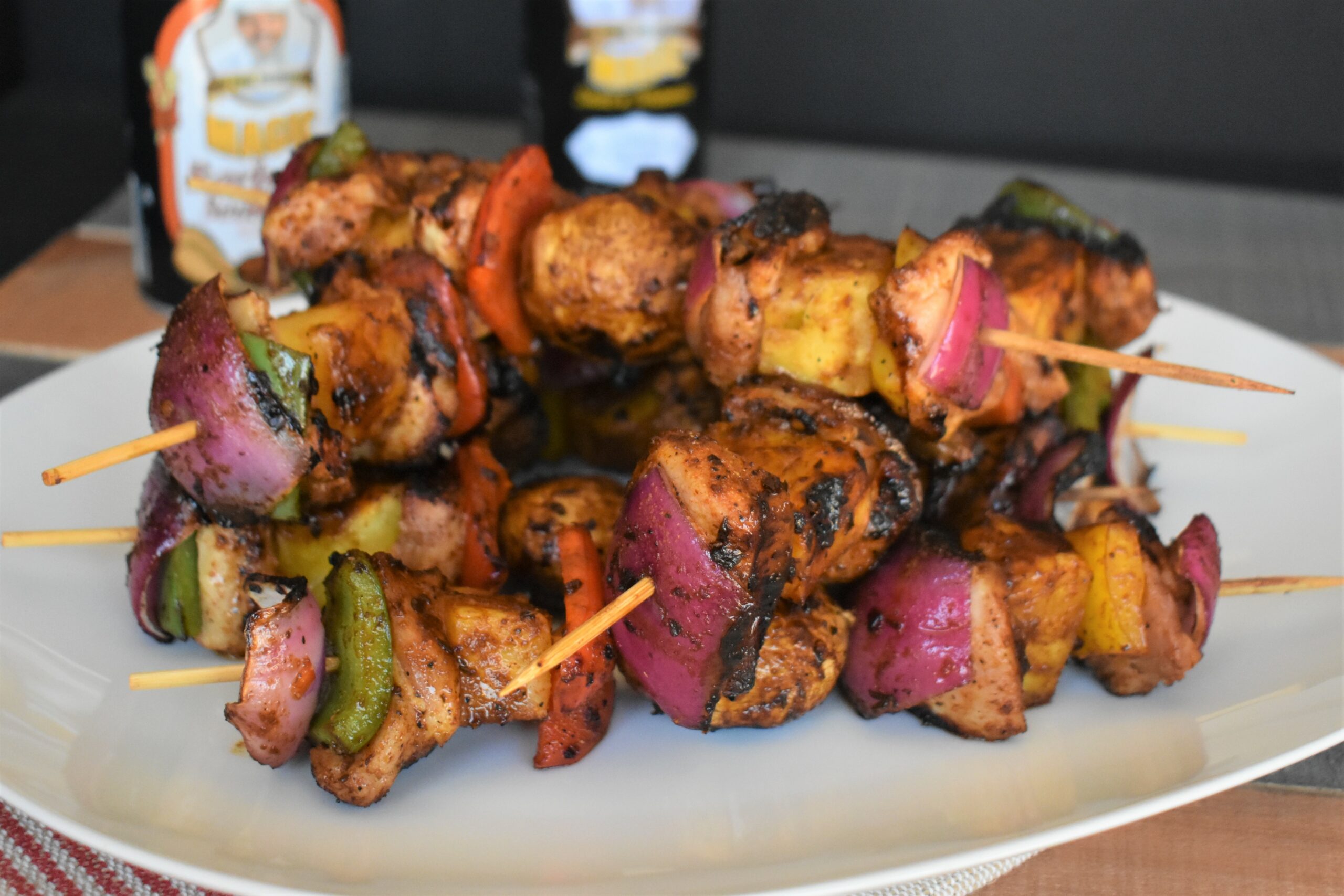 Servings
Makes 8 kabobs
Ingredients
1 pound boneless skinless chicken thighs, cut into 1-inch cubes
4 tablespoons Chef Paul Prudhomme's Barbecue Magic®, in all
½ cup Chef Paul Prudhomme's Sun Dried Tomato Marinade, in all
1 green bell pepper, cut into 1-inch pieces
1 red bell pepper, cut into 1-inch pieces
1 yellow bell pepper, cut into 1-inch pieces
8 button mushrooms
½ pineapple, cored, cleaned and cut into 16 equal pieces
1 red onion, cut into 1-inch pieces
8 wooden or metal skewers (soak wooden skewers water for 30 minutes before threading)
---
How To Prepare
Season the chicken thighs in a small mixing bowl with 2 teaspoons of the Barbecue Magic®. Start alternately threading the chicken, vegetables and pineapple pieces onto the skewers until they're filled (each should have about 4 pieces of chicken and 1-2 pieces of pineapple and the other vegetables). Sprinkle the remaining seasoning over the kabobs, then carefully place them into a gallon-sized re-sealable plastic bag. Pour in half of the Sun Dried Tomato Marinade, then squeeze the air out of the bag and seal (the marinade should be coating the kabobs). Marinate in the refrigerator for 2 hours.

Preheat the grill to medium-high. Add the kabobs to the grill and discard the marinade in the bag. Flip and turn the kabobs every 5 minutes and baste each side with the remaining ¼ cup of Sun Dried Tomato Marinade, repeating until chicken is cooked through (about 20 to 25 minutes). Remove from grill and serve hot.