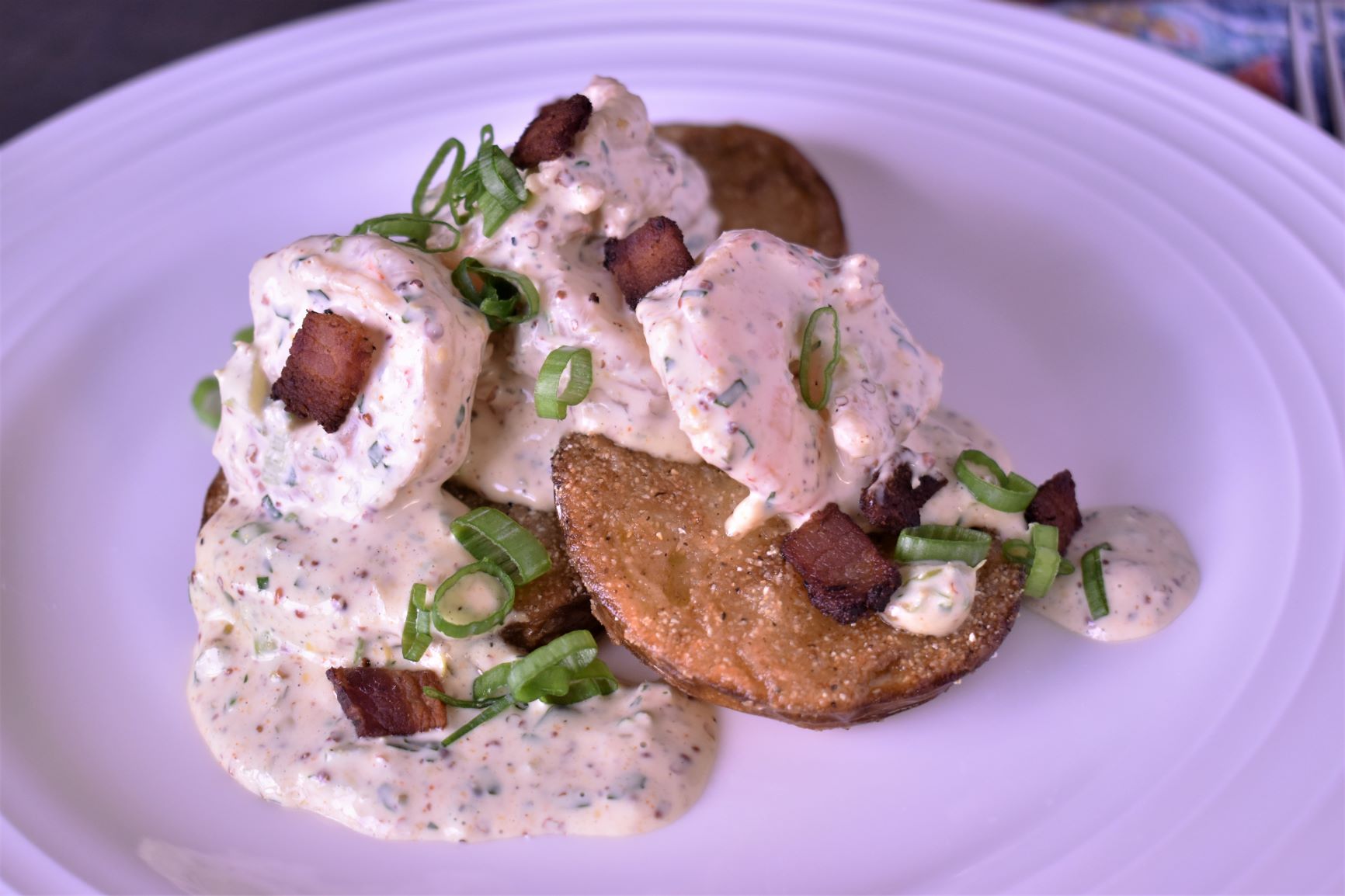 Servings
Makes 6 servings
Ingredients
6 cups water
⅓ cup Vegetable Magic®, in all
1 lb peeled and deveined large shrimp
4 slices bacon, cut into ½-inch strips
1 cup canola oil
¾ cup all-purpose flour
¼ cup corn meal
3 green tomatoes, sliced into ¼-inch slices (about 4 or 5 per tomato)
1 cup
Creole Remoulade Blanc
---
How To Prepare
Add the water and all but 1 tablespoon of the Vegetable Magic® to a large pot and bring to a rolling boil. Add the shrimp and return to a boil. When it reaches a full boil, remove from heat and let shrimp soak for 8 minutes. Drain shrimp well and place in refrigerator to cool.

Add bacon to a large skillet and cook over medium heat until crispy. Using a slotted spoon, remove bacon to a paper towel lined plate. Leave rendered fat in skillet, add the oil to the skillet and place over high heat.

Mix flour, corn meal, and remaining tablespoon of Vegetable Magic® together in a mixing bowl. Dredge tomato slices through seasoned flour until covered on both sides. When the oil reaches 350°F, carefully drop in the tomato slices, working in batches if necessary. Fry until golden brown on both sides, flipping as needed. Remove from pan and place on paper towel lined plate or platter to let excess grease drain.

Remove chilled shrimp from refrigerator and toss with the Creole Remoulade Blanc sauce. Place 2 slices of fried tomato on a plate and top with 3 or 4 shrimp and sauce. Garnish with reserved bacon and serve immediately.