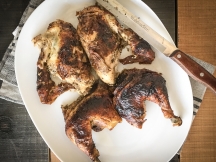 Servings
Makes 6 to 8 servings
Ingredients
1 (4 pound) chicken, whole
4 tablespoons unsalted butter
3 tablespoons Chef Paul Prudhomme's Poultry Magic®, in all
½ teaspoon ground coriander
½ teaspoon ground ginger
½ teaspoon onion powder
---
How To Prepare
Place chicken on a clean worksurface and remove giblets. Using a paper towel, pat bird dry, inside and out. Separate the skin from the meat by slowly running your index finger between the skin and the meat, taking care not to tear the skin. This should be done on the breasts, thighs and legs. Next, melt butter in a small bowl and let cool for 3 minutes. Reserve 2 teaspoons of Poultry Magic® on the side, then add remaining Poultry Magic®, coriander, ginger and onion powder to the butter and mix well. Using a small spoon, add about 1 ½ tablespoons of the butter under the skin of each breast and leg quarter, then use your finger to completely spread the butter over the meat. Once the meat is coated under the skin, use the remaining butter and spread over the outside of the skin, then sprinkle with reserved Poultry Magic® and rub well until evenly coated (see Note 1). Lay the bird flat and truss it using butcher twine (optional step). Follow the directions that came with your rotisserie oven on how to load chicken into roaster (see Note 2). Set machine to Roast and cook time for 1 ½ hours. When timer goes off, remove chicken from rotisserie and let rest for 5 minutes before cutting.

Notes:

1) Chicken can be seasoned a day ahead to maximize the flavor and taste.

2) If you do not have a rotisserie oven, you can use a conventional oven. Preheat and roast chicken at 350°F for 1 hour and 45 minutes, or until internal temperature reaches 170°F.