Turkey breasts are cooked down with pearl onions, sweet potatoes and green beans and topped with cheddar biscuits for a non-traditional Pot Pie you'll crave year-round!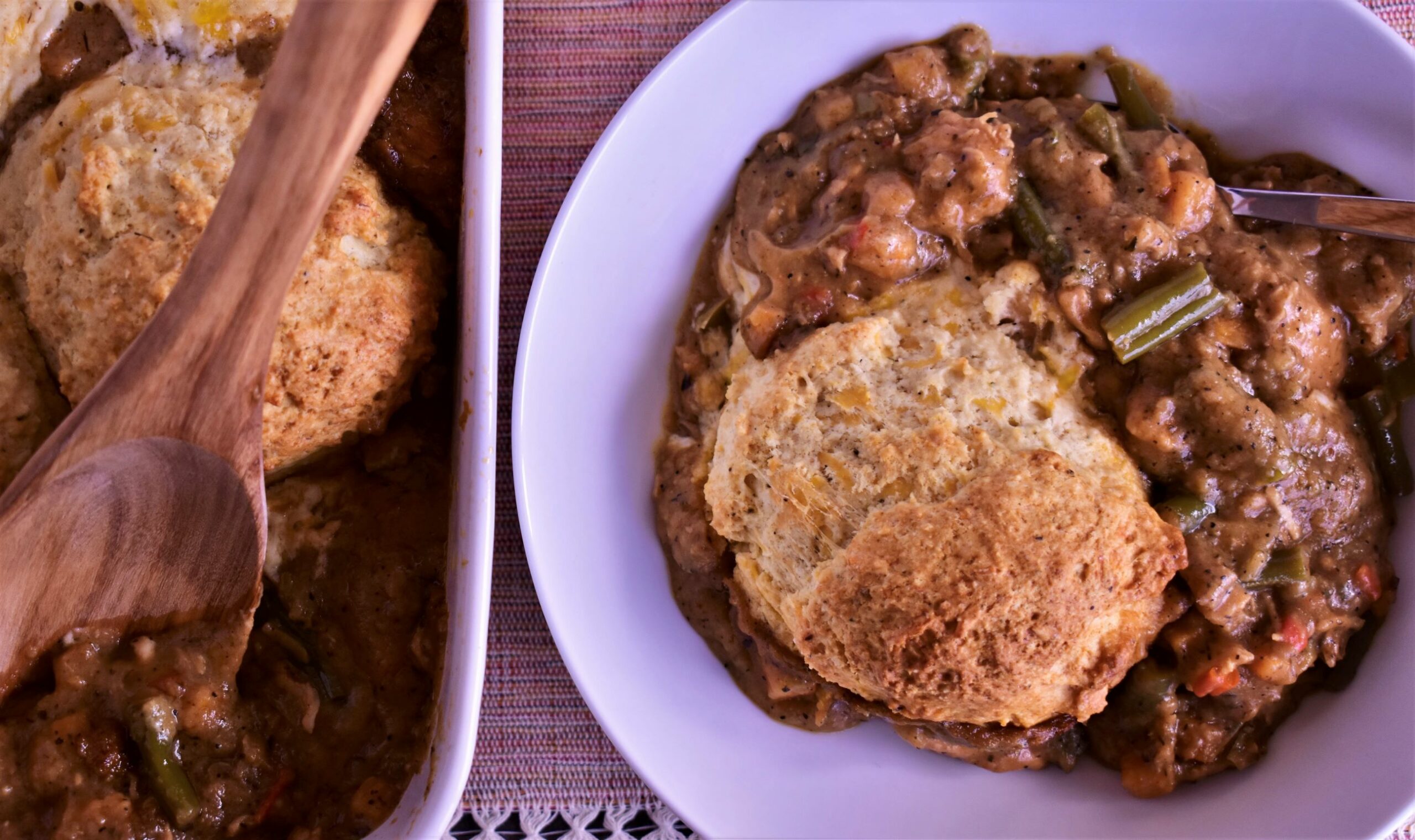 Servings
Makes 6-8 servings
Ingredients
POT PIE FILLING:
6 tablespoons unsalted butter
¾ tablespoon canola oil
1½ cups all-purpose flour
2 cups peeled pearl onions (you can also use frozen)
½ cup small-diced celery
½ cup small-diced Anaheim peppers
½ cup small-diced red bell peppers
2 quarts unsalted turkey or chicken stock
2 pounds diced boneless, skinless turkey or chicken breasts
5 tablespoons Poultry Magic®
4 teaspoons Worcestershire sauce
4 teaspoons white vinegar
4 teaspoons Magic Pepper Sauce®
2 cups diced peeled sweet potato
2 cups fresh green beans, cut into 1-inch long pieces

BISCUIT TOPPING:
2½ cups all-purpose flour
¼ cup sugar
1½ tablespoons baking powder
¼ teaspoon Kosher salt
2 teaspoons Poultry Magic®
1 cup shredded sharp cheddar cheese
1 stick + 2 tablespoons unsalted butter, softened
1 cup cold milk
---
How To Prepare
POT PIE FILLING: Melt butter with the oil in a large, heavy bottomed pot over medium high heat. When butter is melted, add the flour and stir to break up any lumps. Stir continuously until roux is color of peanut butter. Add the onions, celery, Anaheim peppers, and red bell peppers. Cook until vegetables are soft, about 6 minutes. Whisk in the chicken stock then add the turkey, Poultry Magic®, Worcestershire sauce, vinegar, and Magic Pepper Sauce®. Bring to a boil, lower to a simmer, cover and cook for 1 hour, stirring every 10 minutes to prevent sticking. After hour is up, add the sweet potato and green beans and simmer uncovered for 30 more minutes. When done, pour into a large casserole dish and set aside to make the biscuit dough.

BISCUIT TOPPING: Preheat oven to 350°. In a mixing bowl, combine the flour, sugar, baking powder, salt, Poultry Magic®, and cheese; mix well, breaking up any lumps. Work the butter in by hand until the mixture resembles coarse cornmeal, making sure no lumps are left. Gradually stir in the milk, mixing just until dry ingredients are moistened. Do not overmix! Using 2 spoons, or a small 1½ oz scoop, drop the biscuit dough on top of the filling in casserole dish until you are out of dough and casserole is mostly covered.

Place casserole dish on a baking sheet and place in oven to cook for 40-45 minutes, or until biscuits are golden brown and cooked through. Remove from oven and let cool for a few minutes before serving.