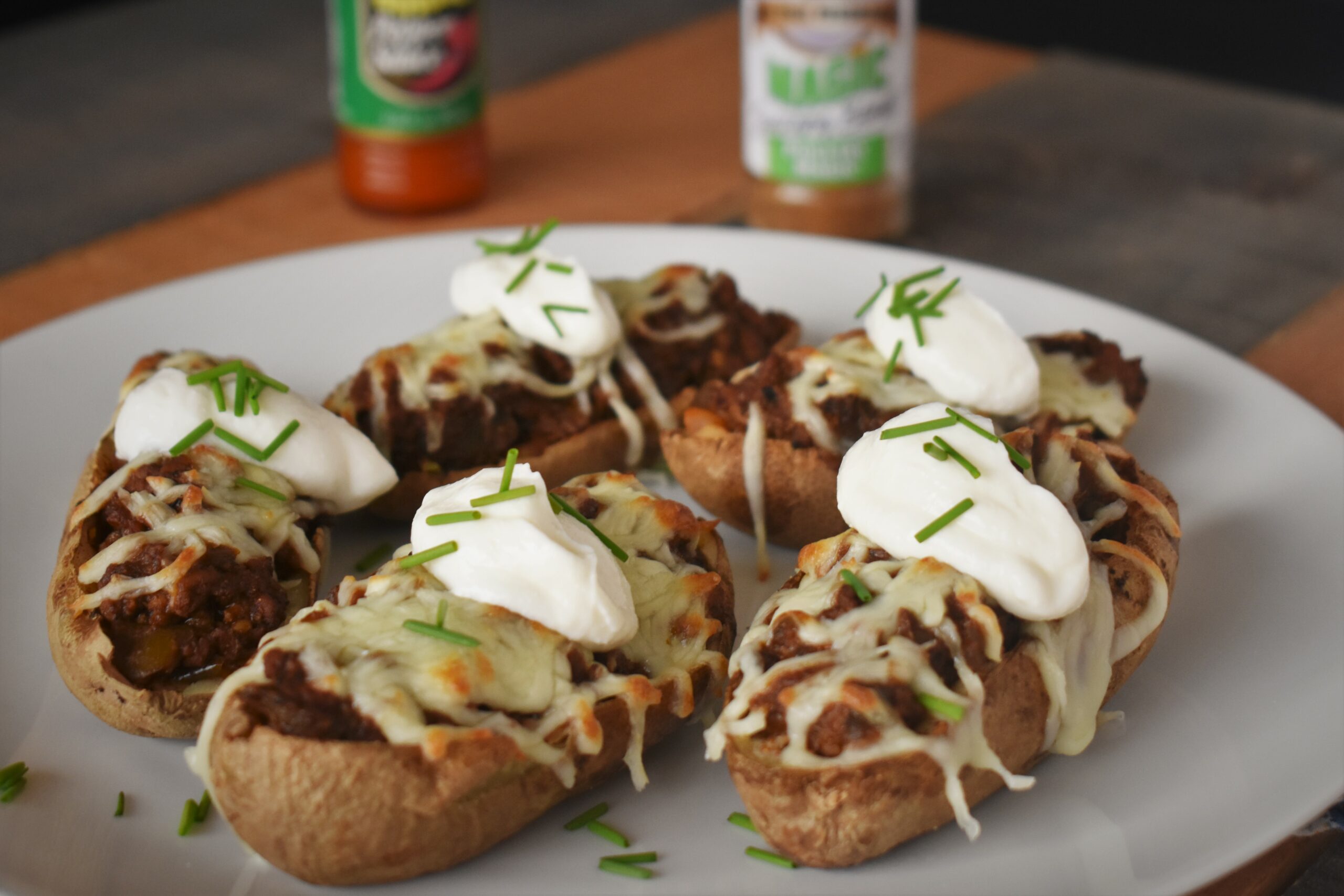 Servings
Makes 18 potacos
Ingredients
SEASONING MIX:
1½ teaspoons ground cumin
¾ teaspoon dried leaf oregano
1½ teaspoons dried leaf cilantro
¾ teaspoon ground cinnamon
¼ teaspoon nutmeg
1 teaspoon salt
1 tablespoon Chef Paul Prudhomme's ground dried New Mexico chili peppers
1 tablespoon Chef Paul Prudhomme's ground dried Anaheim chili peppers
2 tablespoons Chef Paul Prudhomme's Poultry Magic®

*

FILLING
9 baking potatoes
1 (12-ounce) container low-fat cottage cheese
1 tablespoon apple cider vinegar
1½ cups chopped onions
1 cup chopped celery
1½ cups chopped green bell peppers
1 tablespoon minced fresh garlic
2½ cups defatted chicken stock, in all
1 pound very lean ground turkey
4 tablespoons yellow cornmeal
½ cup canned chopped green chilies

*

ASSEMBLY
Shredded lettuce
1 cup plus 2 tablespoons finely chopped tomatoes
9 tablespoons finely chopped onions
6 tablespoons low-moisture, part-skim Mozzarella cheese
---
How To Prepare
Preheat oven to 375°F. Combine the Seasoning Mix ingredients in a small bowl.

Rinse and cut the potatoes in half lengthwise, then cut a small slice off the bottom of each half. Place the potatoes on a baking sheet in a 375°F oven for 1 hour, or until brown, and the potato comes easily out of the skin. Let cool at least ½ hour. Using a sharp knife, cut the insides of the potato away from the skin (save for another use), leaving as thin a shell as you can without making holes. (This may take a little practice.) Sprinkle potato shells with a little Seasoning Mix and put back in oven for about 15 to 20 minutes, or until skins are brown and crisp.

Place the cottage cheese in blender and process until smooth. Add vinegar and process again until completely blended.

To make the filling, preheat a large heavy skillet over high heat. Add 1½ cups chopped onions, chopped celery and green bell peppers, and cook 2 minutes. Add the Seasoning Mix and cook 4 minutes, stirring once to distribute seasoning evenly. Add the minced garlic and ½ cup stock. Scrape the pan bottom and cook 9 minutes, stirring occasionally. Remove the cooked vegetables from the skillet and set aside. Add the chopped turkey to the center of the skillet and cook 9 minutes, breaking the meat up with a wooden spoon, turning occasionally to brown it evenly. Then add back the reserved vegetable mixture, combining evenly. Add the cornmeal and cook 2 minutes, scraping the bottom of the pan, because the cornmeal will stick and form a brown crust. Add ½ cup stock, scrape the bottom well and spread the turkey mixture over the bottom of the skillet. Stir occasionally and cook 3 minutes, or until the mixture is sticking hard. Add 1 cup stock, scrape the bottom well and cook 3 minutes. Stir in the chopped chilies and cook 2 minutes. Add ½ cup of stock, stir well, and cook 8 minutes, stirring and scraping the bottom well as the mixture sticks. Remove from heat.

Preheat broiler.

Place crisp potato shells on a baking sheet. Line the bottom of each with a little shredded lettuce. Add 1 tablespoon chopped tomatoes and ½ tablespoon finely chopped onions. Fill with 2 tablespoons meat mixture and top with ½ tablespoon shredded mozzarella. Place baking sheet under preheated broiler, about 1 minute or until cheese is brown and bubbly.

Allow 1 potaco per person, garnished with 1½ tablespoons of the cottage cheese mixture.