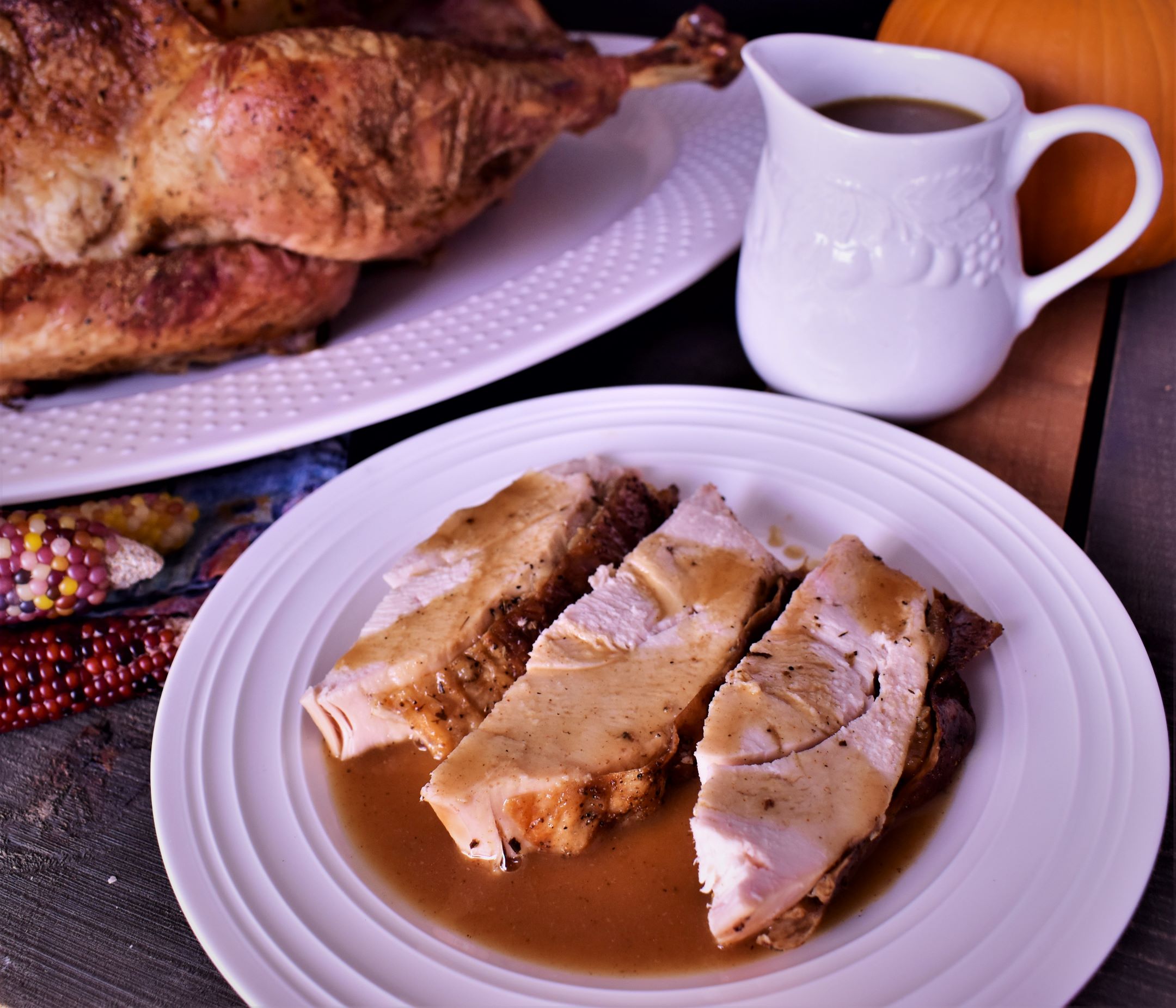 Servings
Roasted Turkey serves 10-12, Jalapeño Gravy makes about 3 cups
Ingredients
ROASTED TURKEY:
1 (10-12 lbs) turkey
36 garlic cloves, peeled and cut in half
2 tablespoons + 1 teaspoon Poultry Magic®, in all
1 medium onion, peeled, quartered, and separated
2 celery ribs, cut in half crosswise
½ large green bell pepper, cored, seeded, and cut into 2-inch strips
2 large carrots, peeled and cut in half lengthwise

JALAPENO GRAVY:
2 tablespoons unsalted butter
1 medium onion, large diced
1 jalapeño, cut into ½-inch rounds
1 lemon, cut into quarters
½ cup apple juice
2 tablespoons all-purpose flour
2 cups chicken stock
about 2 cups pan drippings from Roasted Turkey
roasted vegetables from Roasted Turkey
2½ teaspoons Poultry Magic®
1 teaspoon Kosher salt
2 tablespoons dark brown sugar
---
How To Prepare
ROASTED TURKEY:
Remove, but do not discard, the large, fatty deposits found inside the flaps by the breast and tail cavities of the turkey. In a 10-inch skillet, melt the turkey fat over high heat. Discard all but 1 tablespoon from the skillet. Add the garlic and ½ teaspoon of the Poultry Magic®, and sauté until the garlic just begins to turn brown and soft, about 2 to 3 minutes. Remove from the heat and drain. Using paper towels, blot the garlic to remove any excess fat, then set aside to cool.

Preheat the oven to 325°F. Work your fingers between the breast meat and the skin to form pockets. Carefully insert the cooled garlic evenly inside. Sprinkle 2 teaspoons of Poultry Magic inside the breast cavity, then place the vegetables inside the cavity.

Sprinkle the remaining Poultry Magic® evenly over the outside of the turkey. Place the turkey in a large roasting pan and roast uncovered until tender and golden brown, about 3½ to 4½ hours. When the skin is light golden, about ⅔ done, shield the breast loosely with lightweight foil to prevent overcooking.

Start checking for doneness about 30 minutes before turkey is expected to be done. Turkey is fully cooked when the internal temperature of the thighs reaches 180° F, the thickest part of breasts are 170°F and the center of the vegetable stuffing is at least 160° F.

When done, remove from oven and let the turkey rest while making the Jalapeño Gravy (or for 15 to 20 minutes before carving).

JALAPENO GRAVY:
In a pot, melt butter over high heat. Add onion, jalapeño, and lemon and cook, stirring often, until onions are brown. Deglaze pot with apple juice, scraping bottom of pot to get up browned bits, and reduce by half. Stir in flour, breaking up any lumps, and cook for one minute. Add the rest of the ingredients, bring to a boil, lower to a simmer, and let cook for 15 minutes, or to desired thickness. Strain and discard vegetables. Serve Jalapeño Gravy with Roasted Turkey.