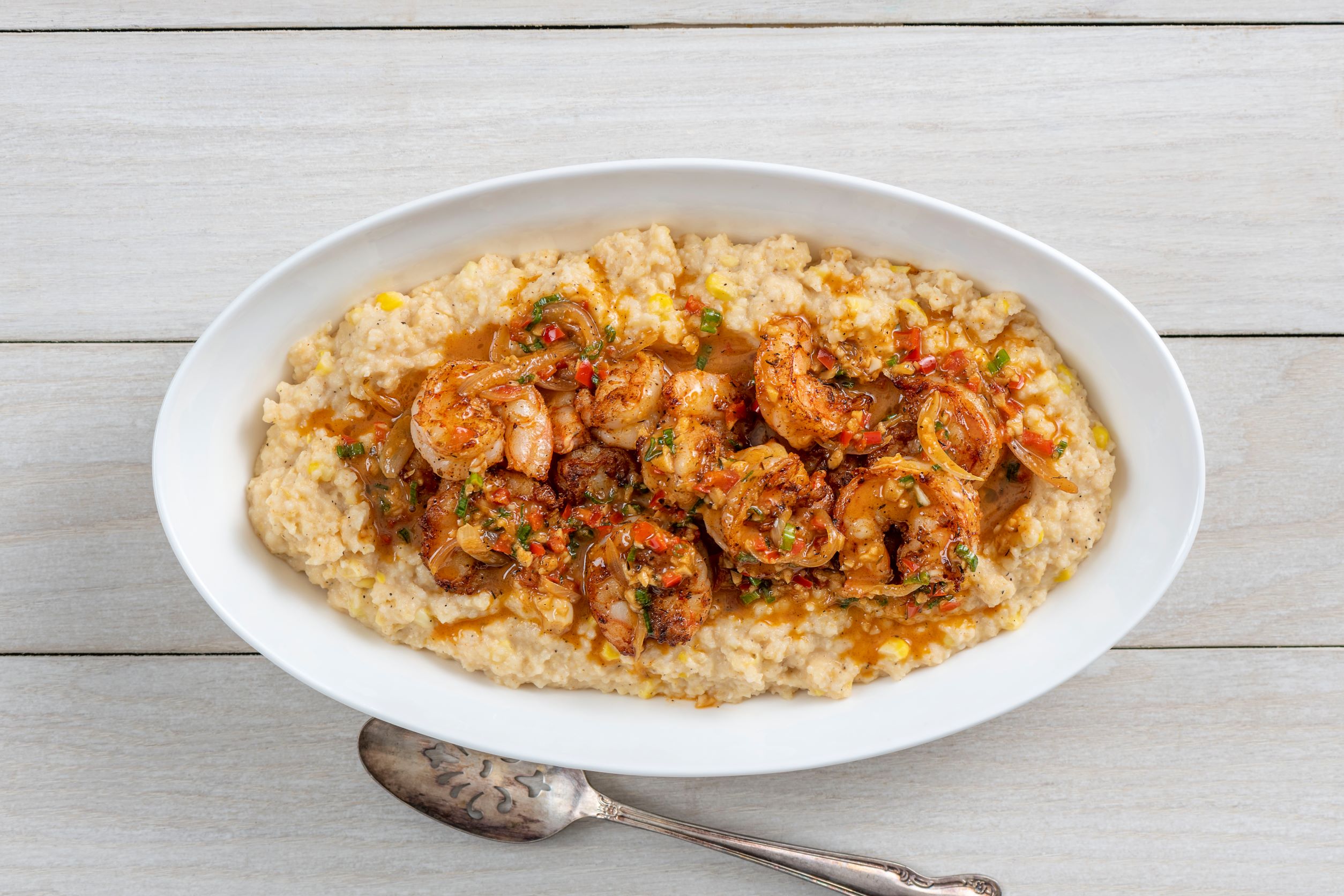 Servings
Makes 8 servings
Ingredients
CORN GRITS
6 tablespoons unsalted butter
1½ cups freshly shucked corn kernels
1½ cups milk
3 cups unsalted chicken stock
1 tablespoon + 2 teaspoons Vegetable Magic®
1 cup 5-minute quick grits
1 cup sharp cheddar cheese, shredded
1 egg, slightly beaten


SHRIMP
1 lb large shrimp, peeled and deveined
1 tablespoon + 1 teaspoon Seafood Magic®
2 tablespoons canola oil, in all
½ cup thinly sliced shallots
⅓ cup finely diced red bell peppers
2 tablespoons minced garlic
1 teaspoon Worcestershire sauce
2 teaspoons Magic Pepper Sauce®
¾ cup unsalted chicken stock
6 tablespoons cold unsalted butter, cubed
2 tablespoons thinly sliced green onions
---
How To Prepare
CORN GRITS

Preheat oven to 350°.

Melt the butter in a 3-quart saucepan over medium-high heat. Add the corn and cook, stirring frequently, for 5 minutes. Add the milk, chicken stock, and Vegetable Magic® and bring to a boil. Whisk in the grits, lower to a simmer, cover and cook for 5 minutes, stirring occasionally.

Remove from the heat and add the cheese, stirring until cheese is completely melted. Add a small amount of grits to a small bowl with the egg and stir to combine, then return to the pot with the rest of grits. Mix well, then pour into a casserole dish and bake for 25 minutes.

Remove from oven and let rest while preparing the shrimp.


SHRIMP

Mix the shrimp with the seasoning in a bowl, until fully coated, then set aside.

In a large sauté pan, heat 1 teaspoon of oil over high heat until it starts to shimmer. Add the shrimp and sear on both sides until nearly cooked through. Remove and reserve the shrimp.

Add the rest of the oil, the shallots, bell peppers, and garlic to the pan. Cook, stirring almost continuously, until starting to brown. Add the Worcestershire sauce, Magic Pepper Sauce®, and the stock to the pan, along with the reserved shrimp. Cook until the stock has reduced by half.

Remove from heat. Add the butter and green onions to the pan, swirling the pan to incorporate the butter into the sauce.

Pour over the baked corn grits and serve immediately.