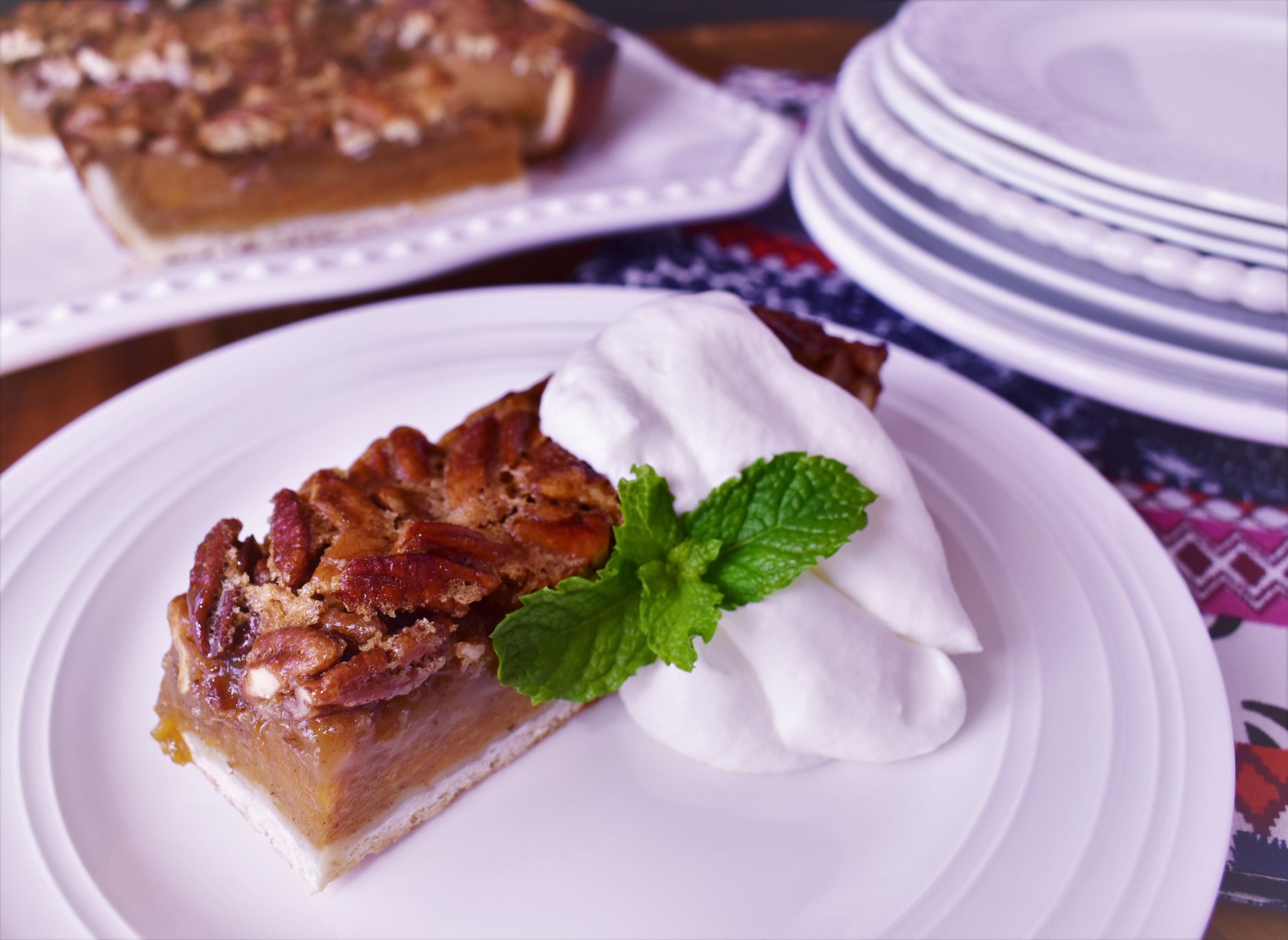 Servings
Makes 24 bars
Ingredients
CRUST:
6 tablespoons unsalted butter
4 tablespoons sugar
1 egg, beaten
4 tablespoons milk
2 cups all-purpose flour
¼ teaspoon salt
SWEET POTATO FILLING:
2 cups fresh sweet potato, cooked, peeled and lightly mashed
2 tablespoons unsalted butter, melted
2 tablespoons vanilla extract
½ cup Sweetie Magic®
⅛ teaspoon salt
1 egg, beaten
2 tablespoons heavy cream
2 tablespoons sugar
PECAN FILLING:
¾ cup pecans, chopped
¾ cup pecans, halved
1½ cups sugar
4 eggs
3 tablespoons unsalted butter, melted
1½ cup dark corn syrup
⅛ teaspoon salt
½ teaspoon cinnamon
1 tablespoon vanilla extract
Chantilly Cream
---
How To Prepare
CRUST: Cream butter and sugar until light and fluffy. Add egg and milk and beat for another 2 minutes. Stir in flour to moisten ingredients. Turn out onto a lightly floured work surface and shape into a disk. Tightly wrap with plastic wrap and refrigerate at least 4 hours and up to 24 hours.
On lightly floured work surface, roll dough out to a 10 x 14-inch rectangle. Transfer into a 9x13-inch glass baking dish. Press pastry into dish and flute edges, then set aside.
Preheat oven to 325°F.
SWEET POTATO FILLING: In a large bowl, combine sweet potato, butter, vanilla, Sweetie Magic®, salt, egg, heavy cream and sugar. Beat at medium speed until mixture is smooth. Spread on bottom of pie crust.
PECAN FILLING: In another bowl, combine sugar, eggs, melted butter, corn syrup, salt, pecans, cinnamon and vanilla and mix well. Pour over sweet potato filling
Place pie into oven and bake for 55 to 60 minutes or until toothpick comes out clean. Remove from oven and cool on a wire rack.
Slice into 24 pieces, and serve with a dollop of
Chantilly Cream
*To freeze, let pie cool completely, then refrigerate for 24 hours. Cut into bars, and individually wrap with plastic wrap. Freeze for up to 1 month. To defrost, simply remove bars from freezer and thaw in refrigerator.