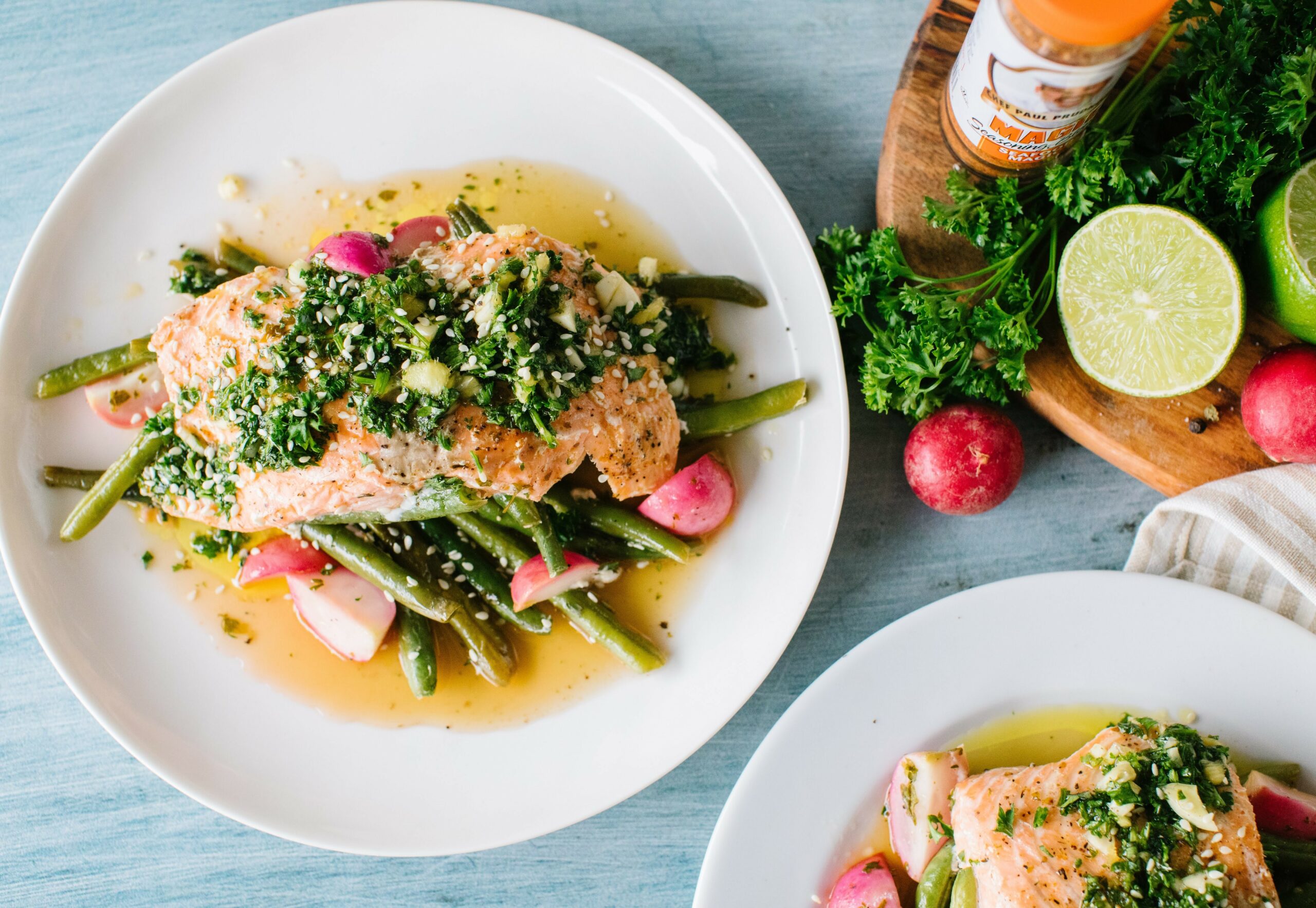 Servings
Makes 2 servings
Ingredients
4 cloves garlic, minced
2-inch piece fresh ginger, peeled and minced (about 3 tablespoons)
2 tablespoons fresh lime juice
2 tablespoons fish sauce
2 tablespoons light brown sugar
¾ cup finely chopped parsley
5 tablespoons + 2 teaspoons olive oil
8 oz green beans, trimmed
5 radishes, cleaned and quartered
1 tablespoon + 1 teaspoon Seafood Magic®
2 (6-oz) salmon fillets
sesame seeds for garnish (optional)
---
How To Prepare
Preheat oven to 400°F. Mix the garlic, ginger, lime, fish sauce, brown sugar, and parsley in a small mixing bowl and slowly whisk in 5 tablespoons of olive oil. Set aside.

In another bowl, add green beans, radishes, 1 teaspoon of Seafood Magic® and 5 tablespoons of reserved sauce. Toss well to coat and set aside.

Season each piece of salmon with 1½ teaspoons Seafood Magic® and rub 1 teaspoon of olive oil over each seasoned fillet.

Lay a piece of foil large enough to make a pouch on a baking sheet. Place the reserved green bean and radish mix on the bottom, then place the salmon on top. Seal the pouch tightly and bake in the oven for 18-20 minutes. Remove from oven and carefully open the pouch. Place salmon and vegetables on plates and top each fillet with 2-3 tablespoons of the reserved sauce.

Garnish with sesame seeds and serve immediately.