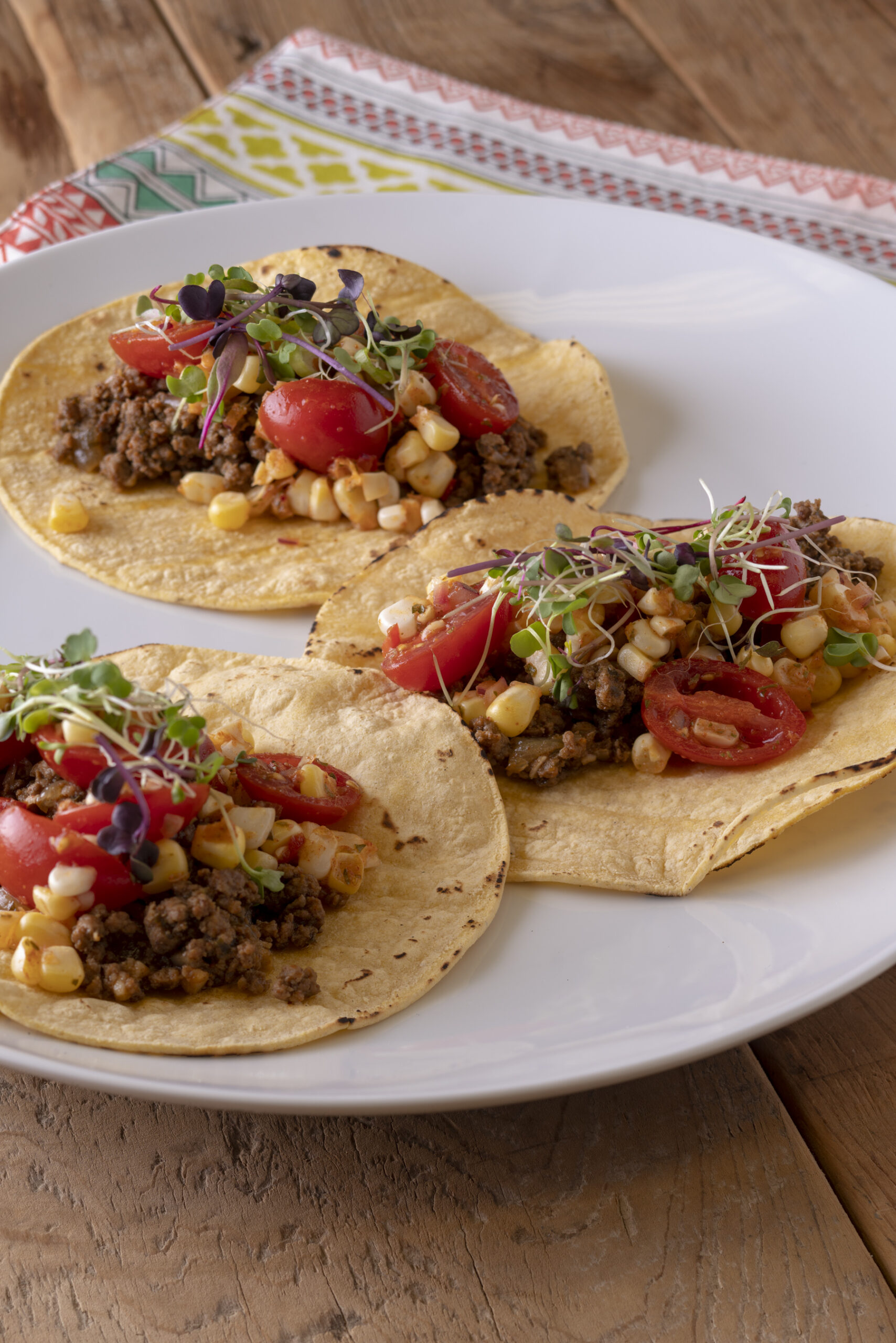 Servings
Makes 12 tacos
Ingredients
ROASTED CORN & TOMATO SALSA
2 ears fresh corn
1½ cups halved cherry tomatoes
4 teaspoons fresh squeezed lime juice
1 teaspoon honey (optional)
2 teaspoons canola or olive oil
2 tablespoons minced red onion
1 tablespoon minced red bell pepper
1 teaspoon fresh lime zest
1 tablespoon Salt-Free Sugar-Free Six Spice Seasoning®

TACOS
3 teaspoons canola or olive oil
1 pound lean ground beef
1 cup chopped onions
1 tablespoon minced garlic
2 cups unsalted beef stock
2 tablespoons Salt-Free Sugar-Free Six Spice Seasoning®
12 taco shells or corn tortillas
---
How To Prepare
ROASTED CORN & TOMATO SALSA:
Preheat oven to 400°F. Place corn (with husks still on) onto a baking sheet and roast for 15-20 minutes. Let cool, then shuck the corn and cut off the cob. Mix corn with tomatoes, lime juice, honey (optional), oil, red onion, red pepper, lime zest and Six Spice. Chill in refrigerator until ready to serve


TACOS:
In a sauté pan, heat oil over high heat. Add the ground beef and break up with spatula or potato masher. Brown the meat thoroughly, then add the chopped onion, garlic, and Six Spice. Continue cooking until the onions are cooked through, then add the beef stock and simmer until it has almost completely evaporated. Turn off heat. Heat the taco shells or tortillas according to the package directions. To serve, add taco meat to shell and top with corn salsa.