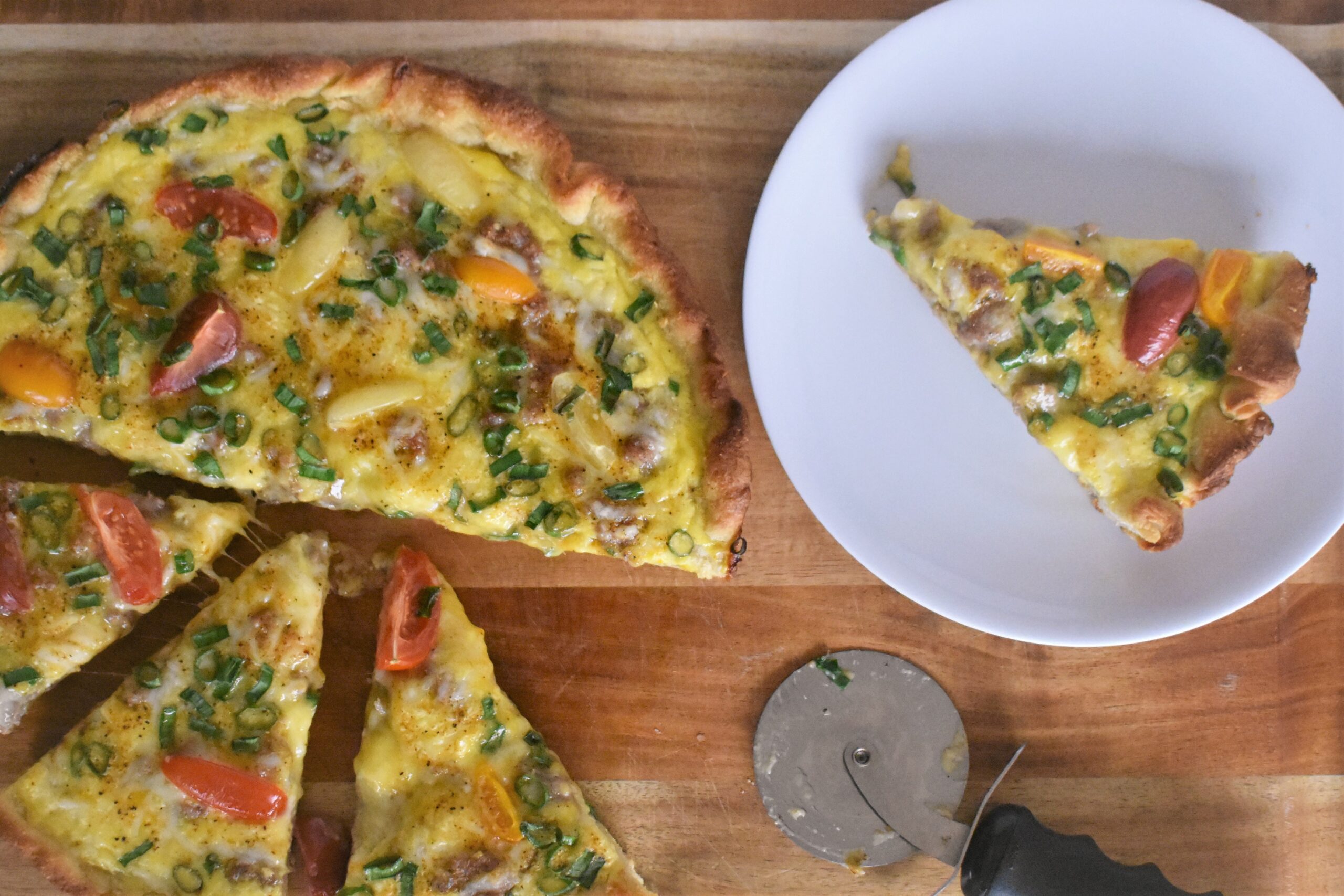 Servings
Makes 1 pizza (8 slices)
Ingredients
8 ounces breakfast sausage
2 tablespoons all-purpose flour
½ cup milk
½ cup heavy cream
2 teaspoons Chef Paul Prudhomme's Vegetable Magic® or Magic Creole Seasoning®, in all
½ teaspoon black pepper
2 tablespoons olive oil
1½ teaspoons minced garlic
1 (11-ounce) Pillsbury™ Thin Pizza Crust
3 eggs, well beaten
1 cup shredded mozzarella cheese
⅓ cup quartered assorted cherry tomatoes
¼ cup finely sliced green onions
---
How To Prepare
Pre-heat oven to 425°F.

Split the sausage in half and refrigerate one half for later use. Add the other portion to a 2-quart sauce pot and cook on medium heat. Stir almost constantly, breaking up the sausage, until cooked through, about 6 minutes. Add the flour and mix well to combine. Cook for 2 minutes, stirring frequently, then stir in the milk, heavy cream, 1 teaspoon Magic Seasoning Blend® and black pepper. Cook for 5 to 7 minutes, stirring often, until sauce thickens. Remove from heat and place in the refrigerator to cool.

In a small, microwavable bowl, stir the olive oil and garlic together, then heat in the microwave for 30 seconds. Using a pastry brush, generously brush the inside of a 10-inch cast iron skillet (you can also use a 10-inch oven safe non-stick skillet or non-stick baking pan) with the garlic oil. Next, carefully unroll the dough and place it in the pan, making sure that the crust lines the sides of the pan too. Brush the dough well with the garlic oil, then place in the oven to par-bake for 8 minutes. Remove pan and pour the reserved sausage sauce evenly over the crust. Break the remaining sausage into small pieces over the top, then return to the oven and cook for 6 minutes.

Remove pan from oven, brush the exposed crust with the garlic oil, and carefully pour the eggs over the sausage. Evenly spread the cheese across the pizza, then top with the tomatoes and green onions. Sprinkle the remaining seasoning over the top, then place back in oven and cook for 8 minutes, or until eggs are set. Remove from oven and let stand for 5 minutes.

Gently run a thin spatula around the edge of the pizza to separate the crust from the sides, then slide the pizza out of the pan onto a clean cutting board. Slice and serve hot.