Bronzing is a wonderful cooking technique for meat or fish – and it's so simple. You actually roast one side of the meat or fish at a time on a heavy griddle or in a large, heavy aluminum skillet or electric skillet heated to 350 degrees.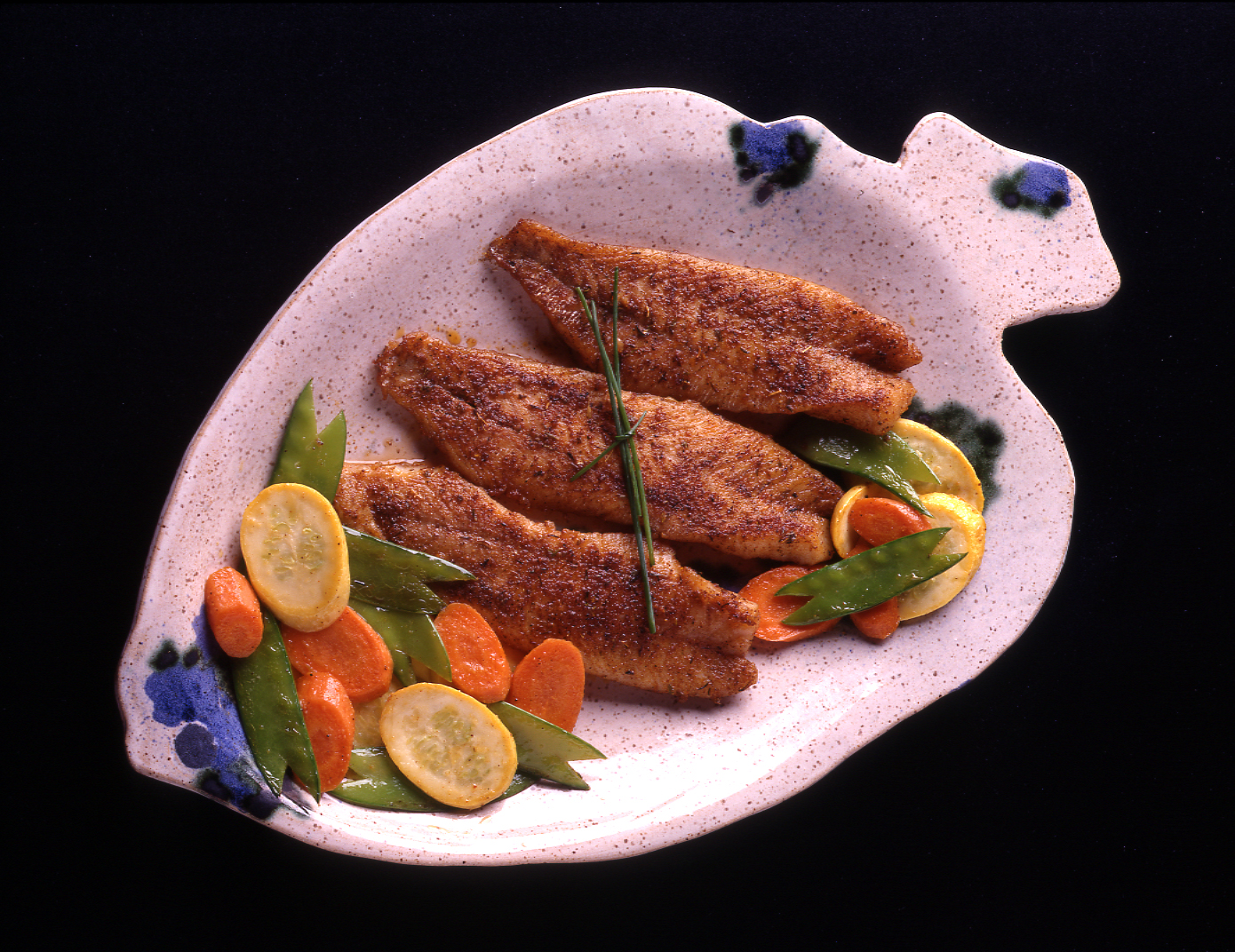 Servings
Makes 4 servings
Ingredients
3 tablespoons unsalted butter (melted) or oil
Four 4½ ounce fish filets, each about ½ to ¾ inch thick at the thickest part
1 tablespoon + 1 teaspoon Chef Paul Prudhomme's Seafood Magic®
---
How To Prepare
Place a nonstick skillet over medium-high heat until hot, about 7 minutes.

As soon as the skillet is hot, lightly coat both sides of each filet with butter, then sprinkle one side with ½ teaspoon of the Seafood Magic®. Place the fish in the skillet, seasoned sides down and sprinkle the top sides of all the filets evenly with the remaining Seafood Magic®.

Cook until the undersides of the filets are bronze in color, approximately 2½ minutes. Watch as the fish cooks and you'll see a white line coming up the side of each filet as it turns from translucent to opaque; when one half of the thickness is opaque, the fish is ready to be turned. Turn the fish and cook approximately 2½ minutes longer. To test for doneness, simply touch the fish in the center - - properly cooked fish will have a stiffer texture than partially cooked fish. You also can use a fork to flake the fish at its thickest part - - if it flakes easily, it is done. Do not overcook as the fish will continue to cook even after you remove it from the heat. Serve immediately.

NOTE: You can turn the fish more than once or continuously until cooked to desired doneness. All cooking times are approximate.

NOTE: If you omit butter stages, bronzing produces delicious reduced-fat meat and fish dishes. Just spray fish or meat surfaces with nonstick cooking spray just before applying seasoning.

NOTE: If you do not have Chef Paul Prudhomme's Seafood Magic®, feel free to use any of our other seasoning blends, such as:Meat Magic®, Shrimp Magic®, Blackened Redfish Magic®, Fajita Magic®, Salmon Magic®, Magic Seasoning Salt®, Magic Salt-Free Seasoning®, or Barbecue Magic®.