This recipe is one of my very favorite dishes in the whole wide world!  If possible, use fresh sweet potato, but it will still be delicious if you use the canned variety.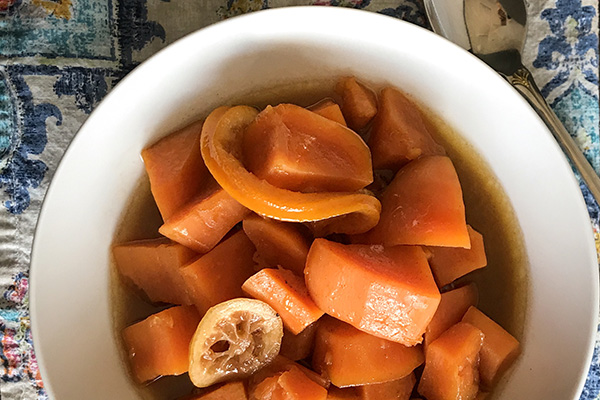 Servings
10 to 12 side-dish servings
Ingredients
1 pound unsalted butter
2 pounds sweet potatoes, peeled and coarsely chopped
2 cups water
1 cup Chef Paul Prudhomme's Sweetie Magic®
1 cup packed dark brown sugar
⅔ unpeeled orange, sliced and seeded (stem slice discarded)
⅔ unpeeled lemon, sliced and seeded (stem slice discarded)
1 tablespoon vanilla extract
½ teaspoon salt
---
How To Prepare
Heat the butter in a 4-quart saucepan over high heat; when about half melted, add the remaining ingredients. Stir, cover and cook over high heat until mixture comes to a strong boil, about 10 minutes. Stir, then reduce heat and simmer covered for 20 minutes. Uncover and continue cooking until sweet potatoes are very tender, about 20 minutes, stirring occasionally. Remove from heat and serve immediately, undrained.