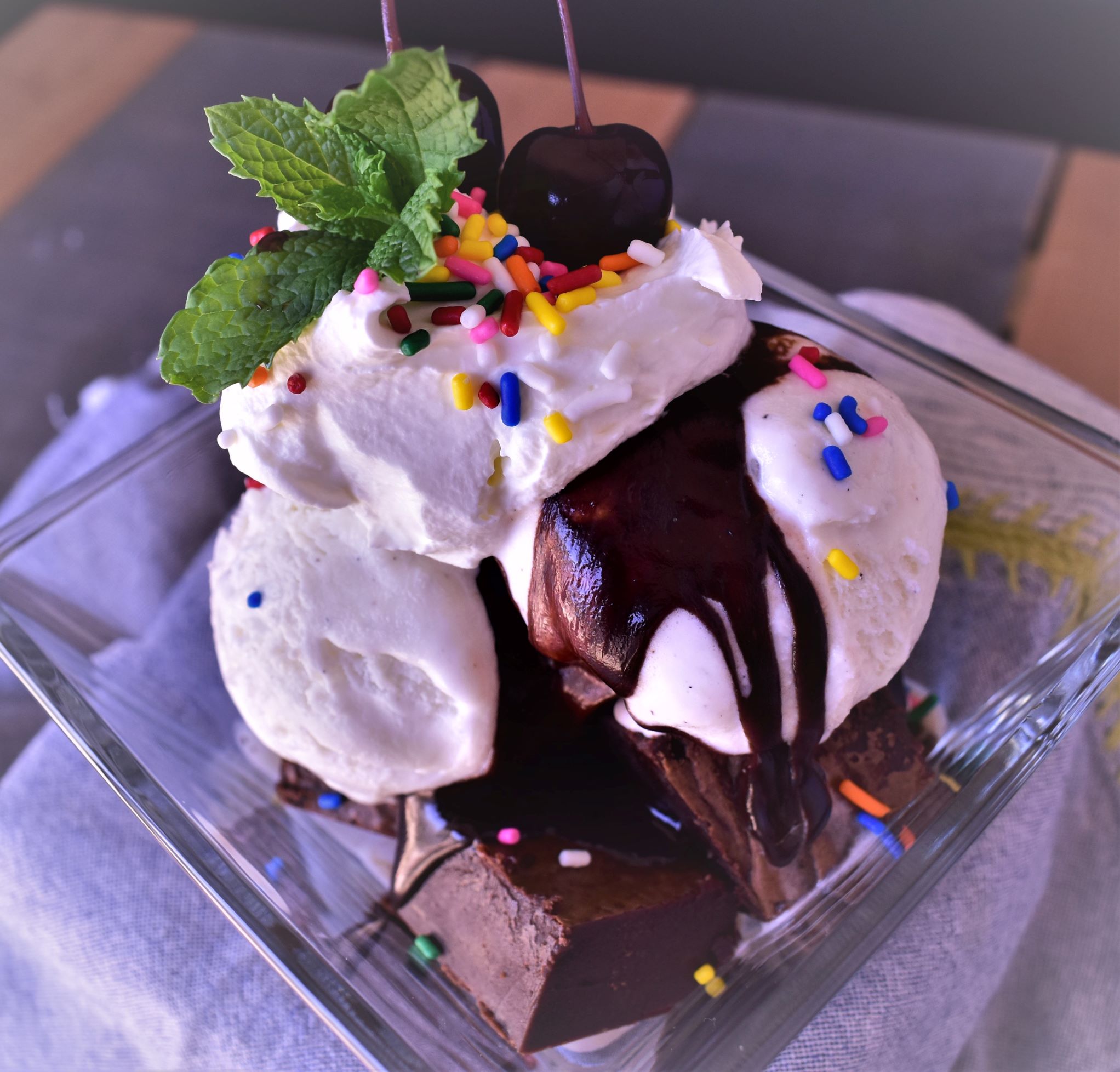 Servings
Ingredients
BROWNIES:
1 cup unsalted butter
16 ounces semi-sweet chocolate chips
4 eggs
1 cup Sweetie Magic®
2 teaspoons vanilla extract
1¼ cups all-purpose flour
1 teaspoon salt

HOT FUDGE SAUCE:
½ cup heavy cream
½ cup Sweetie Magic®
¼ cup unsalted butter, cubed
½ cup baking cocoa

SUGGESTED TOPPINGS:
Vanilla ice cream
Cherries
Sprinkles
---
How To Prepare
BROWNIES:
Preheat oven to 350°F.

In a medium size pot, melt butter and chocolate together over low heat, stirring until smooth. Set aside to cool.

In a large mixing bowl, beat eggs and Sweetie Magic® on medium speed till light in color and fluffy, about 7 to 8 minutes. Decrease to low speed and mix in vanilla and cooled chocolate mixture. Beat for 2 to 3 minutes. Fold in flour and salt and mix for 1 minute.

Grease a 13 x 9-inch pan, pour batter in, and bake for 25 to 30 minutes or until toothpick inserted into the middle comes out clean. Let cool slightly before cutting.

HOT FUDGE:
In a small pot, add heavy cream, butter, Sweetie Magic®, and cocoa powder. Cook over medium high heat for 3 to 4 minutes, stirring occasionally, until well combined. Serve warm.

To store, transfer to a bowl, cover and refrigerate.

SUNDAE:
Cut 1 x 1-inch square brownie bites. Place into serving bowl, top with vanilla ice cream, drizzle fudge sauce, fresh whipped cream, sprinkles and cherries – or your other favorite toppings!