One of the favorites from the bakery at K-Paul's Louisiana Kitchen, these rolls are a perfect balance of savory and spicy to complement all of your meals!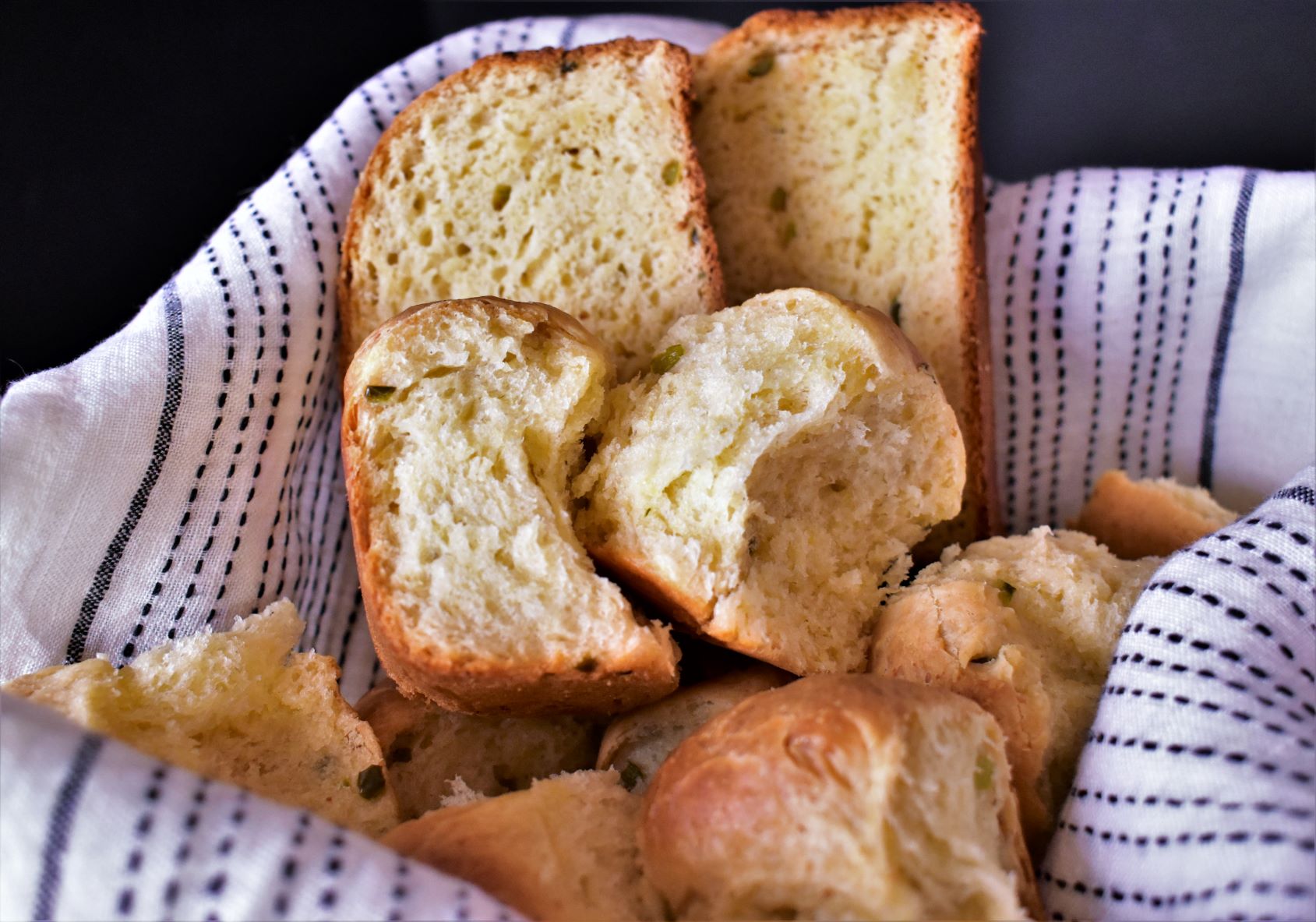 Servings
Makes 3 loaves or about 2 ½ dozen rolls
Ingredients
about 8 cups all-purpose flour, in all
1 pound cheddar cheese, grated (about 5 cups)
¾ cup minced jalapeño peppers (see NOTE)
½ cup sugar, in all
1½ teaspoons salt
2 cups hot water (105° to 115°)
3 packages dry yeast
2 tablespoons plus 2 teaspoons pork lard or vegetable oil

NOTE: if your jalapeños are fairly mild, increase amount used by about ¼ cup. Fresh jalapeños are preferred; if you have to use pickled ones, rinse as much vinegar from them as possible.
---
How To Prepare
In a very large bowl, combine 7 cups of the flour, the cheese, jalapeño peppers, 7 tablespoons of the sugar and the salt; mix well.

In a separate bowl combine the water, yeast and remaining 1 tablespoon sugar. Let sit about 10 minutes; stir until all yeast granules are thoroughly dissolved. Add the lard or oil to the liquid mixture, stirring until lard is melted. Then add half of the liquid mixture to the flour mixture. Mix with hands to moisten flour as much as possible. Add remaining liquid mixture to dough and mix until flour is thoroughly incorporated. Turn onto a lightly floured surface and knead by hand until smooth and elastic to the touch, about 15 minutes, gradually adding only enough additional flour to keep dough from sticking. Place in a large greased bowl and then invert dough so top is greased; cover with a dry towel and let stand in a warm place (90° to 100°) until doubled in size, about 1 hour (if dough hasn't doubled in size after 1 hour, place in a slightly warmer place). Punch dough down.

To make the bread: Divide enough dough into 3 equal portions. Form each into a ball, then stretch out dough with both hands and tuck edges under to form a smooth surface; pop any large air bubbles by pinching them. Place in 3 greased 8½ x 4½ -inch loaf pans. Cover with towel again and allow to rise until almost doubled in size, about 45 minutes to 1 hour. Bake at 325° until dark brown and done (see Lagniappe), about 1 hour, rotating the pans after 25 minutes for more even browning. Remove from pan as soon as bread will easily lift out, after about 5 to 10 minutes. Let cool about 1 hour before slicing.

To make the rolls: Pinch off dough and roll into 1½-inch balls until very smooth. Place in a greased 13x9-inch baking pan with rolls snugly touching each other and the sides of the pan. Cover and let rise again until doubled in size, about 45 minutes to 1 hour. Bake as directed above.

LAGNIAPPE: To test doneness, carefully remove one loaf or roll from pan; bottom should be evenly dark golden brown, and when bottom and sides are gently squeezed they should spring back into place. In high-humidity areas, store in paper bags or bread box (instead of airtight containers) so the bread can breathe.


Copyright ©1984 by Paul Prudhomme