This bread-based casserole is prepped a day ahead, so you can sleep in and still have a tasty meal fresh out of the oven in about an hour! It's great for breakfast served with fresh fruit or paired with a light green salad for brunch.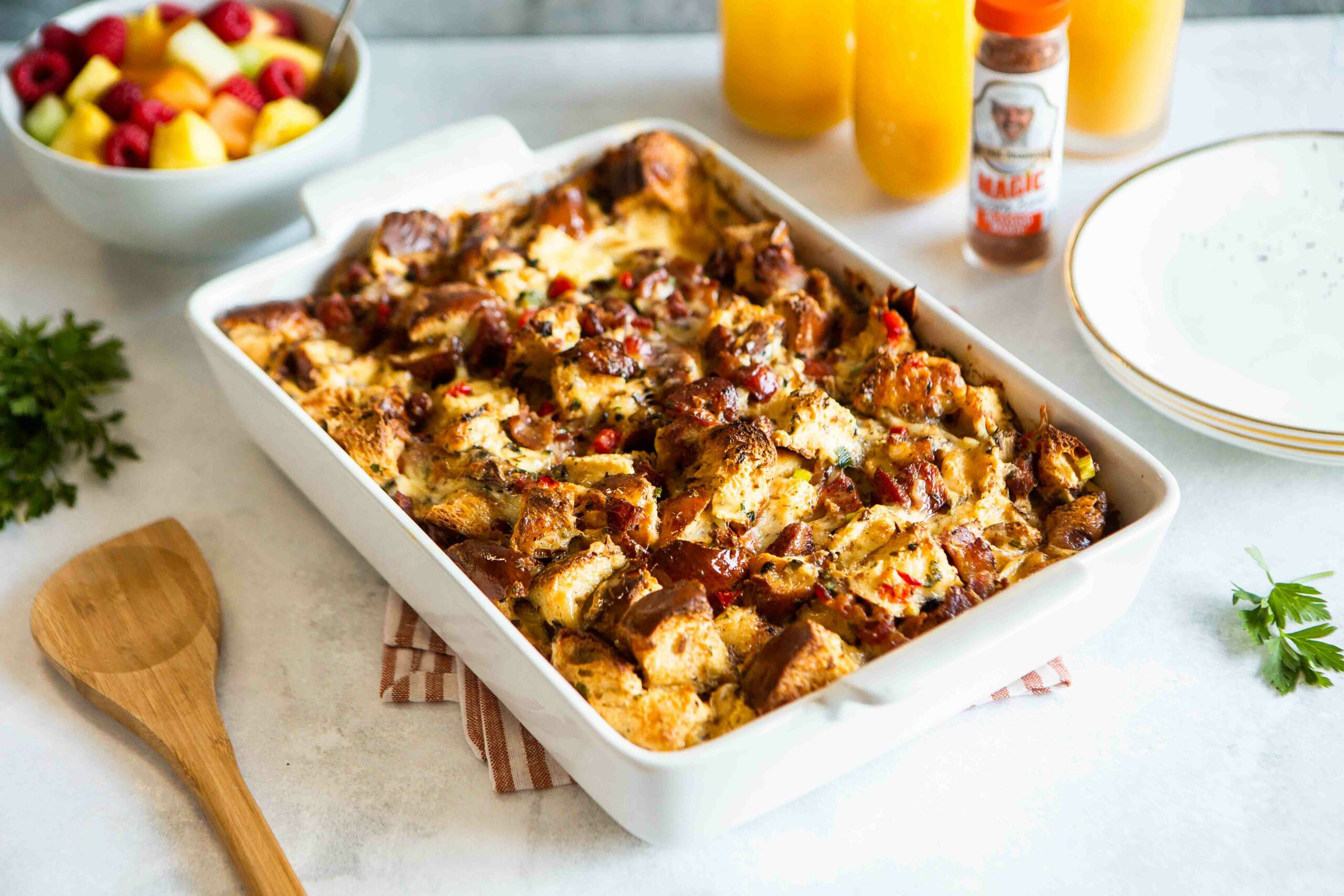 Servings
Makes 10-12 servings
Ingredients
2 tablespoons unsalted butter
½ pound small diced Chef Paul Prudhomme's Andouille Smoked Sausage (Hot or Regular)
1 cup small chopped mushrooms
½ cup small diced red onions
⅓ cup small diced red bell pepper
½ cup small chopped green onions
2 tablespoons finely chopped parsley
1 tablespoon finely chopped garlic
1 teaspoon finely chopped fresh thyme leaves
½ pound cooked and crumbled bacon
10 large eggs
3 cups half-and-half
1 cup shredded Gruyere cheese
1 cup shredded fontina cheese
2 tablespoons Chef Paul Prudhomme's Seafood Magic®
1 (14-ounce) loaf brioche, cut into 1-inch cubes
---
How To Prepare
Melt the butter in a large sauté pan over high heat, then add the andouille, mushrooms, onions, bell pepper, green onions, parsley, garlic, thyme and bacon. Cook for 5 minutes, constantly moving the pan back and forth and stirring. Remove from heat and let cool. Crack the eggs into a large mixing bowl, add the half-and-half, and mix well. Add the cheese, bread, Seafood Magic® and cooled andouille mixture and stir well to combine. Pour into a prepared 13" x 9" casserole dish, cover with plastic wrap and refrigerate overnight.

When ready to bake, preheat oven to 350°F. Remove plastic wrap and place dish in oven for 50-60 minutes, or until top is browned and center is set. Remove and let rest for 5 minutes before serving.