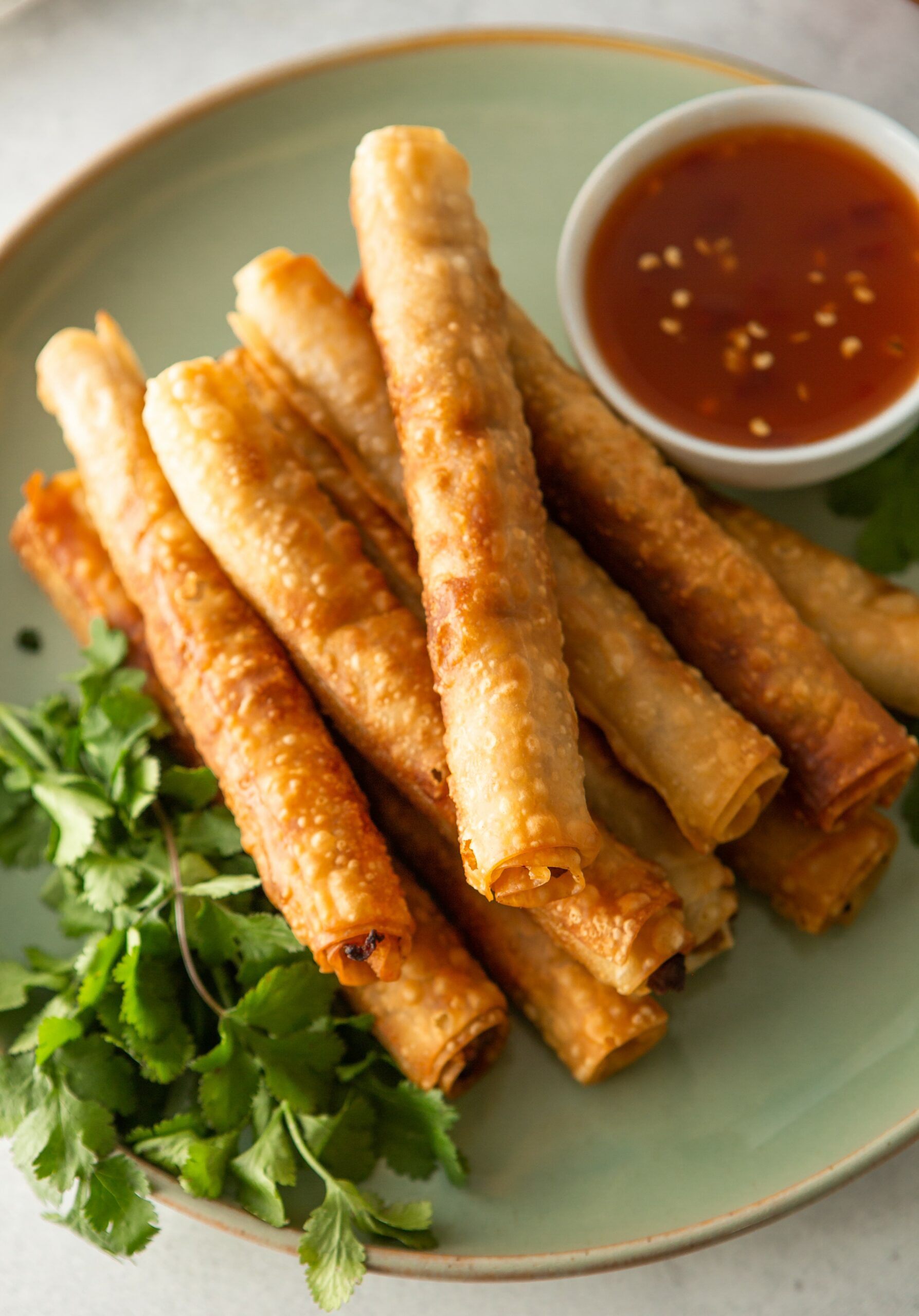 Servings
Ingredients
THAI CHILI SAUCE

1 cup water
¾ cup rice vinegar
¾ cup sugar
½ cup Magic Pepper Sauce®
2 teaspoons fresh ginger, chopped
1 teaspoon garlic, chopped
1 teaspoon red hot chili chopped
2 teaspoons ketchup
2 teaspoons corn starch
2 teaspoons cold water

LUMPIA

2 tablespoons canola oil
1 medium yellow onion, minced
2 garlic cloves, minced
1 teaspoon fresh ginger, minced
1 medium carrot, peeled and shredded (about 1½ cups)
1½ tablespoons Meat Magic®
1 pound lean ground pork
2 teaspoons light soy sauce
25 lumpia or wonton wrappers
1 egg, beaten
oil for frying
---
How To Prepare
THAI CHILI SAUCE

In a medium size saucepan, over medium-low heat, add the water and vinegar, bring to a boil. Add sugar, Magic Pepper Sauce®, ginger, garlic, ketchup and red chili. Stir well and reduce heat to low. In a small bowl, whisk the cornstarch with 2 teaspoons cold water together until combined. Mix into the sauce, stir for 2 to 3 minutes and bring to a boil. Remove from heat and let cool before serving.


LUMPIA

In a large skillet over medium heat, add oil, onion, garlic, ginger and carrot. Sauté for 2 to 3 minutes. Add ground pork and Meat Magic®, mix well and cook, breaking pork into small pieces, until cooked through, about 5 to 7 minutes. Reduce heat, add soy sauce, and mix well. Remove from heat.

Carefully separate wrappers (to prevent them from drying out, cover the unused wrappers with a moist paper towel). Lay one wrapper on a clean surface. Place 1 heaping tablespoon of the pork filling near the edge closest to you and spread along the edge. Fold wrapper over towards the middle, and roll. Moisten opposite edge of wrapper with egg wash to seal. Repeat until filling is used.

Heat a heavy skillet over medium heat, add ½-inch oil to the pot and heat for 5 minutes. Carefully add 3 or 4 lumpia to the oil. Fry the rolls for 1 to 2 minutes, turning as necessary, until all sides are golden brown. Drain on paper towels while frying remaining lumpia. Serve immediately with Thai Chili Sauce.