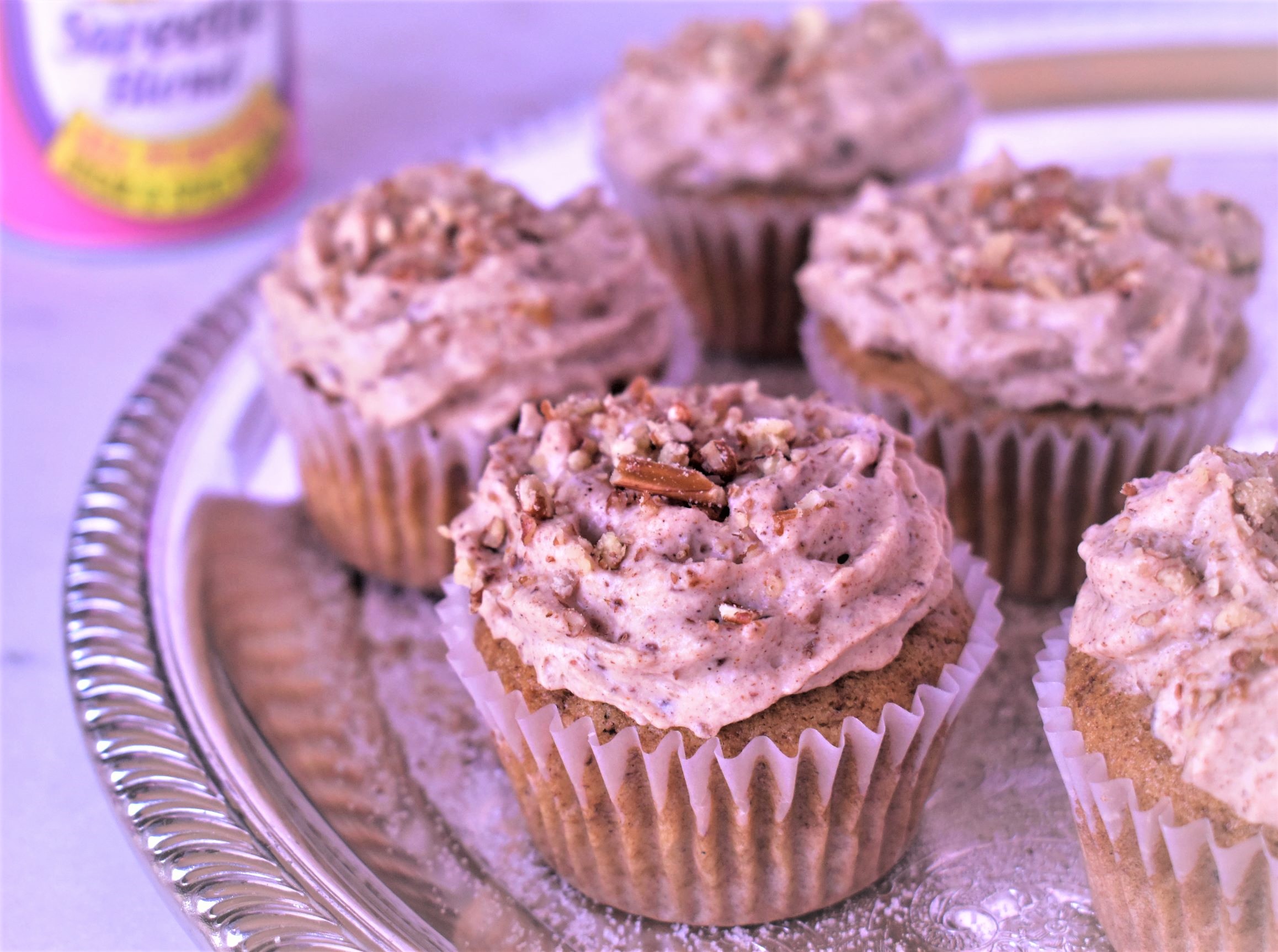 Servings
Makes 20 cupcakes
Ingredients
CANDIED PECANS:
1¾ cups chopped pecans
3 tablespoons unsalted butter
3 tablespoons dark brown sugar
1 tablespoon cinnamon
½ teaspoon vanilla

FROSTING:
1 pound room temperature unsalted butter
4 cups powdered sugar
¼ teaspoon salt
2 teaspoon vanilla
4 tablespoon heavy cream

CUPCAKES:
1½ cups all-purpose flour
1 tablespoon baking powder
½ teaspoon salt
3 tablespoons room temperature unsalted butter
3 tablespoons canola oil
½ cup dark brown sugar
½ cup Sweetie Magic®
2 eggs
½ cup + 2 tablespoons milk
---
How To Prepare
CANDIED PECANS:
Preheat oven to 350°. Heat a sauté pan over medium heat and add the pecans. Toast the pecans for a few minutes, stirring often to prevent burning, until they are very fragrant and starting to darken. Remove the pecans to a bowl. Add the butter, brown sugar, and cinnamon to the hot sauté pan and stir until melted. Add the pecans back to the pan a cook for a few minutes, until pecans are fully coated. Remove from heat and add the vanilla and stir, then pour back into bowl and set aside to cool.

FROSTING:
Using a stand or hand mixer with a whisk attachment, beat the room temperature butter on high for a couple minutes until light and fluffy. Add the powdered sugar and slowly beat in until incorporated, then increase speed to high and beat until fluffy. Add the salt, vanilla, and heavy cream and beat until well mixed. Fold in ½ cup of the cooled candied pecans and set aside.

CUPCAKES:
Sift the flour, baking powder, and salt together in a bowl and set aside. Using a stand or hand mixer with a paddle attachment, mix the butter, oil, brown sugar, Sweetie Magic®, eggs, and milk, until well mixed and starting to thicken. Slowly add the flour mix while mixer is on medium. Once the flour in mixed in, fold the rest of the candied pecans into the batter and pour about ¼ cup to ⅓ cup of batter into each lined cupcake tray. Bake for 20-23 minutes, or until a toothpick comes out clean. Let cool for at least 20 minutes before frosting.