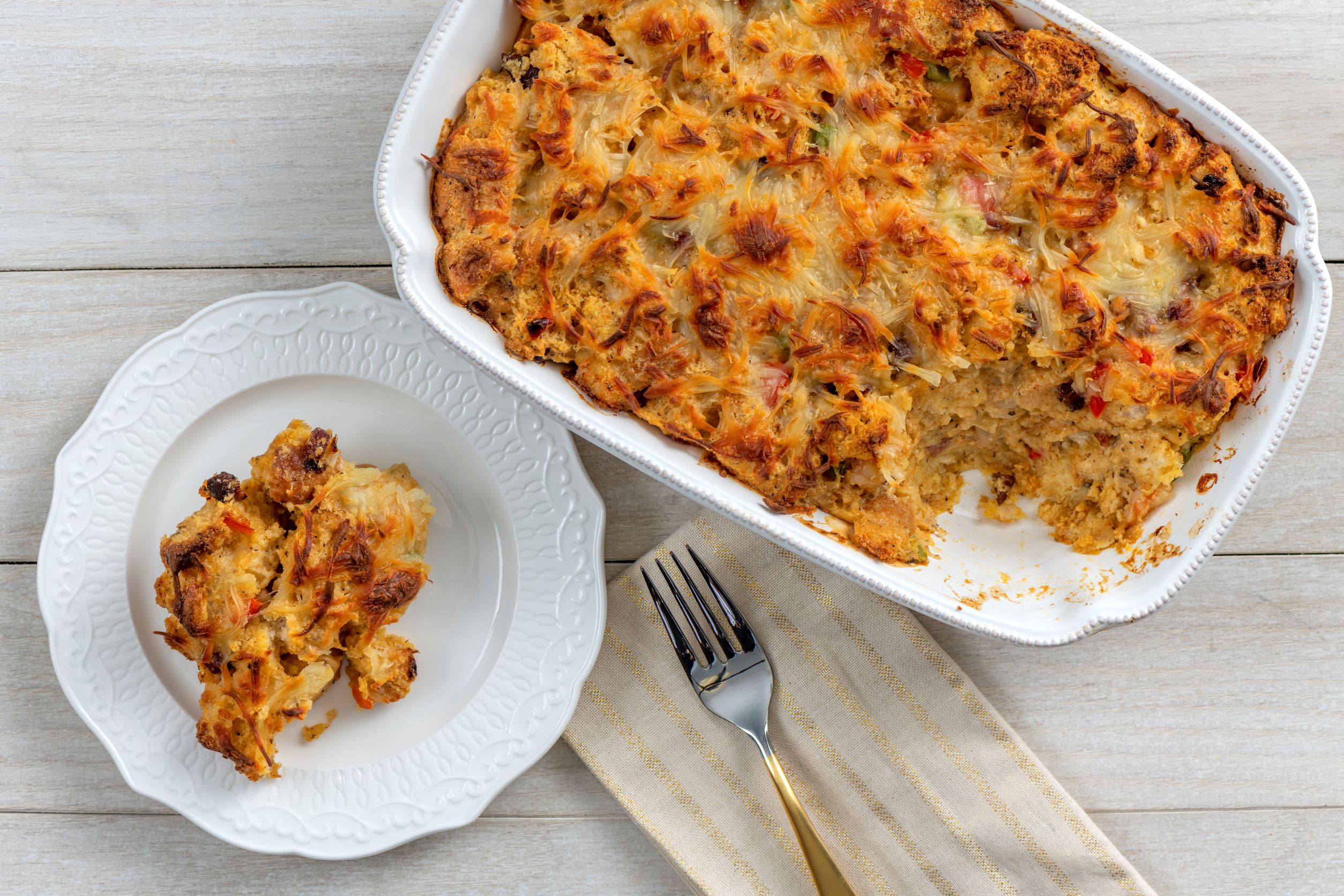 Servings
Makes about 10-12 servings
Ingredients
1 large loaf French bread, day old
3 large eggs
4 cups half & half
2 tablespoons Shrimp Magic®, divided
1 cup shredded white cheddar cheese
3 tablespoons canola oil
4 ounces Chef Paul Prudhomme's Tasso, coarsely chopped
1 medium yellow onion, chopped
¾ cup red bell pepper, chopped
½ cup celery, chopped
1 tablespoon minced garlic
1¼ pounds shrimp (peeled and deveined), coarsely chopped
1 cup shredded mozzarella cheese
2 tablespoons fresh basil, torn
---
How To Prepare
Preheat oven to 325°F.

Cut bread into 1-inch cubes (about 12 cups) and set aside.

In a large bowl, whisk together eggs, half & half, 1 tablespoon Shrimp Magic® and cheddar cheese. Add the bread to the egg mixture and let soak for 30 minutes.

While the bread is soaking, add oil to a large skillet over medium-high heat. When the oil starts to shimmer, add Tasso and sauté for 4 minutes, stirring often. Add onion, red bell pepper, celery, and garlic to the pan, reduce heat to low, and sauté the vegetables for about 5 minutes. Add chopped shrimp and remaining Shrimp Magic®, sauté for another two minutes, stirring often.

Stir in basil, then remove from heat and let cool for about 10 minutes.

Once cooled, add to the soaked bread mixture, and stir until fully combined.

Pour into a greased 9 x 13-inch casserole dish and sprinkle with shredded mozzarella cheese.

Bake for 45 to 50 minutes, or until center is set and cheese is melted and golden brown.

Serve hot as a main course or as a side dish.