We've taken peanut butter pie to new heights with the addition of fresh bananas and – well, you decide for yourself.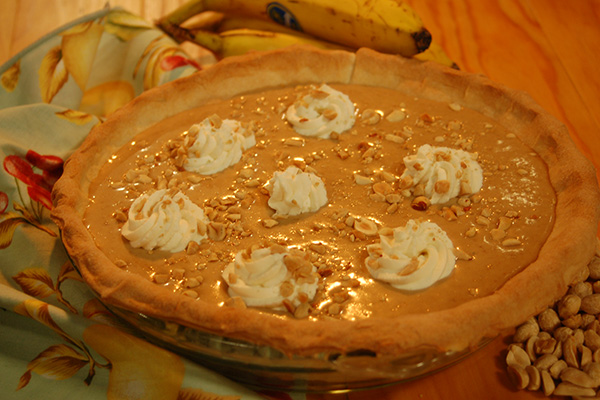 Servings
Makes 2 pies, 8 servings each
Ingredients
5 eggs
3 egg yolks
8 tablespoons (1 stick) unsalted butter, cut into parts
½ cup packed light brown sugar
1 cup crunchy peanut butter
½ cup honey
1 tablespoon vanilla extract
3 very ripe medium bananas, cut into large pieces
5 tablespoons cornstarch
3 tablespoons water
5 tablespoons sugar
1 cup heavy cream
1 (12-ounce) can evaporated milk
2 baked 9-inch pie shells
---
How To Prepare
Combine the eggs, egg yolks, butter, brown sugar, peanut butter, honey, vanilla, and bananas in the bowl of a food processor and process until completed blended, about 1½ minutes. Leave the mixture in the food processor.

Combine the cornstarch and water in a small bowl and stir until well blended. Set aside.

Place the sugar, cream and evaporated milk in the top pot of a double boiler set over boiling water and heat, stirring occasionally, until light bubbles start forming around the edges and the mixture is hot, about 6 to 7 minutes.

Stir the cornstarch mixture and whisk it into the cream/milk. Whisk constantly until the mixture is very thick, about 2 minutes. Then, with the food processor running, add the cream mixture to the banana mixture in a steady stream and process 45 to 60 seconds. Pour the mixture back into the top of the double boiler and cook over high heat, whisking constantly, until the temperature reaches 165ºF, about 10 minutes. Remove from the heat and allow the filling to cool to about 120ºF, whisking frequently, about 15 minutes.

Pour the filling into the prepared pie shells and refrigerate 6 to 8 hours, until set.

Serve as is or with whipped cream.

NOTE: If desired, add 6 tablespoons of melted butter to the mixture after it has been cooked, for a richer and slightly firmer texture. Roasted nuts, such as chopped pecans or almonds may be added as a variation.