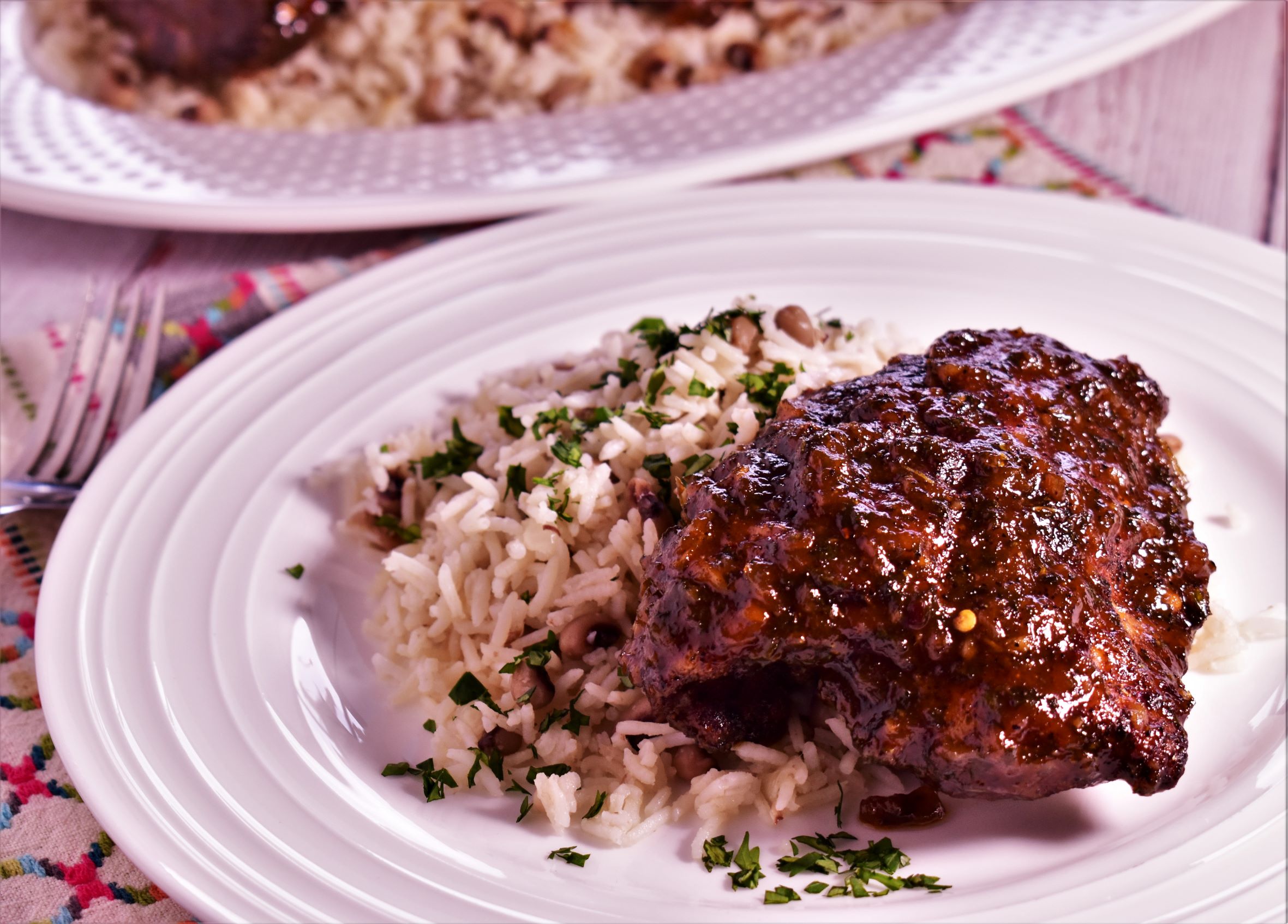 Servings
Makes 8 servings
Ingredients
4 lbs bone-in, skin-on chicken thighs
5 tablespoons + 1 teaspoon Magic Caribbean Jerk Seasoning®, in all
1 tablespoon canola oil
½ cup finely chopped onion
3 tablespoons finely chopped jalapeno
1 tablespoon minced garlic
⅓ cup ketchup
⅓ cup honey
¼ cup + 2 tablespoons white vinegar
¼ cup dark brown sugar
¼ cup cilantro
¼ cup parsley
---
How To Prepare
Preheat oven to 275°F.

Season chicken thighs with 3 tablespoons plus 1 teaspoon of the Magic Caribbean Jerk Seasoning® and place, skin side up, on a lined sheet pan. Place in the oven and cook for 1 hour.

While the chicken is cooking, heat the oil in a sauté pan over low heat. Add the onions, jalapeno, and garlic and sweat until the onions are translucent, being careful not to burn the garlic.

Stir in the ketchup, honey, vinegar, brown sugar, and the rest of the Magic Jerk Seasoning™, and increase heat to medium-high. Mix well and bring just to a simmer, then remove from heat.

Add sauce to food processor with the cilantro and parsley and pulse until you have a slightly lumpy, not completely smooth sauce. Pour into a bowl and set aside.

After chicken has cooked for one hour, raise oven temperature to 325° and cook for another 20 minutes.

Remove chicken from oven and dip each piece into sauce, making sure to completely coat the thighs, then place back onto sheet pan. Return pan to the oven and cook for another 10 minutes.

Remove from oven and let rest for about 5 minutes before serving.