Turkey, duck, chicken and cornbread!  These mini-Turduckens are great for a holiday table – or even your next Sunday dinner!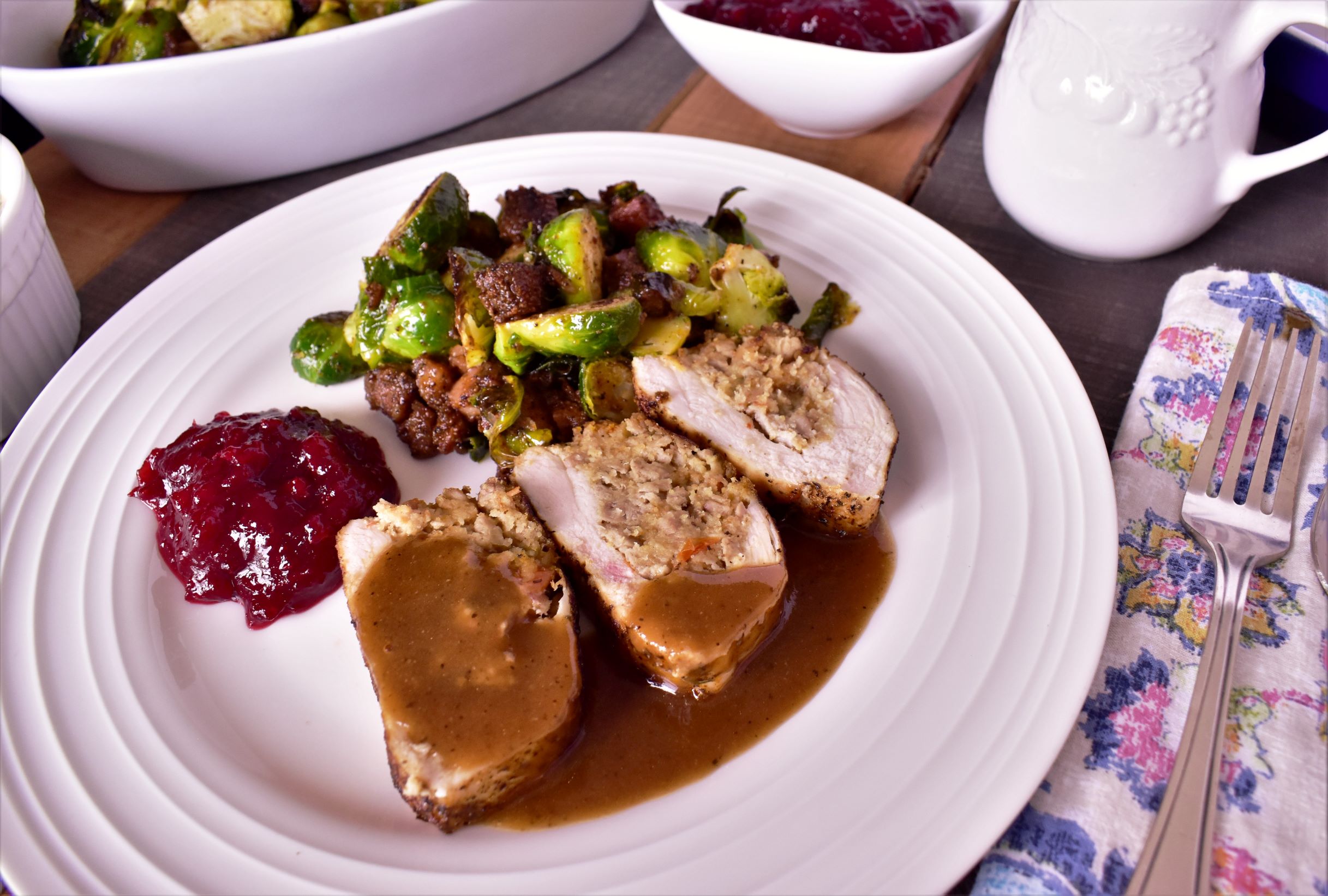 Servings
Makes 8 servings
Ingredients
Duck & Cornbread Stuffed Chicken Breasts:
1 cup diced onions
½ cup diced red bell peppers
½ cup diced celery
3 cloves peeled and smashed garlic
½ cup turkey or chicken stock
1 (4-5 lbs) duck
1 tablespoon Poultry Magic®
4 cups prepared cornbread, crumbled

8 (6-8 oz) boneless, skinless chicken breasts
8-12 teaspoons Poultry Magic®
2 tablespoons canola oil, in all

Turkey Gravy:
2 tablespoon canola oil
½ cup small-diced onions
1 teaspoon minced garlic
2 teaspoons all-purpose flour
3 cups turkey stock
1 tablespoon Poultry Magic®
2 teaspoons light brown sugar
---
How To Prepare
Preheat oven to 325°. Add the onions, bell peppers, celery, garlic, and stock to a shallow baking dish. Cut the wings off the duck and add to the baking dish along with the duck liver, heart, and neck. Season the outside of the duck with the Poultry Magic® and place on top of the vegetables. Place in the oven and cook for 3 hours. Remove from oven and let rest.

When cool enough to handle, remove and discard the skin from the duck. Remove the meat from the bones and finely chop (discard the bones). Add meat to a large bowl with the crumbled cornbread. Strain and reserve the stock from the baking dish. Reserve neck, heart and liver in the refrigerator. Add the vegetables to the bowl along with ½ cup of the hot stock to moisten. Mix well and add a little bit more of the juices if necessary (stuffing should be moist, but not soaked). Refrigerate stuffing and any leftover stock until ready to use.

To stuff the breasts, cut a pocket along one side of the breasts and stuff with about ¾ cup of the stuffing into the pocket (fill according to size of the breasts). Preheat oven to 350°. Season each breast with 1-1½ teaspoons of Poultry Magic®. Heat 1 tablespoon of oil in a nonstick skillet over medium high heat. When the oil is hot, add half of the chicken breasts and sear on both sides. Remove from pan and place on a baking sheet. Repeat searing process with the last teaspoon of oil and the other 4 breasts.

Roast stuffed breasts in oven for 20 minutes, or until internal temperature of stuffing reaches 165°F.

While the chicken breasts are cooking, make the turkey gravy. Heat a saucepan over medium high heat and add oil. Add the onions and cook, stirring almost constantly, until they are brown. Add the garlic and flour and cook, stirring continuously, until roux is slightly darker than peanut butter. Add the turkey stock, Poultry Magic®, light brown sugar, reserved duck stock, heart, liver, and neck. Stir well to incorporate and bring to a simmer. Cook for 20 minutes or until it has reached a gravy consistency, stirring occasionally. Pour through a fine strainer and discard large pieces. Keep gravy warm until ready to serve.

Serve stuffed breasts whole or sliced and drizzled with warm gravy.