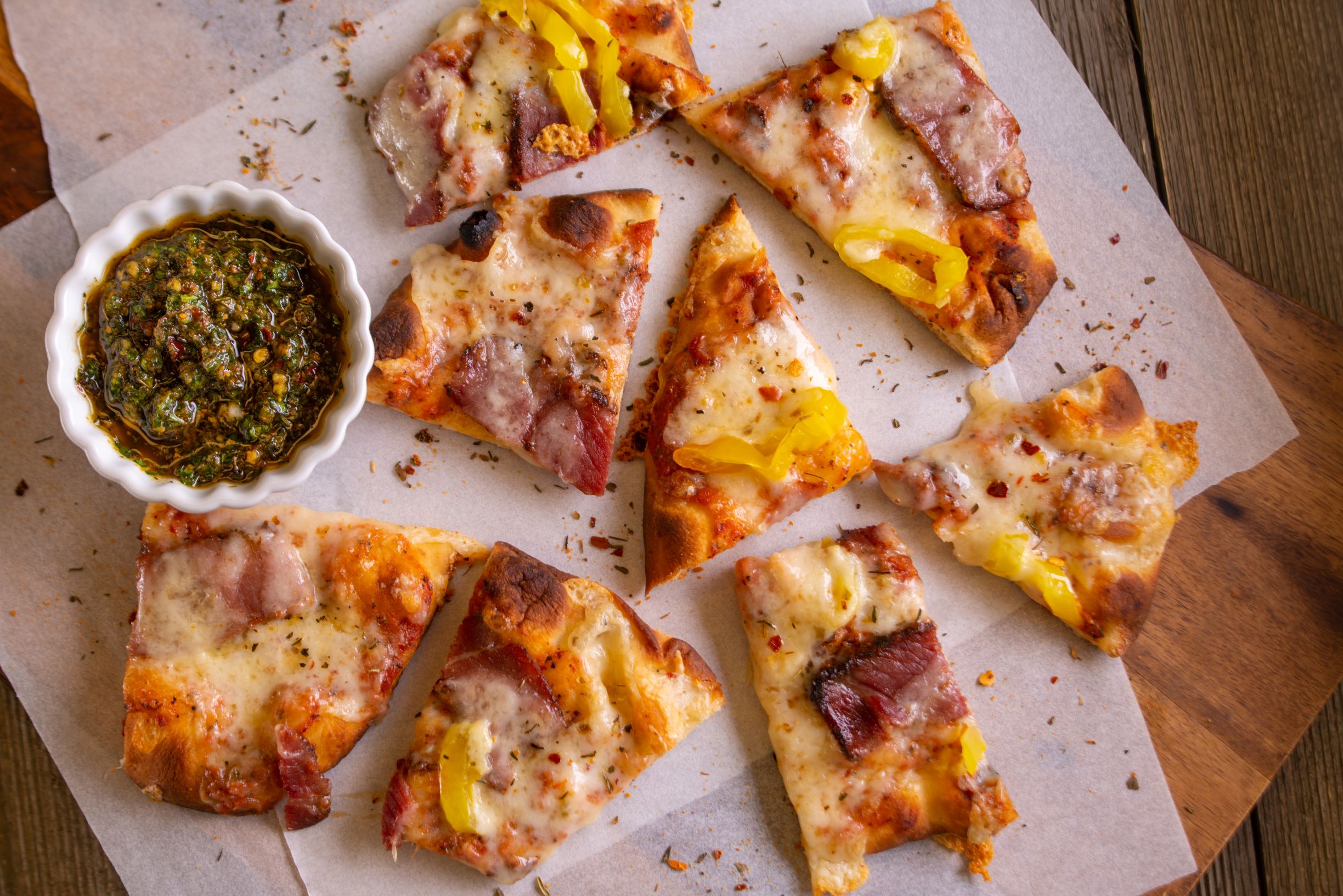 Servings
Makes 4 flatbreads
Ingredients
5 tablespoons + 1 teaspoon Herbal Pizza & Pasta Magic, in all
½ cup chopped parsley
1 tablespoon + 1 teaspoon minced garlic, in all
2 tablespoons cane (or your favorite) vinegar
¾ cup olive oil
1 cup canned diced tomatoes
¼ cup tomato sauce
1 teaspoon white sugar
¼ teaspoon salt
4 flatbreads (pita, naan, roti, etc)
16 thin slices of Chef Paul Prudhomme's Tasso
20 mild pickled pepper rings
2 cups grated pepper jack cheese
---
How To Prepare
Preheat oven to 450°F.

Italian Salsa Verde: In a small bowl, mix 4 tablespoons of Herbal Pizza & Pasta Magic®, parsley, 1 tablespoon of garlic, cane vinegar, and olive oil. Set aside.

Pizza Sauce: Place the diced tomatoes, tomato sauce, sugar, salt, remaining garlic and Herbal Pizza & Pasta Magic in a blender or food processor and puree until smooth. Set aside.

Place the flatbreads on baking sheet(s) and cook in oven for 4 minutes. Remove and place 2-3 tablespoons of Pizza Sauce on each one, add 4 slices of Tasso, 5 rings of pickled peppers, and ½ cup of cheese to each. Return to oven and bake for another 6 minutes, until cheese is melted and bottom of crust is crispy. Remove from oven, slice, and serve hot alongside or topped with the Italian Salsa Verde.