This traditional-tasting dish can be made with fresh turkey (or chicken), and also is a great way to use leftover holiday bird. If you use cooked turkey, then season and add it toward the end of the cooking time, so it doesn't overcook.
Chef Paul Prudhomme's Fork in the Road cookbook offers not only recipes but a model for anyone who wants to modify his or her cooking to minimize the use of less healthful ingredients, yet retain the rich taste and texture that make them so delicious.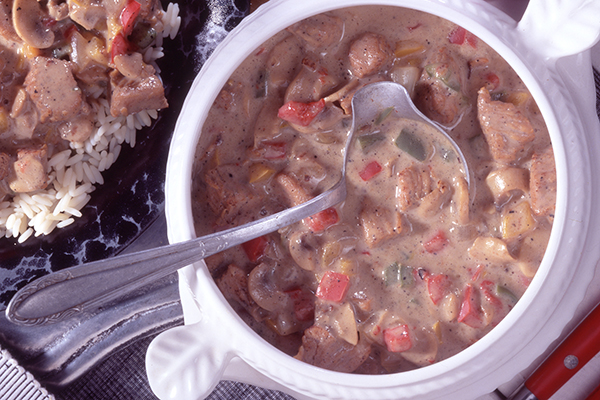 Servings
Makes 8 cups, enough for 4 generous servings
Ingredients
1 pound turkey (or chicken) breast, diced into ¾ inch cubes
1 tablespoon + 1 teaspoon Chef Paul Prudhomme's Poultry Magic®
1 cup chopped onions
¾ cup chopped red bell peppers
¾ cup chopped yellow bell peppers
¾cup chopped green bell peppers
3 cups sliced fresh mushrooms
2½ cups defatted chicken stock, in all
10 tablespoons nonfat dry milk
3 tablespoons all purpose flour
½ cup nonfat cream cheese
6 cups cooked long-grain white rice
---
How To Prepare
Preheat a heavy 5-quart pot, preferably nonstick, over high heat to 350º, about 4 minutes.

Sprinkle all surfaces of the diced turkey evenly with 2 teaspoons of the Poultry Magic® and rub it in well. Spread the seasoned turkey cubes evenly over the bottom of the pot and cook, turning as necessary, until they are browned on all sides, about 3 to 5 minutes. Add the onions, peppers, mushrooms, and the remaining Poultry Magic®. Cook, stirring occasionally, for 4 minutes.

While the mixture is cooking, place 1 cup of the stock, the dry milk, and the flour in a blender, and process until smooth and creamy. Transfer this mixture to the pot and add the remaining stock. Cook just until is comes to a gentle boil, about 3 minutes. Lower the heat and simmer 4 to 6 minutes. Turn off the heat. Remove 1 cup of the liquid from the pot and place it in the blender, add the cream cheese, and blend. Stir this mixture back into the pot and serve immediately over the rice.