Black-eyed peas are a traditional New Year's Day dish (they're supposed to bring good health and good luck), along with smothered cabbage (to ensure wealth) and pork roast and cornbread.
Abel and Jo's black-eyed peas are creamy and wonderfully peppery, and the two meats make a good contrast in taste – the slab bacon with the peas is delicious, and then the bites of tasso and peas are a completely different taste treat.
(Abel was the eighth child born to the Prudhomme family.  He and his wife, Jo, shared this recipe in The Prudhomme Family Cookbook.)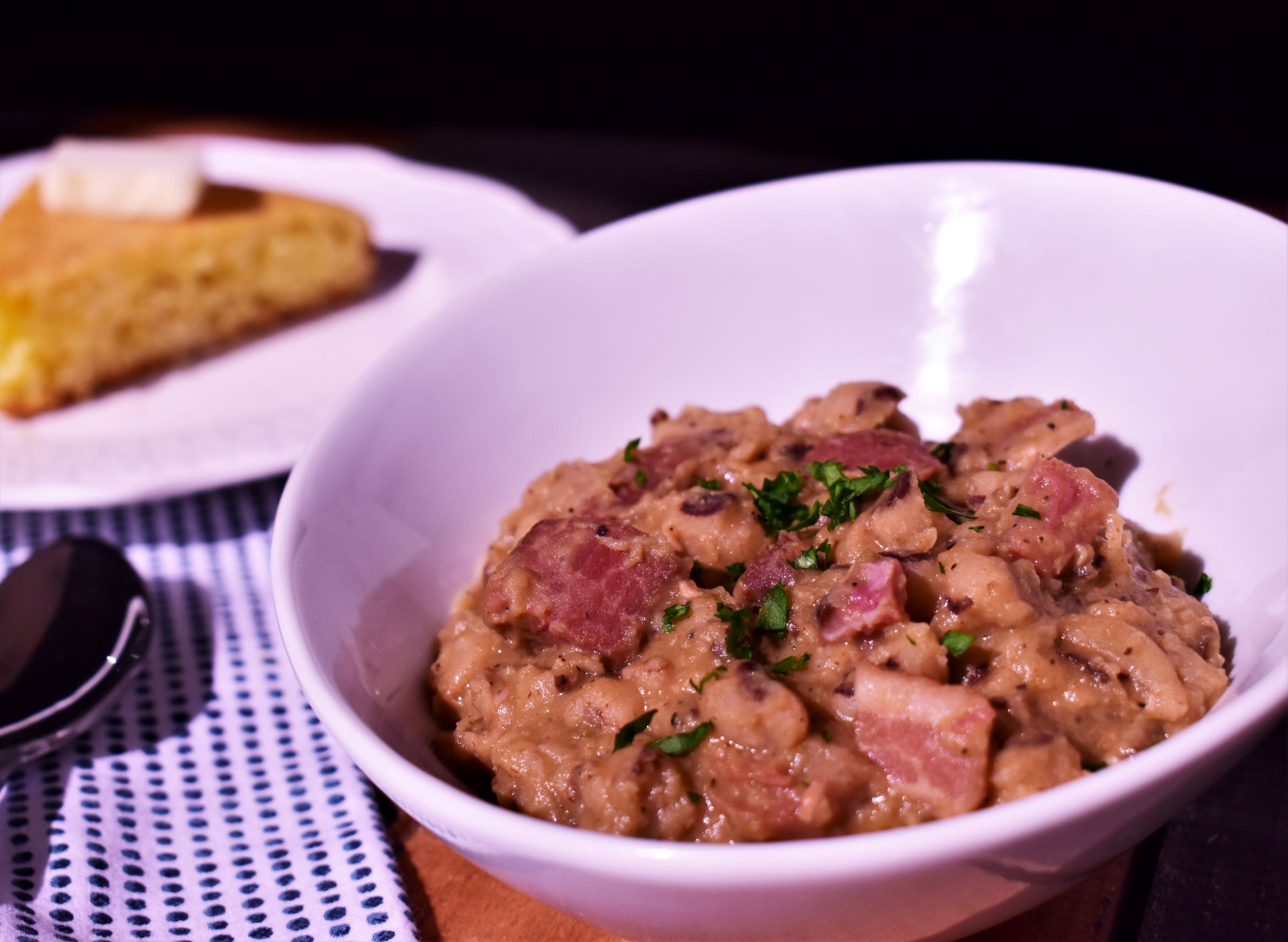 Servings
Makes 8 to 10 side-dish servings
Ingredients
2 quarts + 1½ cups pork or chicken stock
1 pound dried black-eyed peas (not soaked)
½ pound slab bacon, cut into 1-inch cubes (1½ cups cubed)
¼ pound Tasso, cut into 1-inch cubes (1 cup cubed)
1½ cups finely chopped onions
½ cup finely chopped green bell peppers
¼ cup chopped celery
1 teaspoon minced garlic
2 tablespoons Vegetable Magic®
---
How To Prepare
In a 5 ½ quart saucepan or large Dutch oven, combine the stock, peas, bacon, tasso, onions, bell peppers, celery, and garlic. Cover pan and bring to a boil over high heat, stirring occasionally so peas don't stick. Put lid askew and continue boiling about 5 minutes.

Stir well, reduce heat to maintain a simmer, and re-cover pan with lid askew. Simmer about 1 hour, stirring occasionally (more often toward the end of cooking time so the mixture doesn't scorch.) Stir in the Vegetable Magic®, re-cover pan, and simmer about 30-mintues, stirring frequently and being careful the mixture doesn't scorch. If it does scorch, do not stir; change to a new pan.

Remove cover and simmer until creamy thick, about 10 minutes more, stirring as necessary. Remove from heat and serve immediately.