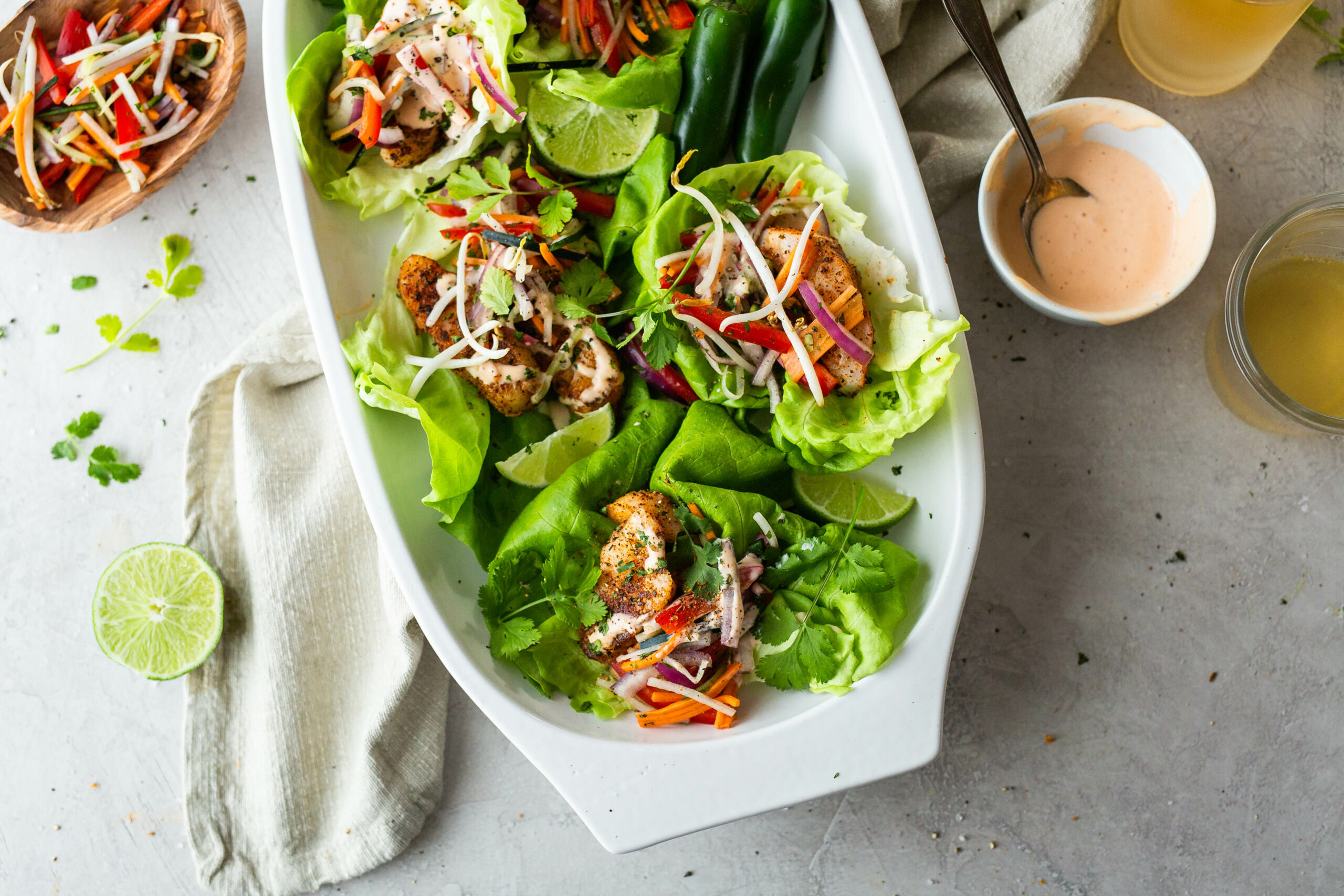 Servings
Makes 6 tacos
Ingredients
SPICY MAYO:
¼ cup mayonnaise
1 teaspoon sriracha sauce
½ teaspoon fresh lime juice
¼ teaspoon sesame oil
¼ teaspoon seasoned rice wine vinegar

VEGGIE TOPPING:
1½ teaspoons seasoned rice wine vinegar
1½ teaspoons sugar
1 teaspoon fish sauce
¼ cup red onions, julienned
⅛ cup carrots, julienned
¼ cup red bell pepper, julienned
⅛ cup cucumber, julienned
⅛ cup daikon radish, julienned
1 teaspoon jalapeno, fine diced
2 tablespoons cilantro, chopped

FISH TACOS:
½-pound drum fillet, or your favorite fish, cut into ¾-ounce portions
2 teaspoons Chef Paul Prudhomme's Seafood Magic®
1 tablespoon oil
1 head of your favorite lettuce, like iceberg, green leaf, or butter
---
How To Prepare
SPICY MAYO:
In a small mixing bowl mix the mayo, sriracha, lime juice, sesame oil, and rice vinegar. Stir well to combine and set aside.

VEGGIE TOPPING:
Add the vinegar, sugar, and fish sauce to a mixing bowl and stir well, until sugar is dissolved. Add the julienned vegetables, jalapenos and cilantro to the bowl and toss well, coating all the vegetables, then set aside.

TACOS:
Pull 6 larger pieces of lettuce (or 2 smaller pieces, plated together) from the core, wash and reserve on a platter or large plate.

Season the fish on all sides with Seafood Magic®. Heat the oil in a nonstick sauté pan over medium heat. Add the fish and bronze on each side, about 3 minutes per side. Remove from pan and let cool slightly. Place 2 pieces of fish in each lettuce cup, then top each with the picked veggies. Drizzle the spicy mayo over the top and serve immediately.