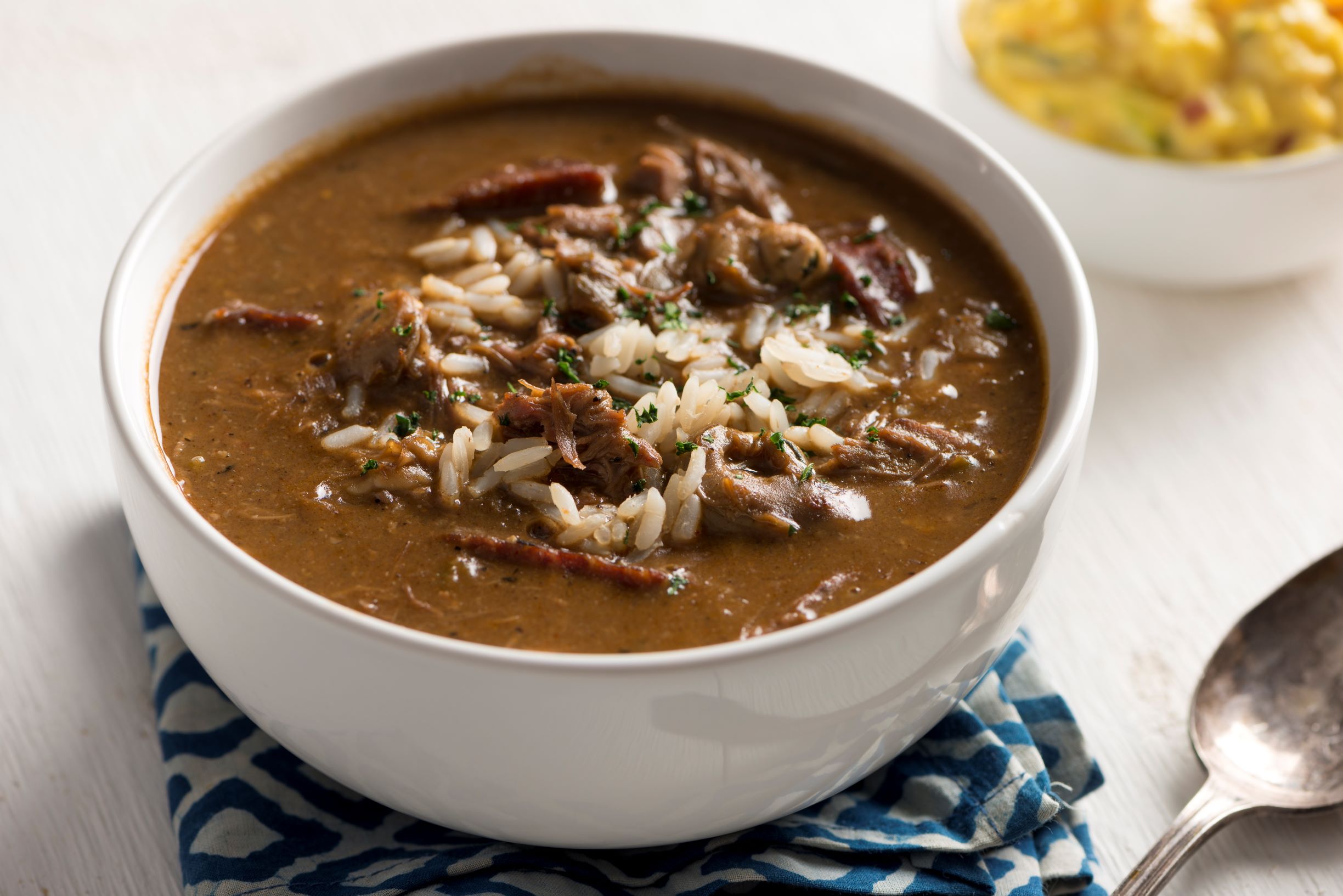 Servings
Makes 8-10 servings
Ingredients
1 (4-5 pound) duck
5 tablespoons + 1 teaspoon Seafood Magic®, in all
¾ cup canola oil
1 cup all-purpose flour
1½ cups onions, diced
¾ cup green bell peppers, diced
¾ cup celery, diced
1½ teaspoons garlic, minced
½ pound Andouille Smoked Sausage (Hot or Regular), sliced into ¼" half-moons
2 bay leaves
7 cups chicken stock
1 tablespoon Worcestershire sauce
1 tablespoon granulated garlic
1 teaspoon Kosher salt
2 pints fresh oysters, in their liquor
---
How To Prepare
Preheat oven to 375°F. Remove the offal from the cavity of the duck and discard or save for later use. Trim any excess fat from duck and discard. Season duck with 2 tablespoons of Seafood Magic®, place in baking dish, and roast for 2 hours, or until golden brown and leg bone can be easily removed from duck. Remove from oven and set aside to cool.

Heat a heavy bottom pot, preferably cast iron, over high heat and add the oil. When oil is hot, add the flour and stir until roux is dark brown. NEVER STOP STIRRING! Add the onions, bell peppers, celery, garlic, Andouille, and bay leaves. This will stop roux from browning. Cook vegetables and andouille for about 5 minutes, stirring very often, or until onions are soft. Whisk in the chicken stock about a cup at a time. Add the rest of the Seafood Magic®, Worcestershire sauce, granulated garlic, and salt and bring to a boil, lower to a simmer, cover, and cook for 1 hour.

Strain the oysters, reserving 1 cup of their liquor, and set aside. Add oyster liquor, cover, and let simmer for 30 minutes. While the gumbo is simmering, remove and discard the skin from the duck. Remove the meat from the bones and shred the duck meat. When the 30 minutes are up, add the duck meat to the pot. Stir well and simmer uncovered for 15 minutes.

After 15 minutes, stir in the oysters and cook for another 2-3 minutes, or until oysters are nice and plump. Serve hot over rice.