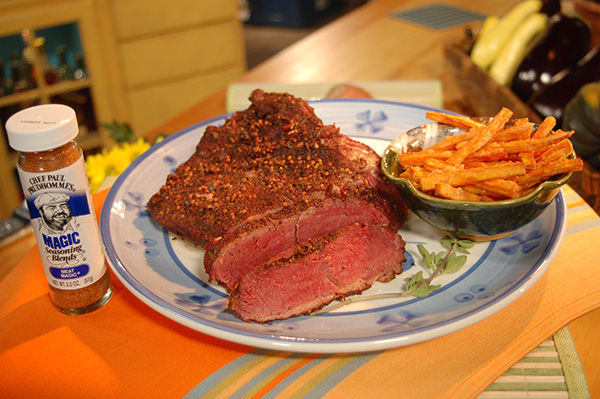 Servings
Makes 6-8 servings
Ingredients
1 Tablespoon Chef Paul Prudhomme's Pork and Veal Magic®
1 teaspoon yellow mustard seeds
1 teaspoon brown mustard seeds
1 teaspoon coriander seeds
½ teaspoon allspice berries
½ teaspoon cracked black pepper
½ teaspoon dill seed
½ teaspoon crushed bay leaf
3 whole cloves
1 corned beef brisket, about 3 pounds
2 cups water
---
How To Prepare
Combine the Seasoning Mix ingredients in a small bowl and mix well.

Season the brisket evenly on all sides with the Seasoning Mix. Place the brisket on the rack of a pressure cooker. Add the water. Close the cover securely. Place the pressure regulator on vent pipe. Place the cooker over high heat and bring the cooker up to 15 pounds pressure. Lower the heat and cook 1 hour at 15 pounds pressure (or 20 minutes per pound of corned beef) with the pressure regulator rocking gently. Remove from heat. Let pressure drop of its own accord.

Slice thinly across the grain and serve with Sweet Potato Fries.

SWEET POTATO FRIES

Makes 2 servings

1½ cups flour

1 cup water

1½ tablespoons Vegetable Magic®

2 medium size sweet potatoes, cut into thin sticks (about ½-inch thick) (See Note)

Make batter with flour and water, whisking to thicken the batter. Add the Vegetable Magic® , continuing to whisk. Drop sticks into seasoned batter; remove and drain off excess. Heat deep fryer to 350°F. Transfer sticks to deep fryer (or skillet with ½-inch of oil) and fry until golden brown. Drain on paper towels and serve.

Note: Cover the sweet potato sticks with water to keep them from changing color and losing moisture.