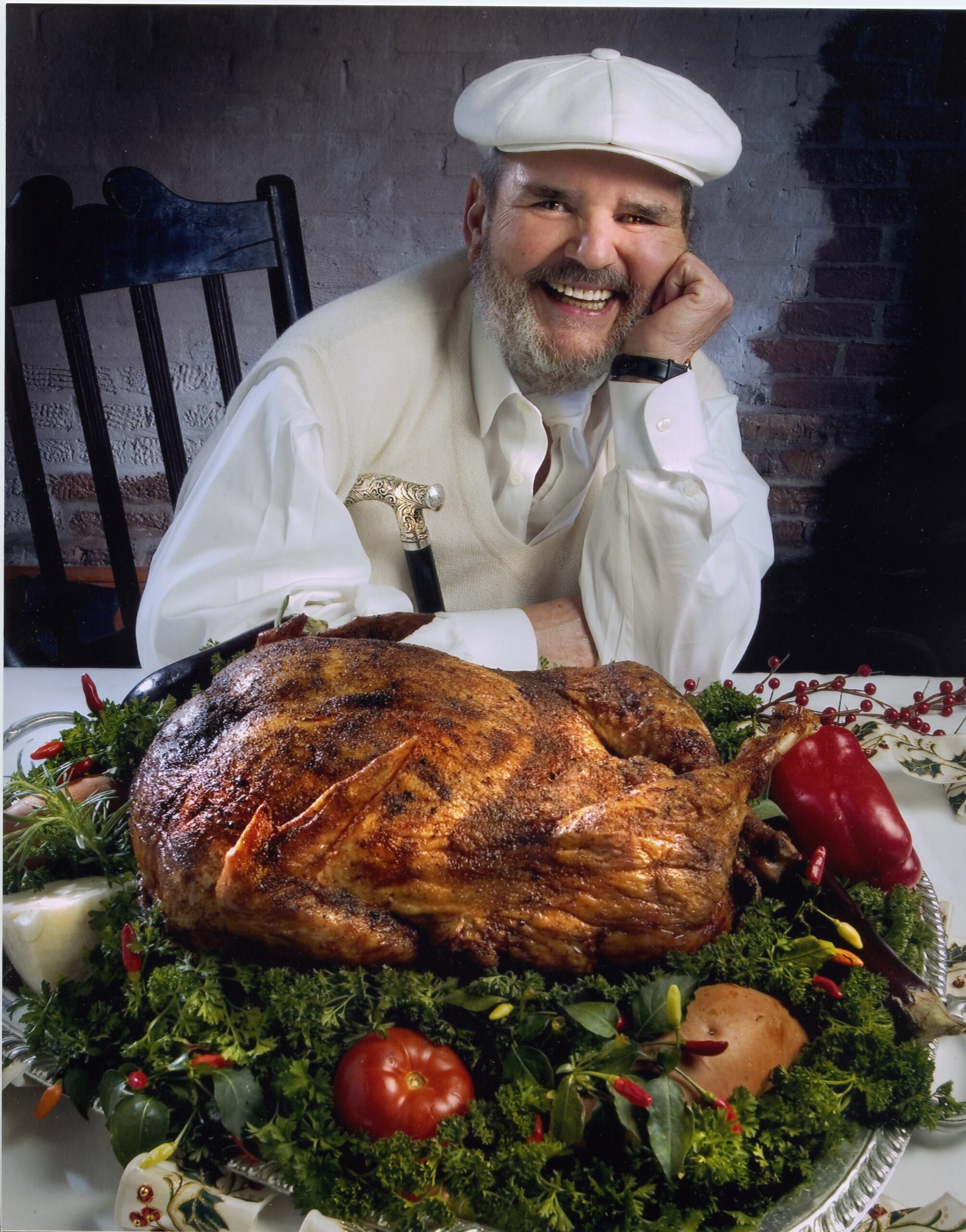 Servings
Serves 10-12
Ingredients
1 (10-12 pound) turkey
36 garlic cloves, peeled and cut in half
2 tablespoons plus 1 teaspoon Chef Paul Prudhomme's Poultry Magic® OR
Chef Paul Prudhomme's Meat Magic® OR
Chef Paul Prudhomme's Vegetable Magic® OR
Chef Paul Prudhomme's Magic Seasoning Salt®
1 medium onion, peeled, quartered and separated
2 celery ribs, cut in half crosswise
½ large green bell pepper, cored, seeded and cut into 2-inch strips
2 large carrots, scrubbed and cut in half lengthwise
---
How To Prepare
Remove and save the fatty deposits found inside the flaps by the breast and tail cavities of the turkey.

In a 10-inch skillet, melt the turkey fat over high heat. Discard all but 1 tablespoon fat and return this to the skillet. Add garlic and ½ teaspoon Magic Seasoning Blend®, and sauté until the garlic just begins to turn brown and soft, about 3 minutes. Drain and set aside.

Work your fingers between the breast meat and the skin to form pockets, and place the colored sautéed garlic evenly inside these pockets. Sprinkle 2 teaspoons of the Magic Seasoning Blend® inside the breast cavity, then place the vegetables inside the cavity. Sprinkle the remaining Magic Seasoning Blend® evenly over the outside of the turkey. Place the turkey in a large roasting pan and roast uncovered until tender and golden brown, about 3 ½ - 4 ½ hours. When the skin is light golden, about 2/3 done, shield the breast loosely with foil to prevent overcooking. Check for doneness ½ hour before turkey is expected to be fully cooked. Turkey is fully cooked when the thigh's internal temperature is 180°F. The thickest part of the breast should read 170°F and the center of the stuffing should be at least 160°F.

Let the turkey stand for 15-20 minutes before carving.