The title says it all! If a grill is not available, an alternative is to broil the pieces until a nice brown crust forms, then bake in a 300 degrees oven until done.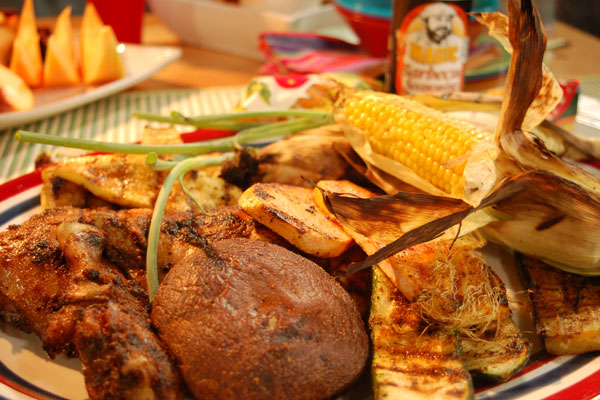 Servings
Makes 4 Servings
Ingredients
5 tablespoons Chef Paul Prudhomme's Meat Magic®
1 teaspoons ground cardamom
1 tablespoon + 1 teaspoons soy sauce
1 tablespoon + 1 teaspoon onion powder
1 tablespoon + 1 teaspoon ground ginger
1 tablespoon grated lemon peel
1 tablespoon grated lime peel
1 teaspoon ground cinnamon
1 teaspoon ground nutmeg
1 teaspoon ground savory
1 teaspoon ground allspice
1 teaspoon Chef Paul Prudhomme's Ground Dried Pasilla Magic Chili
4 bay leaves
1 (3-4 pound) chicken, cut into 8 pieces
4 tablespoons unsalted butter
---
How To Prepare
Combine the Seasoning Paste ingredients in a large bowl and mix well. Place the chicken pieces and bay leaves in the bowl and rub the pieces evenly with the seasoning paste. Cover the bowl tightly with plastic wrap and refrigerate for 6 to 8 hours.

When ready to cook, light the coals or prepare the grill according to directions. While waiting for the coals to reach the white-ash stage or for the grill to reach the cooking stage, bring the chicken to room temperature. Melt the butter. With a spoon, gently scrape as much of the seasoning paste as possible off the chicken, combine it with any paste remaining in the bowl and stir it into the butter.

Place the large pieces of chicken over the hottest coals or hottest section of the grill and the smaller pieces over the less-hot section, and cook, turning the pieces and basting several times with the butter-paste mixture, until done. Serve and enjoy!