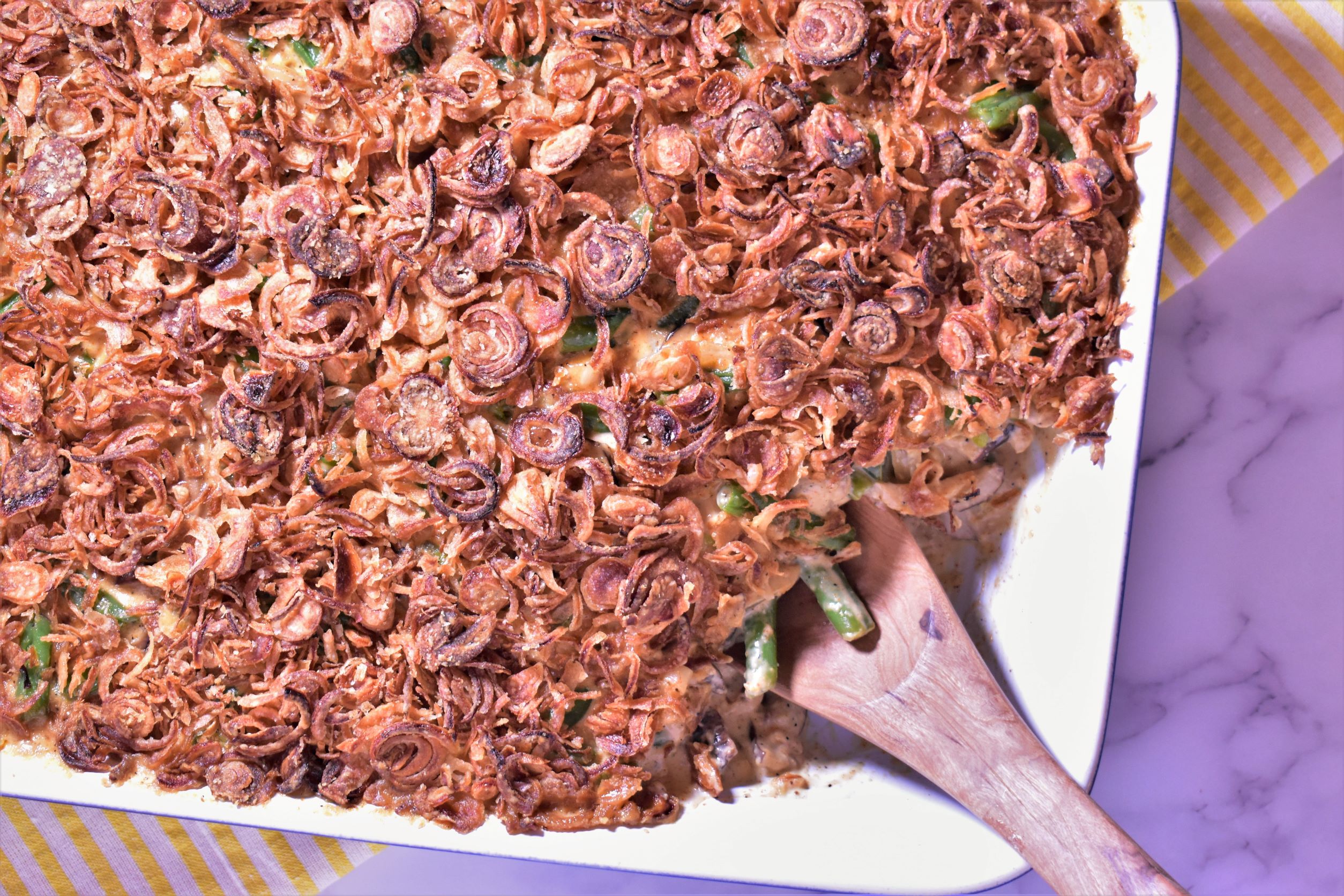 Servings
Makes 8-12 servings
Ingredients
1 gallon water
4 tablespoons Kosher salt
1½ pounds fresh green beans, trimmed and cut into 1-inch pieces
6 tablespoons unsalted butter
2 cups julienned onions
2 tablespoons minced garlic
½ pound sliced Cremini or Shiitake mushrooms
3 tablespoons all-purpose flour
1½ cups unsalted chicken stock
3 cups heavy cream
2 tablespoons Worcestershire sauce
5 tablespoons Magic Creole Seasoning®
1 cup shredded mozzarella
3 cups crispy fried shallots or onions, in all
---
How To Prepare
Preheat oven to 350°.

In a large pot, bring water to a boil and add the salt. Add green beans and cook for 5 minutes. While cooking, prepare an ice bath.

Turn heat off, strain green beans, and add to ice bath.

Let beans sit in the ice bath until chilled, then strain again. Let green beans rest in the strainer until ready to use.

In a large heavy bottomed pot, melt the butter over medium heat. Add the onions, garlic, and mushrooms and cook until onions are soft and translucent.

Add the flour and stir until mixed in, about 30 seconds. Add the chicken stock, stir to combine, and cook until the stock is very thick. Add the heavy cream, Worcestershire sauce, and Magic Creole Seasoning® and stir well. Cook until thick, then remove from heat and add the mozzarella and stir until melted and mixed in.

In a large bowl, mix the drained green beans, cream sauce, and 1 cup of the crispy fried shallots. Pour into a 9x13 baking dish and cover the top with the last 2 cups of crispy fried shallots.

Place in oven and cook for 20 minutes. Remove from oven and let sit for 10 minutes before serving.