This wonderful chow chow will perk up any meal, adding color and taste to your meal. Because it's so pretty, not to mention a little bit different, it makes a great gift. If you can't find green tomatoes at your market, ask the produce manager to order some for you!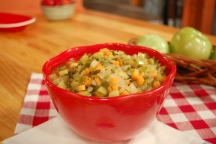 Servings
Makes 2 quarts
Ingredients
2 tablespoons Chef Paul Prudhomme's Seafood Magic®
1 teaspoon dill weed
1 teaspoon dry mustard
4 cups water
2 cups sugar
½ cup white wine vinegar
¼ cup white balsamic vinegar
1 tablespoon tamari
1 teaspoon toasted sesame oil
1 cup chopped fresh Anaheim chile peppers
1 cup chopped fresh poblano chile peppers
1 cup chopped fresh banana chile peppers or wax peppers
1 cup finely chopped fresh jalapeño peppers
2 cups chopped onions
2 cups sweet potatoes, peeled and cut into 1/2 inch pieces
4 cups green tomatoes, cut into ¾ inch pieces
---
How To Prepare
Combine the first three ingredients in a small bowl to make the Seasoning Mix.

In a 4-quart pot, combine the water, sugar, the two vinegars, the tamari, sesame oil, and the Seasoning Mix. Bring to a boil, stirring constantly until the sugar is dissolved. Add all the vegetables and cook until the sweet potatoes are cooked, and the onions are soft and translucent, about 9 minutes. Pour off the cooking liquid and measure it-you should have about 3½ cups. If you have less, add enough water to make 3½ cups, and if you have more, simmer the liquid until it is reduced to 3½ cups. Return the liquid to the vegetables and refrigerate until ready to serve.