This traditional Macedonian white bean casserole, traditionally known as tavče gravče, is prepared with our smoked andouille sausage and Anaheim peppers for a smoky, mild heat. You can also leave out the andouille and use vegetable broth or water in place of the chicken stock for a vegetarian option.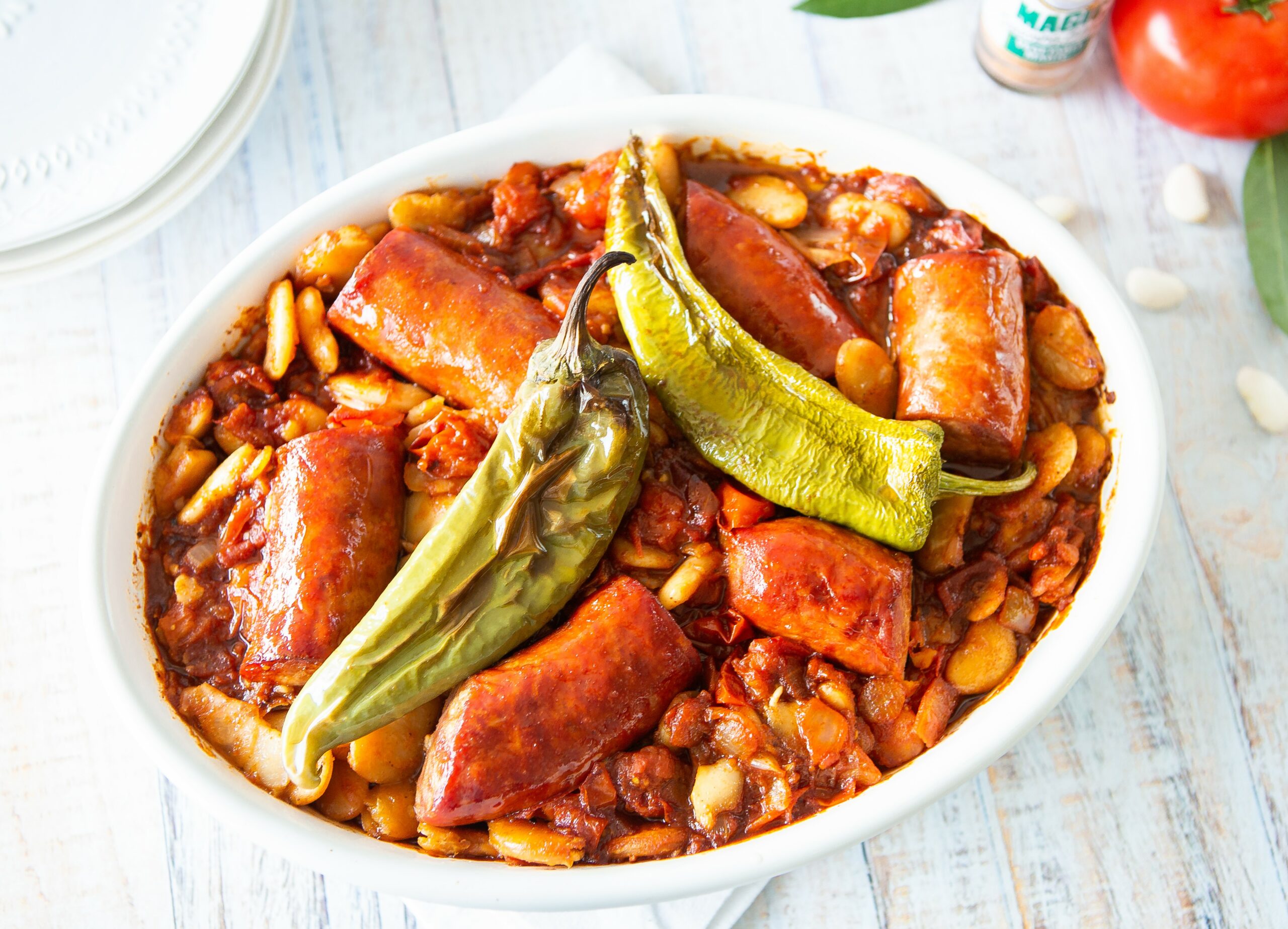 Servings
Makes 8 servings
Ingredients
1 pound large lima beans
10 cups unsalted chicken stock
3 bay leaves
2 tablespoons olive oil
2 cups diced onions
2 tablespoons minced garlic
1 tablespoon + 2 teaspoons smoked paprika
½ teaspoon chili flakes
2 cups diced tomatoes
1 teaspoon kosher salt
1 tablespoon + 2 teaspoon Vegetable Magic®
¾ lb Chef Paul Prudhomme's Andouille Smoked Sausage (Regular or Hot), cut into 4 to 6 large pieces
2 fresh Anaheim peppers
---
How To Prepare
Preheat oven to 375°F. Place the beans, stock, and bay leaves in a large pot and bring to a boil. Lower to a simmer and let cook for 1 hour and 10 minutes, or until beans or soft. While the beans are cooking, heat the olive oil in a sauté pan over medium high heat. When hot, add the onions and let cook until translucent and starting to brown. Add the garlic and cook for 1 minute. Add the paprika and chili flakes and cook for another 20 seconds or so. Stir in the tomatoes and salt, reduce heat to low and let cook, stirring frequently, for 10 minutes. Remove from heat and stir in Vegetable Magic®. Set aside until beans are cooked through. Add reserved onion and tomato mixture to beans and stir well. Pour into an oven safe dish, place the andouille and peppers on top and bake in the oven for 45 minutes. Serve hot.