Shakshuka is a Mediterranean dish of eggs lightly baked into a spicy tomato, onion and pepper sauce. We seasoned this with our Salt-Free Sugar-Free Magic Creole Seasoning, then added Chef Paul's Andouille Smoked Sausage and feta cheese for a heartier meal that's still light enough to serve during the warm summer months. Don't forget your side of crusty bread or pita – you'll want to scoop up every last bite!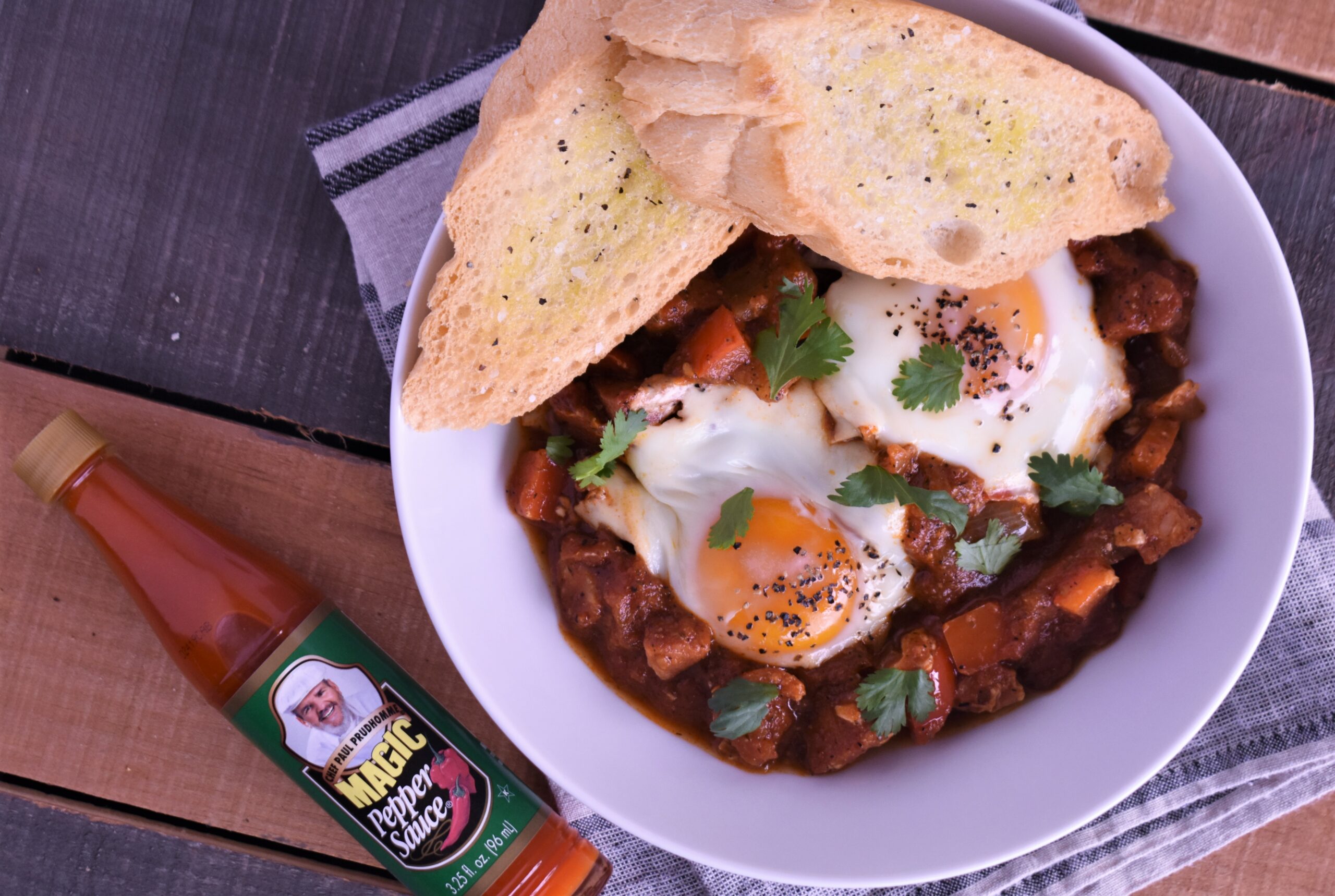 Servings
Makes 6 servings
Ingredients
½ pound Chef Paul Prudhomme's Andouille Smoked Sausage (Hot or Regular), diced
2 tablespoons extra-virgin olive oil
1 large onion, diced
1 large red bell pepper, diced
3 garlic cloves, chopped
3 tablespoons Salt-Free Sugar-Free Magic Creole Seasoning®
1 (28-ounce) can whole plum tomatoes with their juices, coarsely chopped
½ teaspoon Kosher salt
½ teaspoon black pepper
1 (5-6 oz) container crumbled feta cheese
6 large eggs
cilantro, chopped
Chef Paul Prudhomme's Magic Pepper Sauce®, for serving
---
How To Prepare
Preheat oven to 375°F degrees. Heat oil in a large oven-proof skillet over medium-low heat, until oil begins to shimmer. Add Andouille Smoked Sausage and sauté for 1 to 2 minutes, then add onion and bell pepper. Sauté for 10 to 12 minutes, or until soft. Add garlic and cook for 1 to 2 more minutes, then add Salt-Free Sugar-Free Magic Creole Seasoning® and cook for 1 more minute.

Pour in tomatoes, sprinkle with salt and black pepper, stir well and simmer until tomatoes have thickened, about 10 minutes. Stir in crumbled feta. Using a ladle or other spoon, make small indents in the sauce, then carefully crack eggs into them. Place skillet into the oven and bake until eggs are just set, 7 to 10 minutes or until desired doneness. Remove from oven and let rest for 2 to 4 minutes.

Sprinkle with fresh cilantro and Magic Pepper Sauce® and serve hot with crusty bread!