This gumbo is great anytime, but it's also a perfect way to use up leftover holiday ham and have your greens for a traditional southern New Year's meal!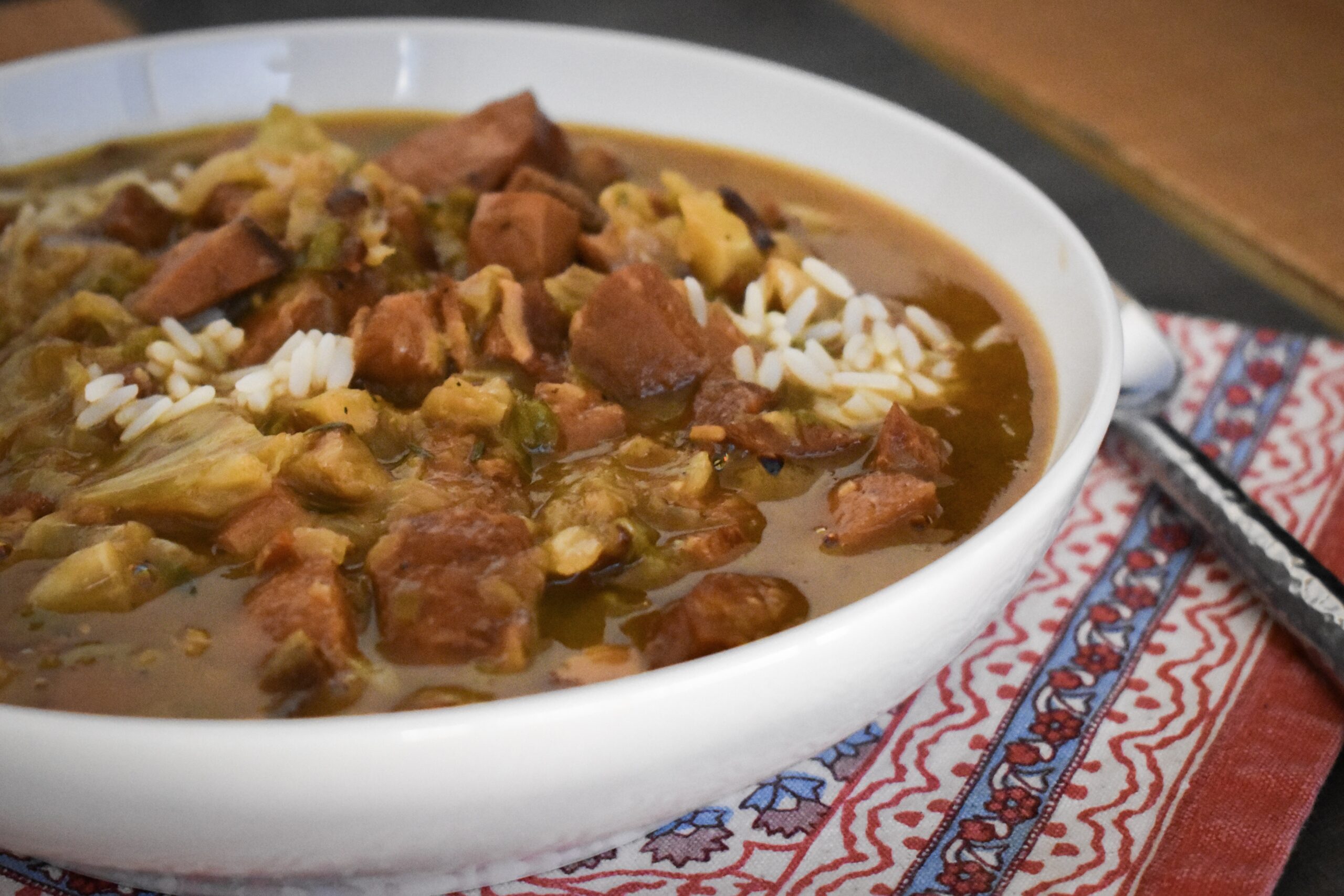 Servings
Makes 10 cups
Ingredients
1 pound Chef Paul Prudhomme's Andouille Sausage (hot or regular), cut into half-moons
½ pound bacon, diced
2 cups onions, diced
1 cup green bell peppers, diced
1 cup celery, diced
2 teaspoons garlic, minced
3 bay leaves
5 – 8 sprigs fresh thyme
4 cups ham, diced
2 quarts chicken stock
1 tablespoon Chef Paul Prudhomme's Vegetable Magic®
½ cup + 1 tablespoon dark roux (homemade or store-bought)
3 quarts cabbage, large diced
---
How To Prepare
In a heavy bottomed pot (preferably cast iron), add the Andouille and bacon and cook on medium heat. Stirring frequently, cook until the bacon is crispy and the andouille is browned. Carefully remove the meats with a slotted spoon to keep the oil in the pot and reserve the meats for later. Add the onions, bell pepper and celery to the hot oil and cook until soft and brown, but not completely caramelized. Add the garlic and cook for 3 minutes. Add the bay leaves, thyme, ham, reserved sausage and bacon, chicken stock, and Vegetable Magic® and bring to a boil. Whisk in the roux about ¼ cup at a time, then add the cabbage and reduce heat to a simmer. Cook for 2 hours, stirring every 20 minutes. Remove thyme sprigs and bay leaves. Serve hot over rice.