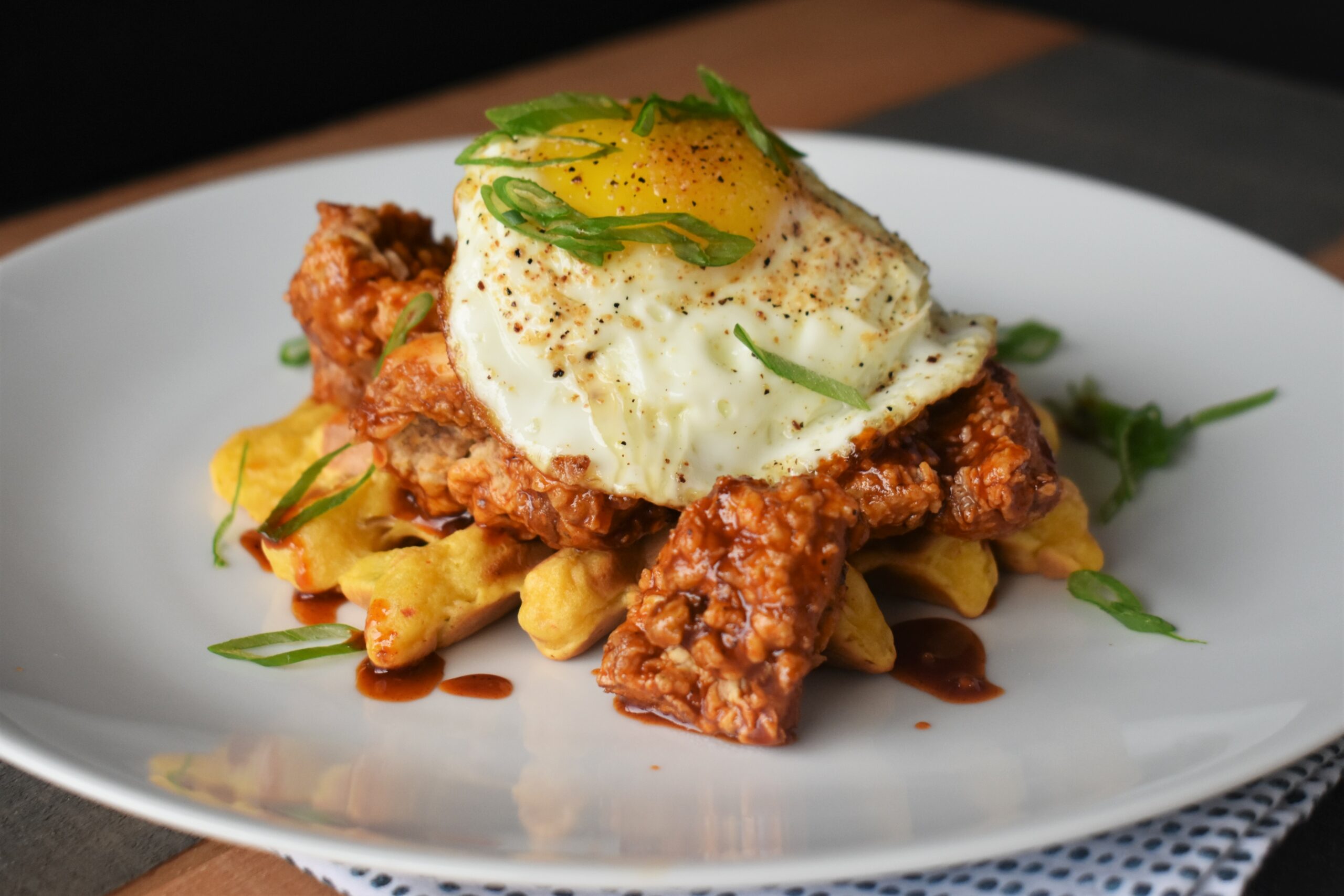 Servings
Makes 6 servings
Ingredients
FRIED CHICKEN
canola oil
2 pounds boneless, skinless chicken thighs
2 teaspoons Chef Paul Prudhomme's Vegetable Magic®
½ cup all-purpose flour
½ cup corn starch
2 eggs

KOREAN PEPPER SAUCE
⅓ cup gochujang (fermented hot pepper) paste
2 teaspoons Chef Paul Prudhomme's Vegetable Magic®
1 tablespoon Chef Paul Prudhomme's Magic Pepper Sauce®
3 tablespoons seasoned rice wine vinegar
2 tablespoons soy sauce
2 teaspoons sesame oil
4 teaspoons Vietnamese fish sauce
2 tablespoons brown sugar, firmly packed
2 tablespoons white sugar
1 tablespoon garlic, minced
1 tablespoon ginger, minced

WAFFLES
1 egg white
1 cup all-purpose flour
¾ cup milk
2 tablespoons white sugar
1 teaspoon baking powder
1 tablespoon Chef Paul Prudhomme's Vegetable Magic®
½ cup chopped kimchi
½ cup chopped green onion
1 teaspoon minced garlic
---
How To Prepare
FRIED CHICKEN: Fill a heavy-bottomed pot with enough oil to fry the chicken, then heat on medium until oil temperature reaches 350°F. Season the chicken thighs with Vegetable Magic®. In a medium sized bowl, add the flour and corn starch and stir to combine. In a separate bowl, whisk the eggs together until well beaten. Add the chicken pieces to the flour mixture one at a time and dredge, coating thoroughly. Add the thigh to the egg wash, make sure it's coated well, then add the thigh back to the flour and dredge to coat well. Repeat until all the thighs are battered, then carefully start dropping them into the hot oil to fry. Cook for 9 minutes, or until the internal temperature of the chicken reaches 170°F. Remove the thighs from the pot and place on a paper towel lined pan. Let rest for 5 minutes, then toss with Korean Pepper Sauce. Serve hot.

SAUCE: Whisk all ingredients together until well combined, then set aside until ready to use.

WAFFLES: Preheat your waffle maker according to manufacturer's instructions. In a mixing bowl, fold together all ingredients except the egg white. In a separate mixing bowl, whisk the egg white until medium peaks form. Gently fold into the other mixture. Spray the waffle maker with non-stick cooking spray, then ladle 3 ounces of the batter into the waffle maker and close the lid. Cook until cooked through and golden brown, about 5 minutes. Remove waffle using a heat-resistant spatula or tongs.

TO SERVE, plate a waffle, then top with fried chicken and fried or poached egg. Serve immediately.