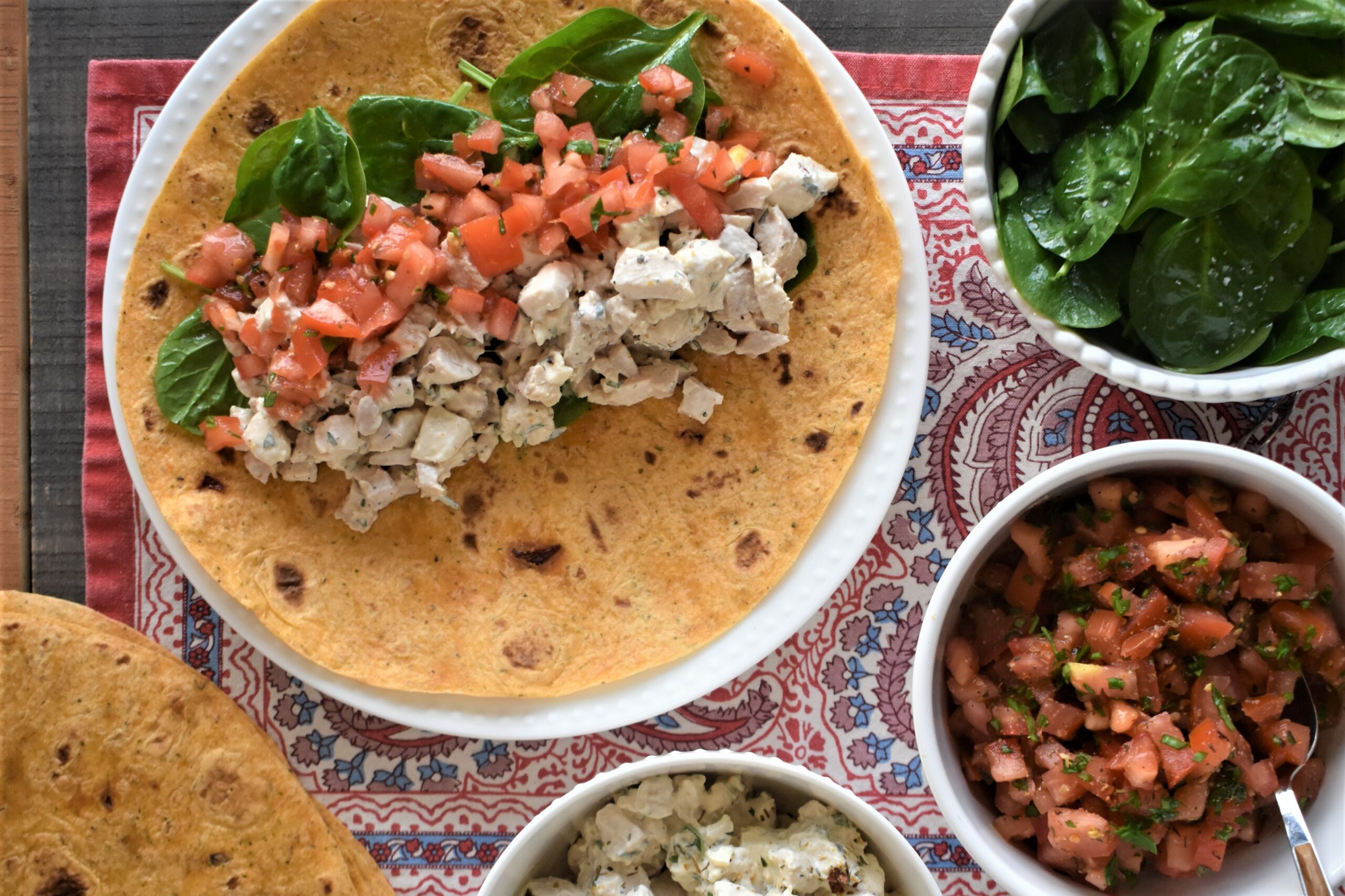 Servings
Makes 6 wraps
Ingredients
1½ pounds boneless skinless chicken breast, ½-inch dice
3½ teaspoons kosher salt, in all
½ cup mayonnaise
2 teaspoons fresh lemon juice, in all
1 teaspoon Chef Paul Prudhomme's Magic Pepper Sauce®
2½ teaspoons Chef Paul Prudhomme's Herbal Pizza & Pasta Magic®, in all
1 teaspoon sugar
1 tablespoon fresh oregano, chopped fine
½ pound Roma tomatoes, small dice
1 teaspoon granulated garlic
¼ cup fresh basil, chopped fine
1 teaspoon balsamic vinegar
3 cups baby spinach, loosely packed
2 teaspoons olive oil
⅛ teaspoon black pepper
8-inch flour tortillas
---
How To Prepare
Add chicken and 2 teaspoons of salt to a medium sauté pan and fill with enough water to cover. Over a medium-high heat, bring to a boil, then turn off heat and cover. Poach for 5 minutes, then drain through a colander and rinse with cool water. Place chicken in a mixing bowl and store in a refrigerator until ready to use.

In a mixing bowl, combine the mayonnaise, 1 teaspoon lemon juice, Magic Pepper Sauce®, 1½ teaspoons Herbal Pizza & Pasta Magic®, sugar, oregano, and ½ teaspoon salt and mix well. Add the cooled chicken and stir until combined. In a separate mixing bowl, add the tomatoes, granulated garlic, ¼ teaspoon salt, balsamic vinegar, the remaining Herbal Pizza & Pasta Magic®, and the basil and mix well. In another mixing bowl, toss the spinach with the oil, black pepper, the remaining salt, and remaining lemon juice.

To make the wraps, place the chicken salad on a flat tortilla, then top with the tomatoes and spinach. Roll and serve immediately.