Live crawfish are shipped to various markets around the country, and your fish market may be able to get them for you if you put in an order. Of course, in Louisiana they're available almost everywhere from about November through June or July.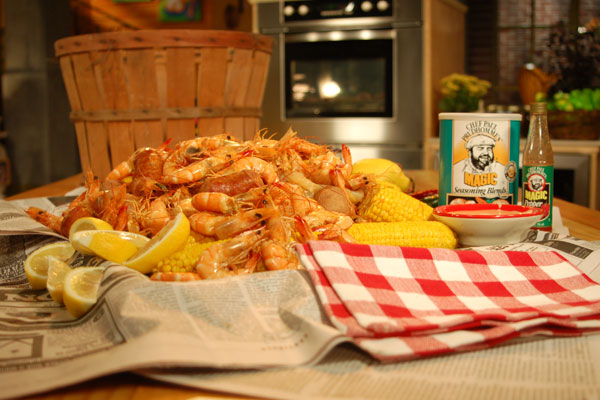 Servings
Makes 4 to 6 servings
Ingredients
10 pounds live shrimp or crawfish (or whatever seafood is fresh and availlable)
4 unpeeled onions
¼ cup cayenne pepper
½ cup salt
½ cup sugar
1 pound smoked sausage
20 unpeeled new potatoes
2 unpeeled garlic cloves
6 year fresh corn, husked
---
How To Prepare
Place the shrimp (or crawfish) in the kitchen sink. Rinse once or twice in lukewarm water. Fill the sink with fresh water to cover the shrimp (or crawfish) and leave them there until you're ready to cook them.

Bring 3 gallons of water to a boil in a covered 6-gallon pot over high heat. When the water is boiling, add the onions, cayenne pepper, salt and sugar. Cover the pot, bring back to a boil, and cook 15 minutes. Add the sausage and potatoes, cover, and cook 6 minutes. Add the garlic, cover, and cook 6 minutes.

Remove the onions, garlic, potatoes, and sausage and place in a large bowl. Cover the bowl tightly with aluminum foil and set aside to steam.

Add the corn to the pot of boiling water, cover and cook 4 minutes.

Meanwhile, remove the shrimp (or crawfish) from the sink and drain in a large colander.

Add the shrimp (or crawfish) to the pot of corn and cook 8 minutes.

Transfer the corn to the bowl with the potatoes and cover tightly. Remove the shrimp (or crawfish) from the water, place in another large pot, cover tightly, and set aside to steam for 10 minutes.

The best way to serve a Louisiana seafood boil is to spread newspapers on a big table, throw all the food on top, provide lots of paper towels or napkins and trash receptacles, and let the eaters dig in! This looks wonderful with the vegetables mixed right in with the seafood; it's colorful and tastes fantastic.