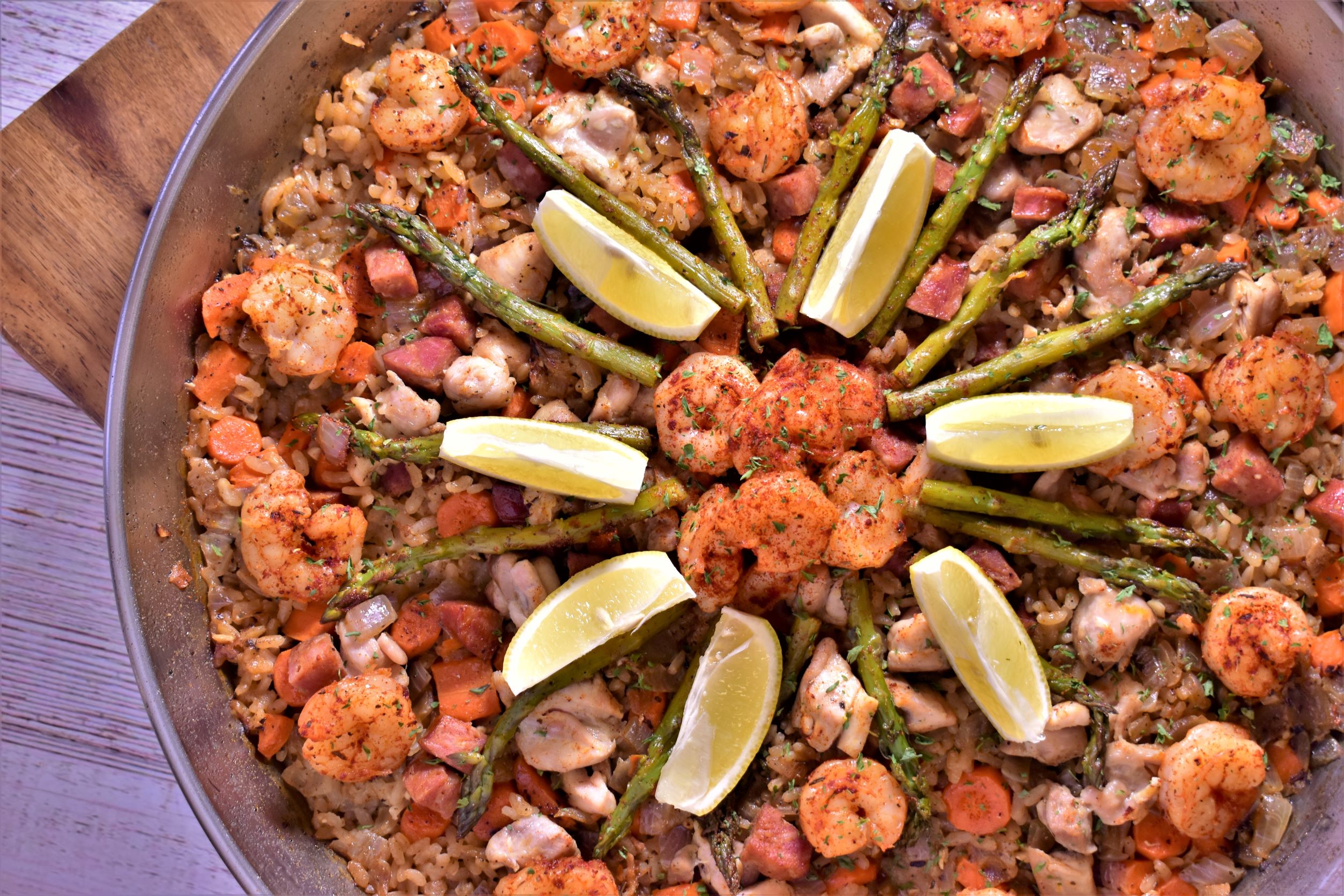 Servings
Makes 6 servings
Ingredients
3 tablespoons extra virgin olive oil, divided
3 boneless, skinless chicken thighs, cut into bite-size pieces
½ cup Andouille Smoked Sausage (Hot or Regular), diced
1 yellow onion, diced
2 cups carrot, diced
4 garlic cloves, minced
1½ cups paella rice (parboiled, medium grain)
1 teaspoon smoked paprika
1 tablespoon Shrimp Magic®
1 tablespoon Poultry Magic®
3½ cups unsalted chicken stock
2 cups asparagus tips
12 oz jumbo shrimp, peeled and deveined
---
How To Prepare
Using a paella pan or a Dutch oven, heat 2 tablespoons of extra virgin olive oil. Once hot, add diced chicken and Andouille Smoked Sausage. Cook, stirring often, for 2 to 3 minutes or until meats are browned. Using a slotted spoon, remove the meats to a separate bowl and set aside.

Add remaining olive oil, onion and carrots and sauté for 3 to 4 minutes, or until slightly browned. Add garlic and sauté for 3 to 4 minutes. Add the rice, paprika, Shrimp Magic® and Poultry Magic® and mix well. Stir in chicken stock. Bring to a boil, then reduce heat to low, cover and simmer for 10 minutes.

Mix the reserved chicken and andouille into the rice, then place the asparagus and shrimp on top of the rice mixture.

Cover and let cook 15 minutes or until the rice is tender and the broth has been absorbed. Serve hot.