Delicious, ruby red, sugar-coated pecan candy clusters. Perfect way to ask someone to be your valentine!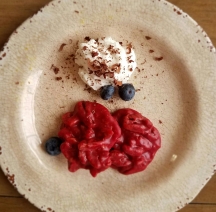 Servings
Makes about 3 dozen
Ingredients
1 ½ sticks unsalted butter
1 cup sugar
1 cup light brown sugar, packed
½ cup heavy cream
¾ cup milk
1 cup chopped pecans
2 oz beet juice
1 tsp almond extract
2 cups pecan halves
---
How To Prepare
In a heavy pot, melt the butter over high heat. When butter is melted, add sugars and heavy cream. Cook for one minute, whisking constantly. Add the milk and chopped pecans (ingredients will boil) and continue whisking for 3 minutes . Lower heat to medium and continue whisking for 4 minutes. Add beet juice, almond extract, and pecan halves and continue whisking for about 10 more minutes. When praline mixture is thick, spoon onto parchment lined sheet pan and allow to cool completely. Enjoy!