Kebapi is a grilled or roasted homemade sausage, traditionally served on pita with Ajvar and onions. Ajvar, a roasted eggplant and red bell pepper spread, is blended with smoked paprika and fresh lemon juice and garlic to add just the right amount of smokey zing to the meal!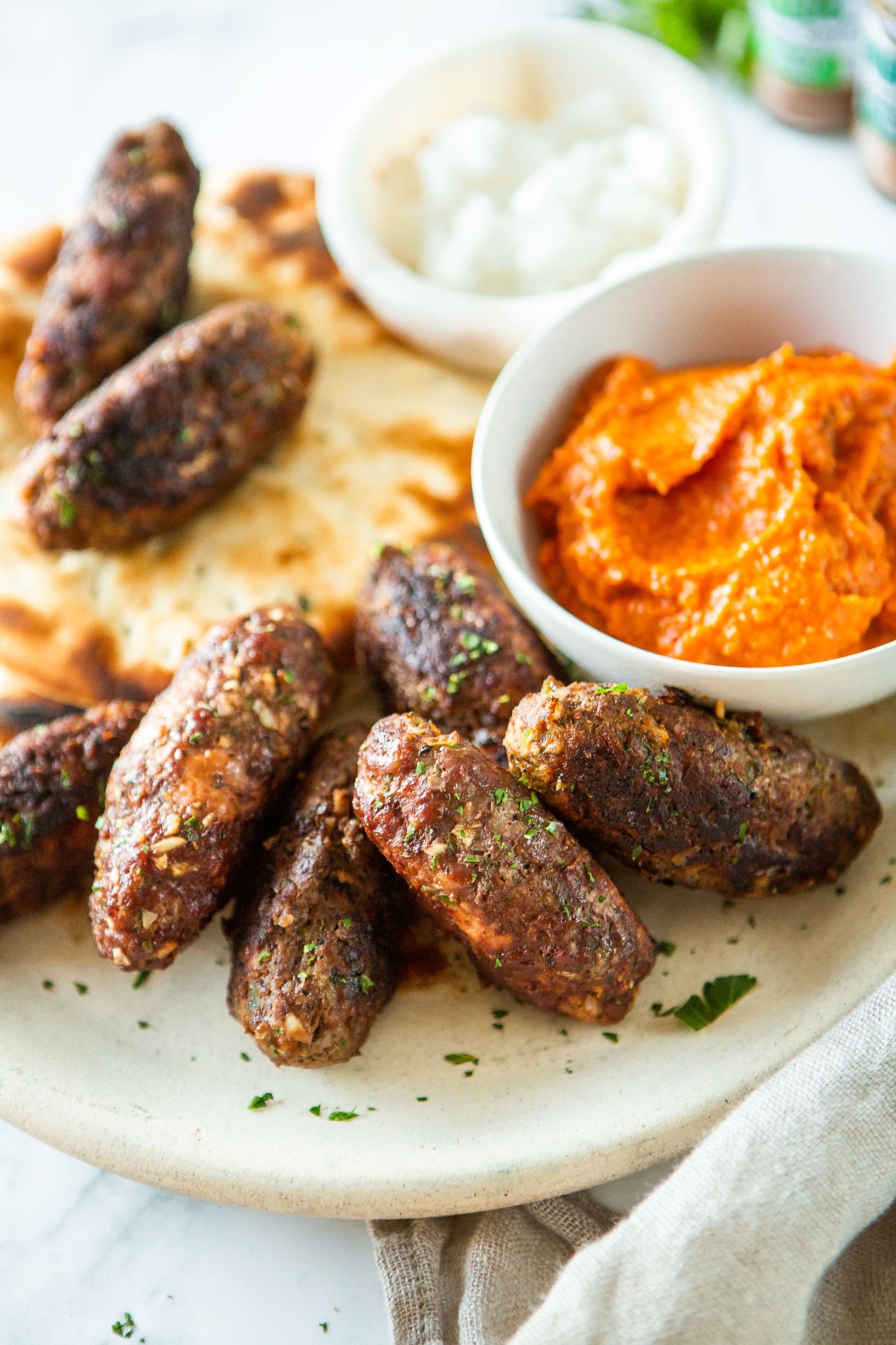 Servings
Ingredients
KEBAPI

½ medium onion
8 cloves garlic
¼ cup parsley
3 serrano peppers, seeds removed
1 teaspoon paprika
1 tablespoon + 1 teaspoon Poultry Magic®
1 teaspoon kosher salt
1 pound 90/10 ground beef
½ pound lean ground pork

AJVAR

1 medium sized eggplant
1 red bell pepper
2 tablespoons + 2 teaspoons olive oil
5 cloves garlic
2 tablespoons lemon juice
1 tablespoons + 1 teaspoons Vegetable Magic®
2 teaspoons smoked paprika
---
How To Prepare
KEBAPI

Place onion, garlic, parsley, and peppers in a food processor and pulse until very finely chopped. Add to a large mixing bowl with paprika, Poultry Magic®, salt, ground beef and pork. Using your hands, mix until fully incorporated. Using a sausage stuffer or your hands, make small sausage links, about 3-inches long. Place on a sheet pan in the cooler for at least 30 minutes. To cook, grill or sauté until brown and cooked through. Serve on top of warm pita bread with Ajvar and white onions.

AJVAR

Preheat oven to 450°F. Halve the eggplant lengthwise and score the flesh. Rub the eggplant and bell pepper with 2 teaspoons of the olive oil. Place on a sheet pan and roast for 35 minutes. Remove from oven and place bell pepper in a bowl and cover for a few minutes to help loosen skin. Scoop out flesh from eggplant and place in food processor. Remove the skin, stem, and seeds from the bell pepper and add to food processor along with garlic, lemon juice, Vegetable Magic® and paprika. Puree until smooth, then slowly drizzle in the olive oil. Remove from food processor and let cool before serving.