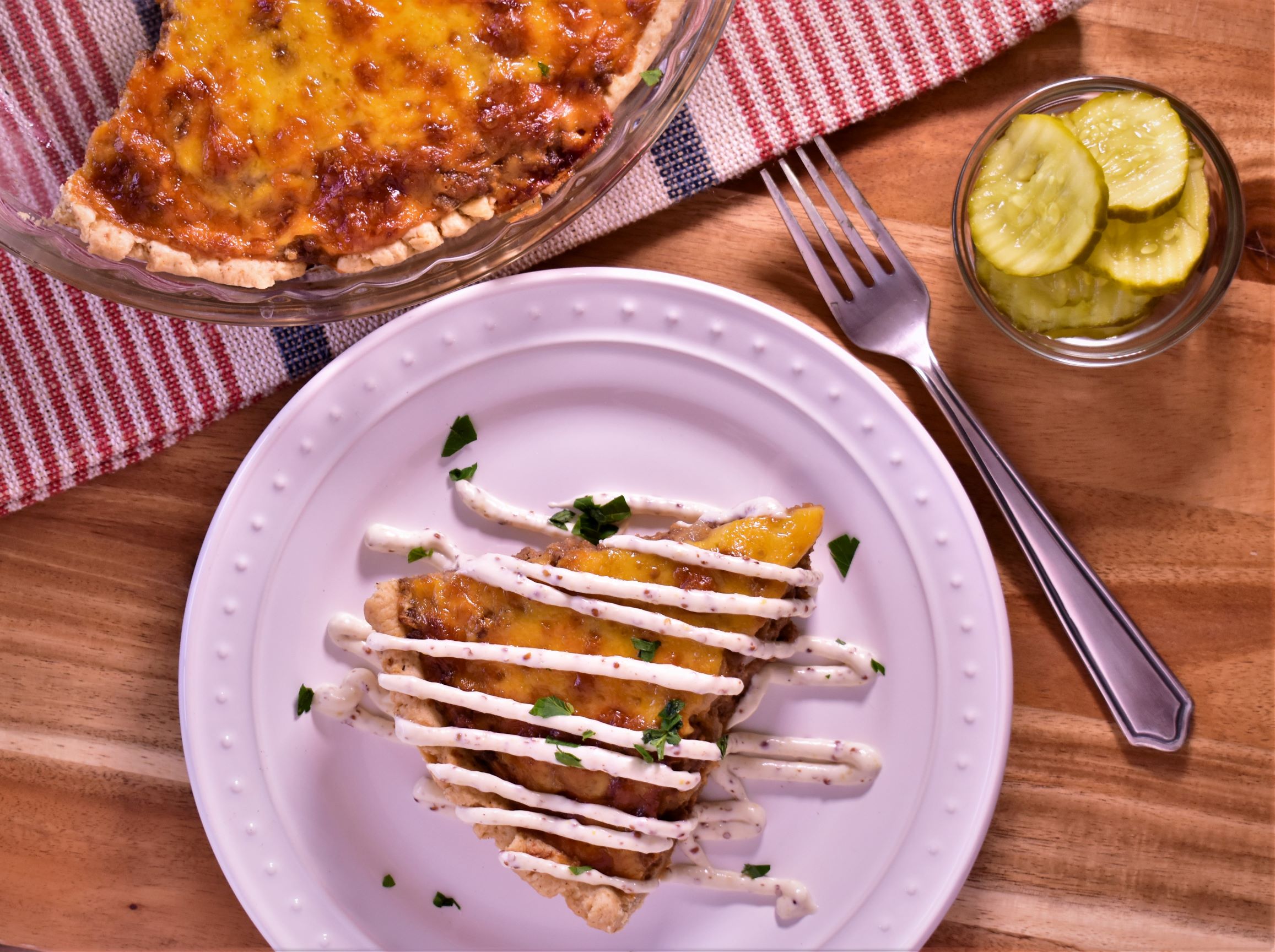 Servings
Makes about 6 servings
Ingredients
CRUST:
1½ cups all-purpose flour
½ teaspoon salt
2 teaspoons Burger Magic®
6 tablespoons cold unsalted butter
4 tablespoons cold water

CHEESEBURGER FILLING:
1 pound 80/20 ground beef
1 cup diced yellow onion
1 tablespoon Burger Magic®
¼ cup panko breadcrumbs
2 eggs
1 tablespoon Dijon mustard
3 tablespoons ketchup
2 tablespoons Worcestershire sauce
2 cups shredded cheddar cheese, divided
---
How To Prepare
CRUST: Add flour, salt and Burger Magic® to a food processor and pulse for 1 minute. Pulse in cold butter until incorporated, then 1 tablespoon of water at a time, pulsing between each addition, until fully incorporated.

Remove dough from food processor and knead until you have a uniform mixture, about 5 minutes. Shape into a disk, cover with plastic wrap and refrigerate for at least 1 hour and up to 24 hours.

CHEESEBURGER FILLING:

Preheat oven to 375 °F.

In a large skillet over medium-high heat, add the ground beef and cook, breaking into smaller pieces, for about 5 to 6 minutes. Add onion and cook for 2 minutes. Add Burger Magic®, mix well and continue cooking and breaking up large pieces of beef, until meat is cooked through. Add the breadcrumbs, stir well, and remove from heat. Let cool.

In a medium bowl, whisk together the eggs, mustard, ketchup, and Worcestershire sauce. Stir the egg mixture into the cooled ground beef. Mix in 1 cup of shredded cheese.

Roll out refrigerated dough to cover an 8-inch pie dish. Using a fork to poke holes into the bottom of the dough. Pinch the top of the dough to cover the pie dish.

Pack the meat and cheese mixture into the pie shell, sprinkle the remaining cup of cheddar cheese over the top and bake for 30 minutes. Remove from oven and serve hot with your favorite side!