Fire-roasting the peppers gives them a delicious flavor that you can't get any other way. The fragrance reminds many people of rural Mexico, where the method is very popular.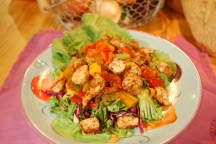 Servings
Makes 6 servings
Ingredients
1 teaspoon Chef Paul Prudhomme's Vegetable Magic®
6 teaspoons lightly packed dark brown sugar
2 teaspoons white sugar
1 teaspoon brown mustard seeds
1 teaspoon yellow mustard seeds
¾ cup black peppercorns
3 tablespoons allspice berries
3 tablespoons whole cloves
½ cup balsamic vinegar
¼ cup rice vinegar
¼ cup tamari
½ cup water
3 fire-roasted green bell peppers (See Note)
3 fire-roasted red bell peppers (See Note)
3 fire-roasted yellow bell peppers (See Note)
---
How To Prepare
Combine the first eight ingredients in a small bowl to make the Seasoning Mix. Combine the Seasoning Mix with the vinegars, tamari and water in a bowl.

Cut the peppers into 1-inch squares and add them to the marinade. Marinate for at least 4 hours, preferably overnight, before serving. Store in the refrigerator.

NOTE: To fire-roast the peppers: If you have a gas stove, simply place them right on the burner, in a high flame, and roast, turning with tongs, until the outer skin is charred all the way around. If your stove is electric, you can roast in a preheated 500°F oven. Plunge the roasted peppers into ice water to stop the cooking, then rub off the black, charred skin under running water. It should slip right off, but if there are stubborn spots, just remove them with a sharp knife.