Primavera means "spring," and this pasta dish takes its name from the tender young asparagus tips or snow peas that used to be available only in early spring. Now, thanks to modern all-weather farming methods and rapid transportation of produce, you can enjoy this treat any time of year. Leave out the prosciutto for a great vegetarian dish.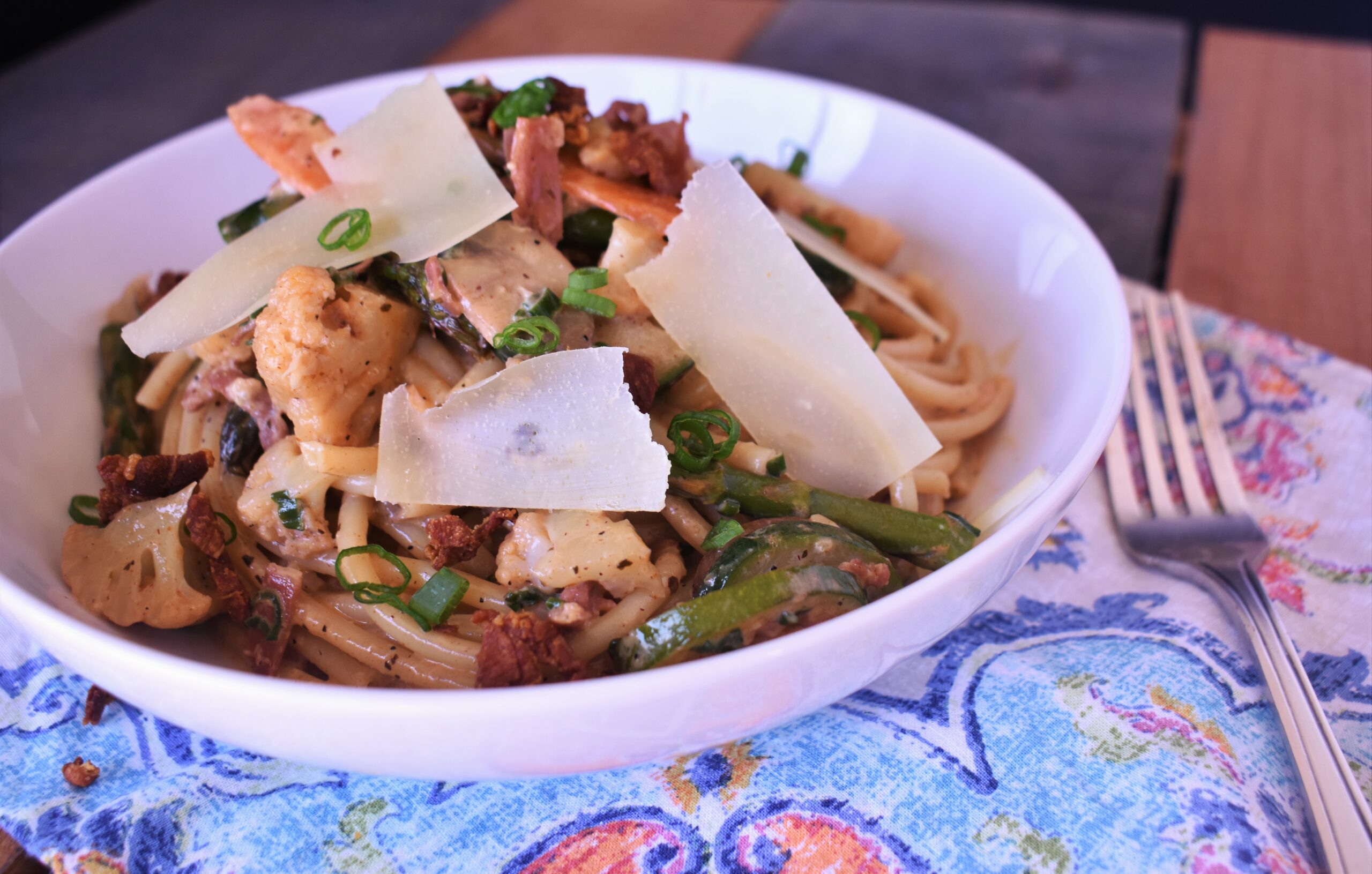 Servings
Makes 6 to 8 servings
Ingredients
9 ounces uncooked pasta (your favorite)
2 tablespoons olive oil
1 cup thin strips prosciutto (about ¼ pound)
2 cups cauliflower florets
2 cups sliced fresh mushrooms
½ cup diagonally sliced carrots
2 cups sliced zucchini
6 tablespoons unsalted butter
1 teaspoon minced fresh garlic
3 tablespoons + 1 teaspoon Chef Paul Prudhomme's Pork and Veal Magic®
1 cup asparagus tips or ¾ cup snow peas
1 cup chopped green onions
3 cups heavy cream
---
How To Prepare
Cook the pasta according to package directions, drain, and set aside.

Heat the oil in a 12-inch skillet over high heat. When the oil is very hot, add the prosciutto, cauliflower, mushrooms, carrots and zucchini. Add the butter, and as it melts stir in the garlic and Pork and Veal Magic. Stir in the asparagus tips or snow peas and onions, mix well, and cook just until the vegetables are crisp-tender, about 4 to 5 minutes. Stir in the cream and bring to a boil. Lower the heat to medium and cook until the sauce thickens a bit, about 3 minutes.

Add the drained pasta, toss well, and serve immediately.