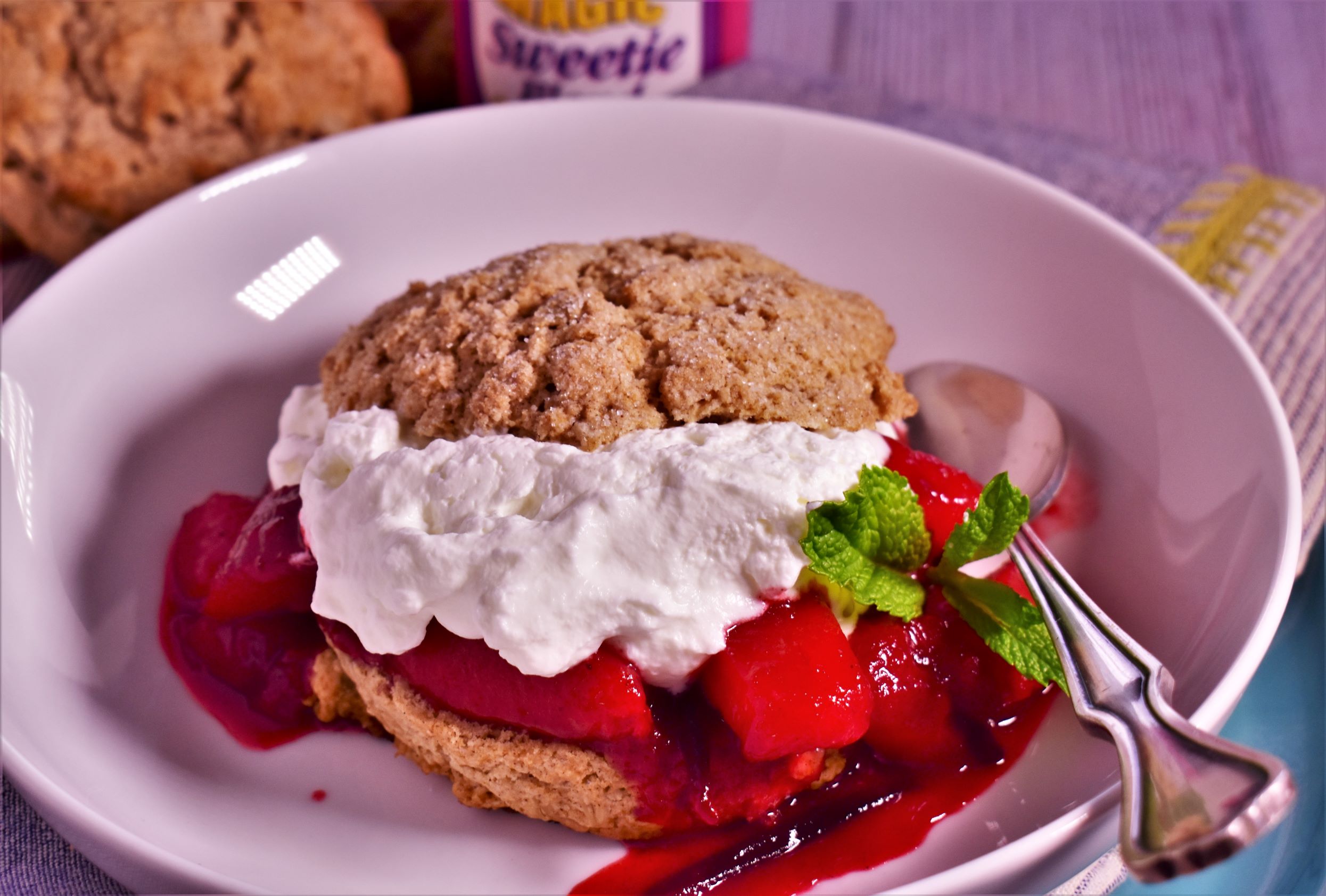 Servings
Makes 6 servings
Ingredients
SHORTCAKES
2 cups all-purpose flour
½ cup old-fashioned oats
½ cup Sweetie Magic®
1 tablespoon baking powder
½ teaspoon Kosher salt
½ cup cold unsalted butter, cut into small pieces
⅔cup whole milk
2 teaspoons sugar

WHIPPED CREAM
2 cups heavy cream
6 tablespoons powdered sugar

PLUMS
1 pound ripe plums, pitted, cut into 8 wedges each
⅓ cup Sweetie Magic®
2 teaspoons lemon juice
2 tablespoons unsalted butter
---
How To Prepare
Preheat oven to 400°F.

Add flour, oats, Sweetie Magic®, baking powder, and salt to a mixing bowl and stir to combine. Cut in butter until mixture resembles breadcrumbs. Add milk and stir until dough forms.

Drop dough onto a parchment-lined baking sheet, about 3-inches apart, to make six biscuits. Sprinkle the tops with the sugar. Place into the oven and bake until biscuits are golden brown in color and tester inserted into biscuit comes out clean, about 17 minutes. Remove from oven and transfer biscuits to rack to cool.

While biscuits are baking, add heavy cream and powdered sugar to a large bowl. Beat together until stiff peaks form. Keep chilled until ready to use.

In a medium saucepan, add the plums, Sweetie Magic®, and lemon juice and cook over medium heat. Cook until plums release their juices but are still firm, about 4 minutes. Remove from heat and stir in butter. Let cool slightly.

Using a serrated knife, slice the biscuits in half. Place biscuit bottoms on plates. Spoon the plums over biscuit bottom, top with whipped cream, then biscuit top. Serve immediately.