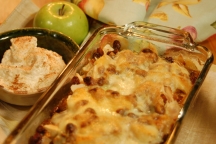 Servings
Makes 6 eservings
Ingredients
2 medium red baking or Granny Smith apples, peeled, cored, and sliced (reserve the peels and cores)
3 cups water
1¼ cups packed dark brown sugar, in all
¼ teaspoon ground cloves
1 cinnamon stick
¾ cup almonds
3 cups unseasoned bread cubes, from dense white bread)
½ cup milk
3 whole eggs
1½ teaspoons ground cinnamon
1½ teaspoons ground nutmeg
4 tablespoons unsalted butter cut into 15 parts, in all
½ cup raisins
½ pound Monterey Jack cheese, thinly sliced
---
How To Prepare
Preheat the oven to 350°F.

To make an apple stock, place the apple peels and cores and the water in a saucepan and bring to a boil over high heat. Add 1 cup of the brown sugar, the cloves, and cinnamon stick. Reduce heat and simmer for 20 minutes. Remove from the heat and set aside.

Toast the almonds in an 8-inch skillet over medium heat, shaking the pan and flipping them constantly, until the nuts are light brown, about 4 minutes. Don't let them burn!

Toast the bread cubes in a 350°F oven until they are light golden brown, about 20 to 30 minutes. Don't let them burn!

Combine the milk and eggs and whisk well until combined. Gradually whisk in 1½ cups of the apple stock. Do this slowly so that the egg mixture does not get too hot. Then whisk in the ground cinnamon, nutmeg and the remaining ¼ cup of brown sugar. Add the toasted bread cubes and allow them to soak until most of the liquid has been absorbed, about 20 minutes. Gently turn the bread cubes once or twice while they are soaking so that they are soaked through on all sides.

Spread half the bread cube mixture in the bottom of a small casserole. Distribute 5 pats of the butter evenly over the bread. Add a layer of half the sliced apples and distribute 5 pats of the butter over the apples. Cover with half the toasted almonds, spreading them as evenly. Cover the almonds with a layer of half the raisins. Then add half the sliced cheese in an even layer. Spread the remaining bread cubes over the cheese, the remaining apple slices over that, and the remaining 5 pats of butter over the apples. Cover with the remaining almonds, raisins, and cheese.

Bake, uncovered, until golden brown and bubbly, about 30 to 50 minutes.

Delicious by itself or served with whipped cream.