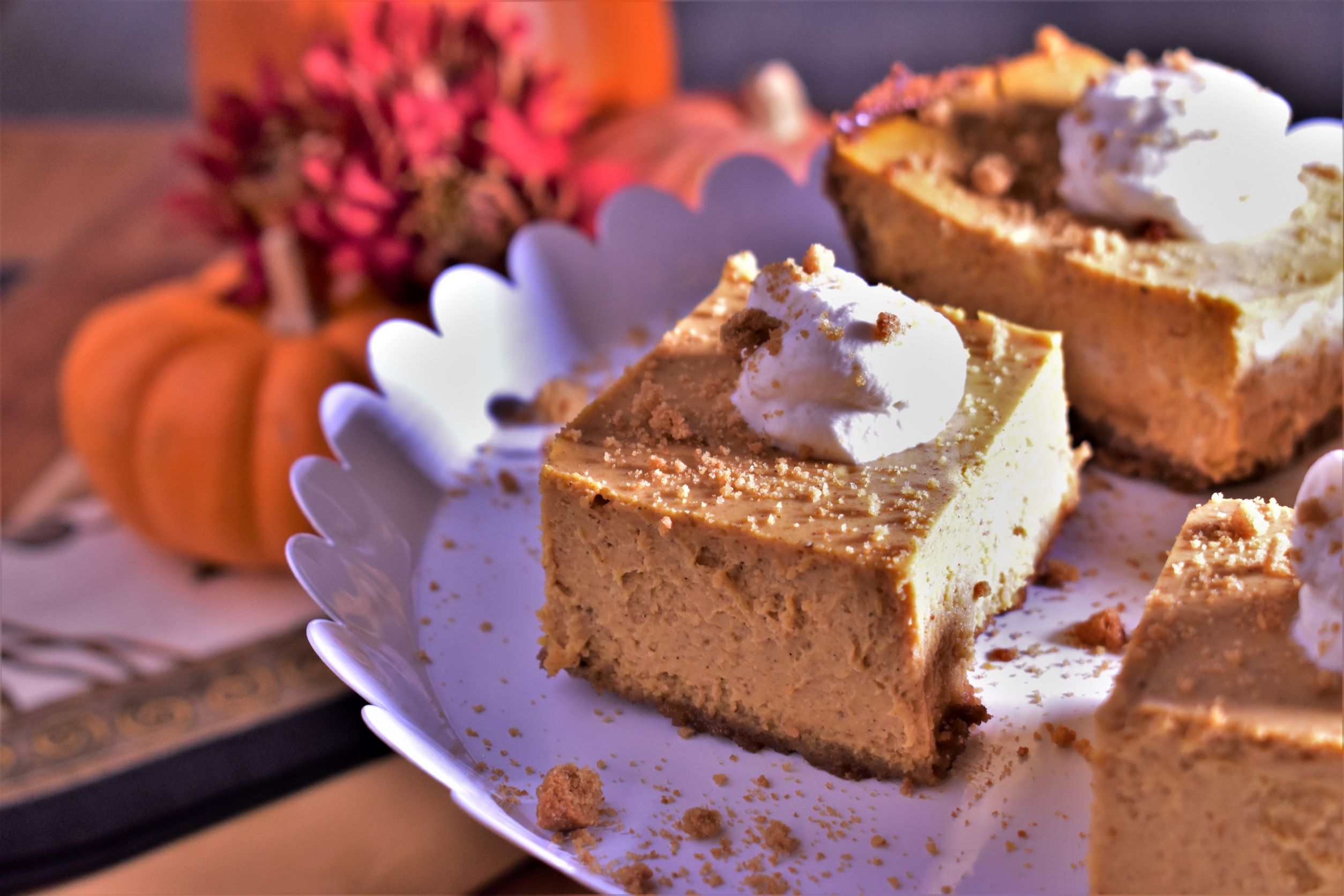 Servings
Makes about 12 servings
Ingredients
GINGERSNAP CRUST
3 cups gingersnap cookie crumbs
1 tablespoon granulated sugar
10 tablespoons melted butter

PUMPKIN CHEESECAKE FILLING
3 (8 ounces) cream cheese, room temperature
¾ cup Sweetie Magic®
¾ cup light brown sugar
1 (15 oz) can pumpkin puree
4 large eggs
¼ cup sour cream
2 tablespoons all-purpose flour
2 teaspoons pumpkin pie spice
¼ teaspoon salt
1 tablespoon vanilla extract

MAPLE WHIPPED CREAM
1 cup cold heavy whipping cream
2 tablespoons maple syrup
1 teaspoon vanilla
---
How To Prepare
Preheat oven to 350°F.


GINGERSNAP CRUST
Add cookie crumbs, sugar, and butter to a mixing bowl. Using a fork, mix until completely combined and mix is crumbly. Press into a 9x13-inch baking dish, then bake 8-10 minutes, or until lightly browned.


PUMPKIN CHEESECAKE FILLING

Place cream cheese, Sweetie Magic® and brown sugar in a large bowl. Mix on high speed, scraping down the sides of the bowl as needed, until fully combined.

In a separate bowl, mix pumpkin, eggs, sour cream, flour, pie spice, salt, and vanilla together until well combined. Add to the cream cheese mixture and mix until fully incorporated. Pour over gingersnap crust, then bake for 35-40 minutes or until center is set.

Let rest until completely cooled, then refrigerate for at least 4 (and up to 24) hours before serving.


MAPLE WHIPPED CREAM

Place a mixing bowl in the refrigerator until chilled. Remove, then add heavy cream, maple syrup and vanilla. Whip together until soft peaks form. Serve on top of Pumpkin Cheesecake Bars or other desserts. Keep any unused portions chilled.