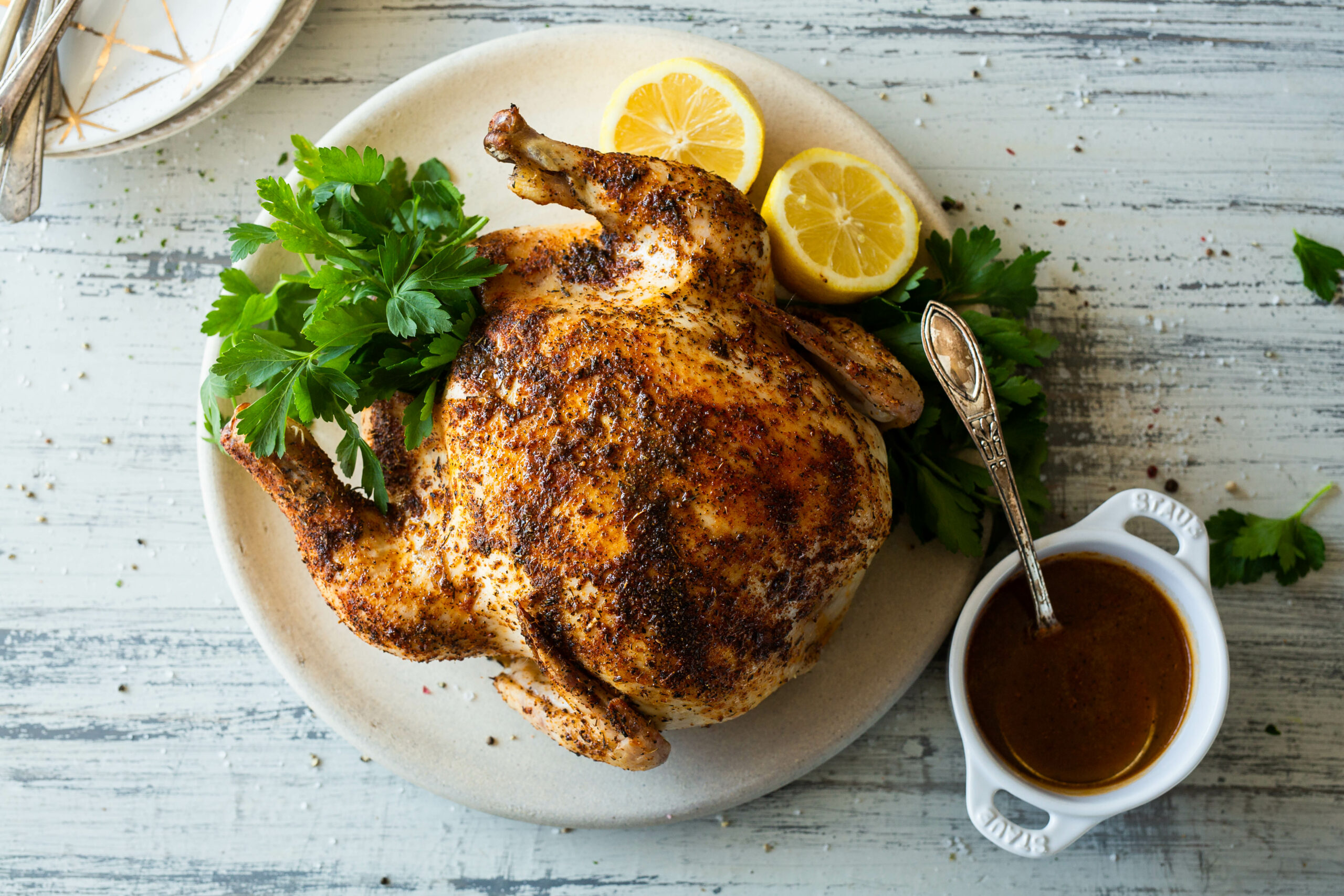 Servings
Ingredients
1 (4 pound) whole chicken
4 teaspoons canola oil, in all
2 tablespoons + ½ teaspoon Chef Paul Prudhomme's Poultry Magic® OR Meat Magic® OR Vegetable Magic® OR Magic Creole Seasoning® OR Magic Seasoning Salt®, in all
1 cup diced onion
1 cup diced green bell pepper
¾ cup diced celery
6 cloves smashed garlic
1 tablespoon all-purpose flour
⅓ cup dry white wine
2 cups unsalted chicken stock
2 teaspoons cane syrup
¼ teaspoon kosher salt
---
How To Prepare
Preheat oven to 375°F. Pat the chicken dry with paper towels, then rub with 2 teaspoons of oil. Season the whole chicken with 4 teaspoons of the Magic Seasoning Blend® and rub it in, then let rest.

In a small mixing bowl, add the rest of the oil, 2 teaspoons of the Magic Seasoning Blend®, the onions, bell pepper, celery, and garlic, and mix well. Add the vegetables to a cast iron skillet and place chicken on top, breast side up. Place in oven and cook for 1½ hours, or until internal temperature reaches 170°.

Move pan from the oven to the stovetop and place chicken on a clean cutting board to let rest, while preparing the Cajun Jus.

Over medium heat, reduce liquid in the skillet by half. Stir in the flour and cook for a couple minutes, then add the wine and reduce by half. Mix in the stock and cane syrup and simmer until sauce is thicker than stock but not as thick as a gravy, about 10 minutes. Add the salt and the rest of the Magic Seasoning Blend® and stir well. Strain and skim the sauce, then serve alongside the carved chicken.