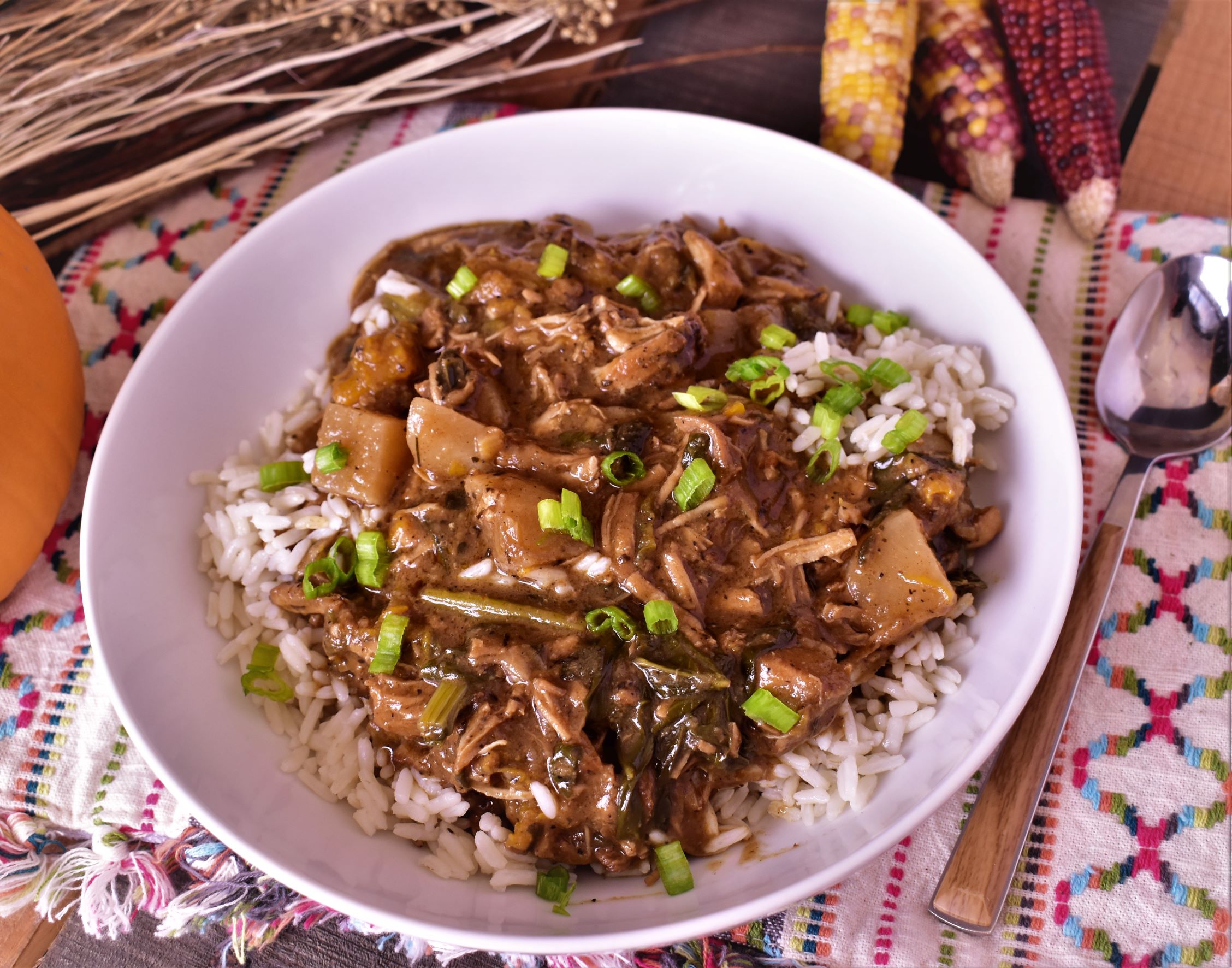 Servings
Makes 3½ quarts
Ingredients
1½ cups canola oil, in all
1¼ cups all-purpose flour
2 cups diced onions, in all
1 cup diced poblano pepper, in all
1 cup diced celery, in all
2 pounds boneless, skinless turkey breasts, cut into 4-6 large pieces
6 tablespoons Poultry Magic®, in all
7 cups chicken stock, in all
3 bay leaves
2 teaspoons granulated garlic
2 teaspoons Worcestershire sauce
2½ cups diced peeled turnips
2½ cups diced peeled butternut squash
4 cups chopped turnip greens
---
How To Prepare
First you make a roux. Heat 1¼ cups of the oil in a cast iron pan or heavy pot over medium heat. When the oil is hot, whisk in the flour and stir until there are no lumps and flour is completely mixed in, then switch to a flat-ended wooden spoon. Stir constantly and be sure to keep an eye on the heat. If at any point you think it's too high or the roux is cooking too fast, lower the heat. Never stop stirring!

When the roux is a deep, chocolate brown, add in 1 cup of the onions, ½ cup of the poblano peppers, and ½ cup of the celery. Stir well to incorporate the vegetables into the roux. Turn the fire off and set aside. (The heat of the roux and the pan continue to cook the vegetables.)

In a mixing bowl, toss the turkey breasts with 2 tablespoons of the Poultry Magic®. Let sit for 15 minutes. In a separate heavy-bottomed pot, heat the rest of the oil over medium heat. Brown turkey breasts on both sides, working in batches if necessary. Remove the turkey and drain off all but 1 tablespoon of the oil from the pot. Add the rest of the onions, poblanos, and celery. Cook, scraping all the brown bits off the bottom of the pot for 5 minutes. Add ½ cup of the stock, stir, and cover. Cook, stirring every couple of minutes or so until the liquid has evaporated. Add another ½ cup of stock and 1 tablespoon of the Poultry Magic®. Stir, cover, and cook until the liquid has evaporated again. Add the rest of the stock, bay leaves, the rest of the Poultry Magic, granulated garlic, and Worcestershire sauce. Bring to a boil, then lower temperature to a simmer. Whisk in the roux mixture a ½ cup at a time. (Be sure each addition of roux is completely mixed into the liquid before adding the next ½ cup.) When all the roux is added, dice the reserved turkey breast and add to the pot. Bring to a boil, then reduce to a simmer and cover. Cook on low for 1½ hours, stirring every 20 minutes to make sure it's not sticking. After 1½ hours, add the turnips, squash, and turnip greens. Cover and cook for another 45 minutes. Uncover and cook until the stew reaches desired thickness, about 20-30 more minutes. Skim and discard any fat that rises to the surface. Serve hot over rice.